Organization and Innovation
Contributing to Japan's Manufacturing Industries with New Simulation Technology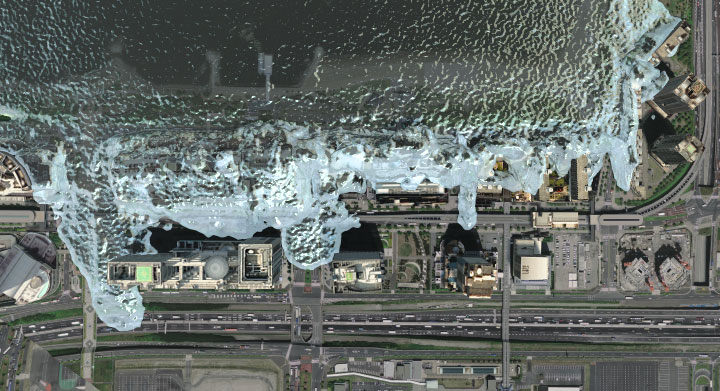 Another field in which the technology is extremely useful is the simulation of natural disasters. By combining geographical information systems and fluid simulations, it is possible to contribute to disaster prevention efforts.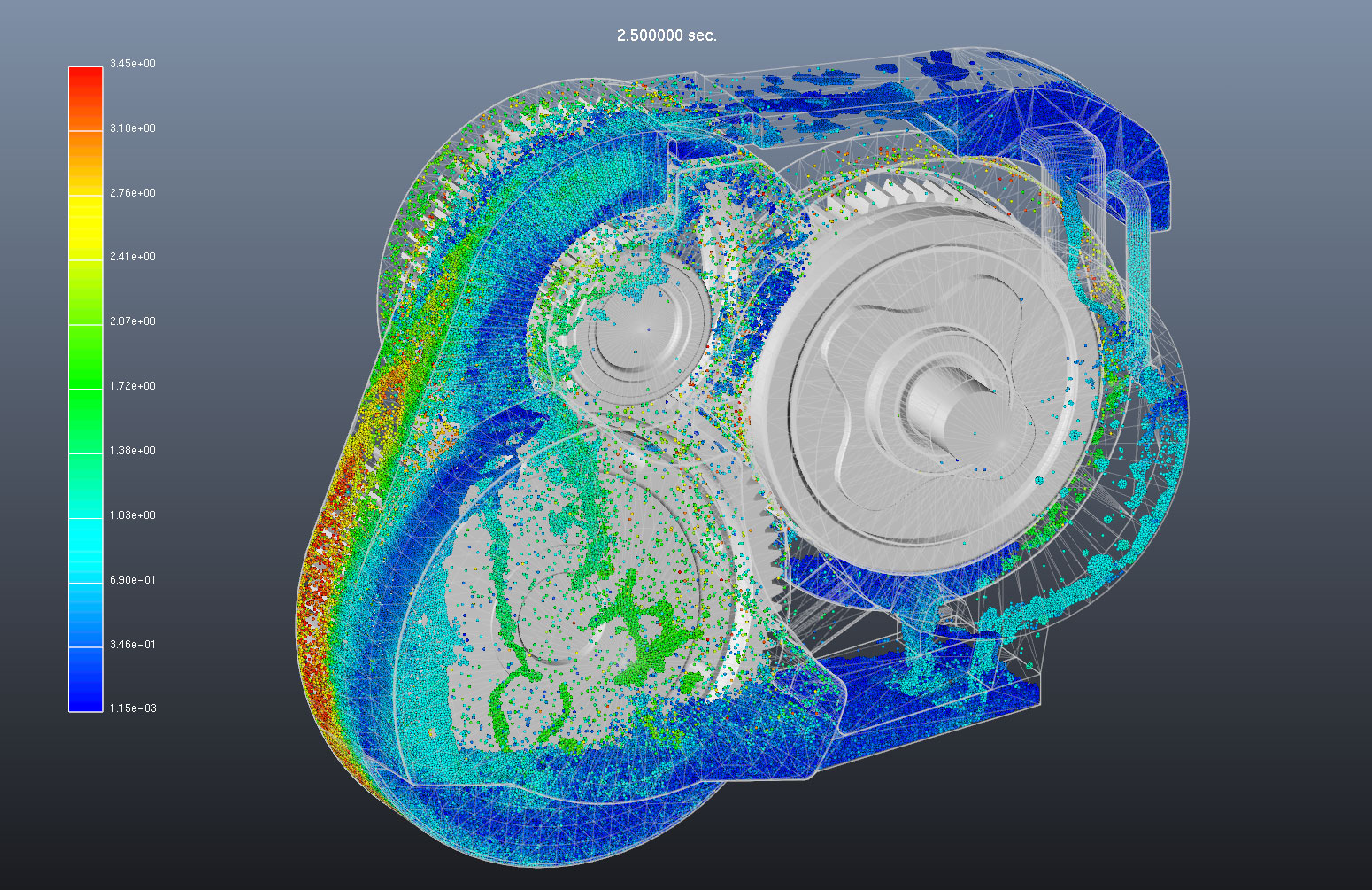 Analysis sample of the flow of gear oil through an engine. The Prometech software Particleworks has received many prizes, including the Award of Excellence in the Tokyo Venture Technology Awards 2011.
President & CEO of Prometech Software, Inc. Dr. Toshimitsu Fujisawa was a researcher at the Institute of Industrial Science until 2004. "I was satisfied with the enjoyable and fulfilling environment my research provided," he noted as he looked back on his time at the University.
The reason he abandoned his promising career as a researcher and chose to launch a company was due to concerns he had about the situation that Japan currently faces. "Computer simulation technologies are vital to modern manufacturing industries, particularly in industrialized countries, which need to identify ways to achieve high value-added manufacturing. However, although Japan has high research standards for simulation technologies, there are extremely few cases where the results of this research have been converted into commercialized software. The software that is actually used in the private sector almost all originates from other countries, including from Europe, North America and South Korea. I found this very frustrating. My desire to contribute to manufacturing in Japan through simulation technologies thus led me to establish my own company."
Dr. Fujisawa focused on techniques known as "particle methods" that were developed by Professor Seiichi Koshizuka (Graduate School of Engineering), someone with whom he had worked on a national university-industry collaboration project during his days at the Institute of Industrial Science. By treating fluids of various compositions as masses of microscopic particles, it is possible to create complex simulations with much greater ease than through the conventional method (grid method).
"Recreating the movement of water containing particles and other solid matter is extremely difficult using the grid method, even for simulation experts. However, with the particle method, this kind of simulation is made relatively easy. For example, in natural disasters such as tsunamis or torrential rains, tremendous amounts of floating debris move about. Using the particle method, it becomes possible for a wide range of users to analyze such complex phenomena."
The software that brings these special characteristics of the particle method into commercial use is known as Particleworks. This program's expanding user base comes from a diverse range of industries, which include the following: automobile manufacturers wishing to examine the complex flows of lubricating oil in order to design gears with high environmental performance, chemical manufacturers that wish to understand the behavior of delicate materials in order to create high-quality plastic molds, food manufacturers seeking to design machinery that will mix ingredients with a high degree of efficiency, and power companies for which it is necessary to carefully examine the safety of nuclear power stations. The simulation technology is also being utilized in CG effects in film and television. Making it possible to recreate scenarios easily and in a realistic way on a computer not only reduces experiment costs, it also gives new inspiration to architects and designers.

The company is partially named after Prometheus, the mythical god who created fire, which was perhaps the very first human technology. In the same manner, the simulation technologies of Prometech may provide a spark of inspiration to modern manufacturing.

Toshimitsu Fujisawa
President and CEOPrometech Software, Inc.
https://www.prometech.co.jp/home_en.html