Invitation to Science
Gardens, MomoClo and I: the Expanding Role of Aesthetics in Everyday Life
Since its foundation in 1893 (Meiji 26), the University of Tokyo's Department of Aesthetics has spearheaded research on aesthetics in Japan. An aesthetician from the Department who has pursued the study of garden aesthetics has, for some strange reason, become enraptured with a certain Japanese girl group. Here, the aesthetician himself explains the seemingly improbable relationship between garden aesthetics and Japanese idols.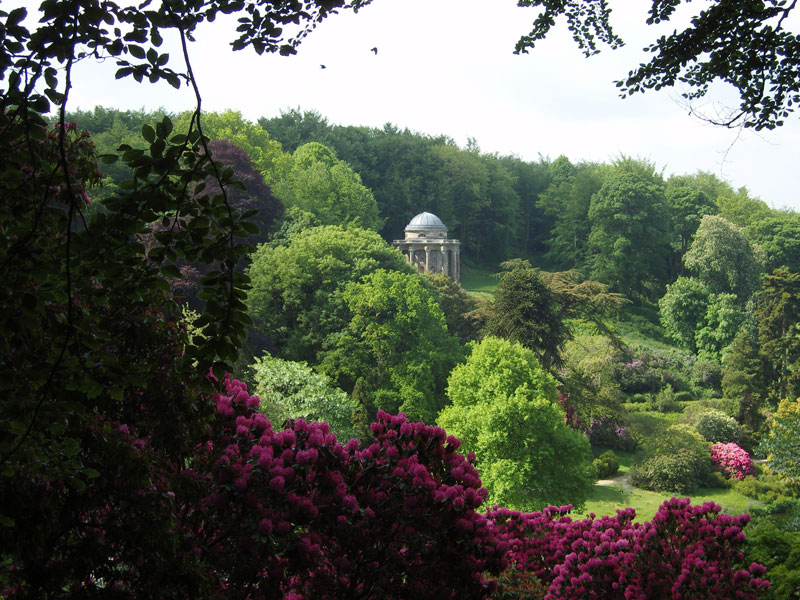 Hans Bernhard Stourhead, a prime example of an English landscape garden
I conduct research on the academic discipline known as aesthetics, with a particular focus on gardens and the environment.... is what I'd like to say I've been doing, but something made me lose my mind, so I published a book titled MomoClo no Bigaku (The Aesthetics of MomoClo) last year instead. MomoClo (an abbreviation of Momoiro Clover Z) is a famous Japanese girl group of pop idols whose popularity is coming to rival that of AKB48, considerably the most famous girl group in Japan. Although I had no intention whatsoever of riding on their wave of popularity, this humble little book of mine has been blessed with an exceptionally large number of readers for a book written by a scholar of aesthetics. As a consequence to this success, a mediocre teacher like me was forced to have the honor of introducing my research in the University's official public relations magazine.
Unfortunately, what makes things even worse is that I am also a jazz flutist. Despite being an amateur, I dare to refer to myself as a jazz musician all over the place. As a result, during the past year or so in a variety of situations, I have been asked the following question so many times that it makes me cringe a little: how are garden aesthetics, MomoClo, and jazz connected in your mind? There's no point in talking about my personal circumstances! Discussing this connection, however, from the perspective of recent research trends on aesthetics in general may not necessarily be meaningless.
As a formal academic discipline, aesthetics was originally conceived in Germany in the mid-18th century. Aesthetics constitutes a subdivision of philosophy and seeks to explain the nature of art and beauty. Since its beginnings, aesthetics in the modern Western world has been modeled on pure art. Such art is appreciated through an earnestly intensive and abstract approach in isolated spaces such as art museums and concert halls. Conversely, quasi-artistic phenomena interwoven with everyday living have been dismissed as impure. Typical examples of this kind of "impure art" include needlework, landscape gardening, pop art and other forms of popular art.
Modern Western aesthetics, however, has come under various forms of criticism for espousing this kind of exclusiveness and elitism, and has thus been forced to reexamine itself. Rather, the developments that transcend the heretofore detached world of pure art are the phenomena recently attracting attention, as they are seen to be carrying new possibilities. For instance, environmental aesthetics, including aesthetics involving gardens and everyday life, is gradually becoming a major trend these days. The reason I shifted my focus towards gardens was precisely due to this kind of theoretical interest. Actually, the same holds true for my interest in MomoClo as well.
Japan has a longstanding and unique cultural tradition with regard to pop idols. Moreover, in recent years, a significantly large number of people go to and are deeply moved by the live performances put on by these idols. Clearly, idols have now even permeated everyday life. One needs only to look at the popularity of Amachan, a Japanese TV drama that prominently features an idol girl group, to understand how prevalent idols are in the current cultural narrative. These phenomena can no longer be dismissed as second-class, tasteless art. Elements of subculture, including idols, and popular culture in general have become an existence which can no longer be ignored in the academic world. Thus, aesthetics must begin to focus on these developments seriously. People don't readily believe me when I say this, but my reasons for bringing MomoClo into the discussion also stemmed from this sort of (in my opinion) perfectly justifiable understanding of the issues facing aesthetics today.
A similar process can also be seen with jazz, which had traditionally been considered a form of popular art; leaving such categorizations aside, there is an ever-increasing number of people around the world who, like me, pursue artistic activities, such as music, while doing something else in another field. The arts are changing hands from the elite to the masses and saturating everyday life.
In short, what I would like to do is delve into examining this form of aesthetics that is integral to daily life. In that regard, the tea ceremony and other Japanese traditional arts that are intertwined with everyday life are being reevaluated. Fortunately for aesthetics scholars, research trends in modern aesthetics are increasingly catching the eyes of people everywhere.
Fans line up waiting to watch MomoClo's live performance at the Seibu Dome in April 2013.


Contributed by Shinichi Anzai
Associate Professor, Graduate School of Humanities and Sociology http://ameblo.jp/laboriosus/ (Japanese only)
MomoClo no Bigaku (The Aesthetics of MomoClo) (Kosaido Publishing)
* Associate Professor Shinichi Anzai passed away suddenly on February 10, 2014. May he rest in peace.