UTokyo's "Ginkgo Crest" Entrepreneurs in the Spotlight
University Alumni Making New Waves

How are the skills that are developed on campus put to use in society after graduation? We talked to two female entrepreneurs who are creating names for themselves in their respective fields of agriculture and education.
Developing agriculture into an enjoyable and profitable business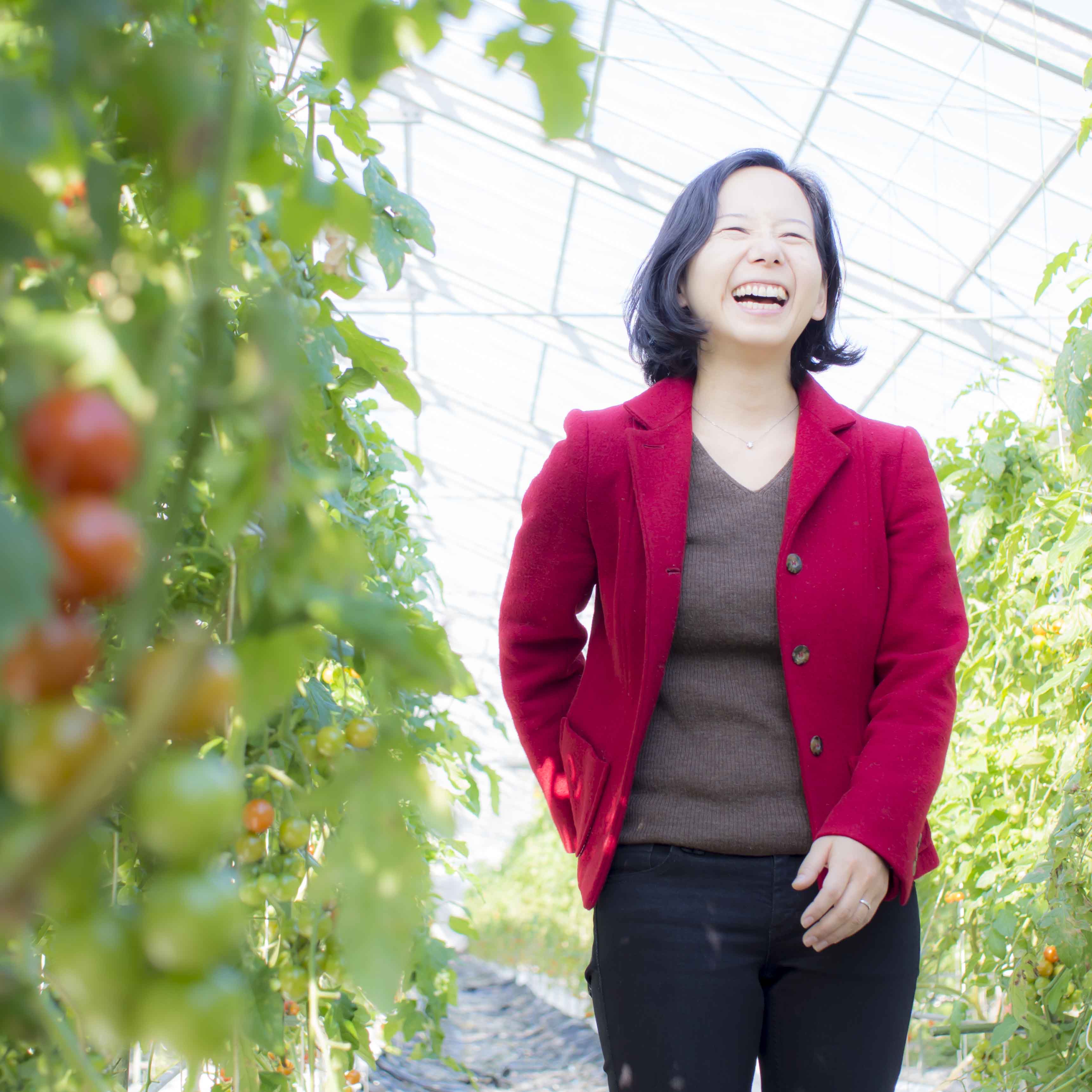 Yuriko Kato
President, M2 Labo Co.
(Faculty of Agriculture, 1998)
Dr. Kato conducted research into agricultural machinery during her time at the Faculty of Agriculture. After getting married she moved to Shizuoka, where she worked at the family company of her husband, taking up a job in machine development. However, after giving birth she left work in order to spend more time with her child. During this time, while surveying her surroundings, her eyes fell upon agriculture. As Dr. Kato herself says, "I enrolled in an agribusiness course at a local university and it really struck me that the agricultural sector was virtually untapped. In Japanese, farmers were originally called "hyakushou," which literally means "100 family names," implying that one farmer performs the work of 100 people. Despite the fact that their wealth of agricultural knowledge was as varied and deep as this label suggests, this knowledge has not been utilized in a broader environment as the agricultural world is still relatively closed. I thought that something should be done to rectify this situation."
In 2009, she launched a social networking service site for farmers. This initiative gradually expanded into the operation of an agriculture-related information site in five languages, and marked the start of Dr. Kato's almost daily information-gathering visits to agricultural producers. At one of these agricultural producers, she was shocked to see a bundle of more than 5,000 parcel delivery labels. Thinking how time-consuming this way of doing business must be, Dr. Kato created a customer database from the information on the parcel labels, inputting the information for each customer into separate spreadsheets. This work to create a database helped the producer with sales activities the following year. "That may be the moment when my style of business started to change," Dr. Kato notes. "I began seeking to help producers by working together with them, rather than simply offering consultancy services."
In 2012, Dr. Kato received further attention when she won the Grand Prize in the Development Bank of Japan's New Business Plan Competition for Women Entrepreneurs. She received particularly high praise for her new business that utilizes the power of people and information technology to link producers and buyers to each other, a new venture which can be seen as a sign of a coming distribution revolution in agriculture. "We provide a matching service for producers and buyers," Dr. Kato explains. "We aim to set up ideal linkages by providing information about the vegetables that producers are growing and the vegetables that buyers need, thus helping both sides to select their perfect partner from the information available. What is important is for producers and buyers to get together at the production site, as trust is essential for engendering long-term business relationships."
The company works in a sales and marketing role for producers, visiting production sites regularly and promoting the specific characteristics of their products. For buyers, the company acts as a kind of guarantor, ensuring the quality and volume of produce and acting on behalf of the producer in terms of production site management. However, it is not only the staff who are the engine behind this enterprise ― the power of IT is also a crucial ingredient. By installing equipment fitted with cameras and various sensors in the fields, it is possible for buyers to monitor the growth of the vegetables 24 hours a day online. M2 Labo's expectation is that "making agriculture more visible" will create a win-win relationship between producers and buyers, and it is working to nurture such relationships.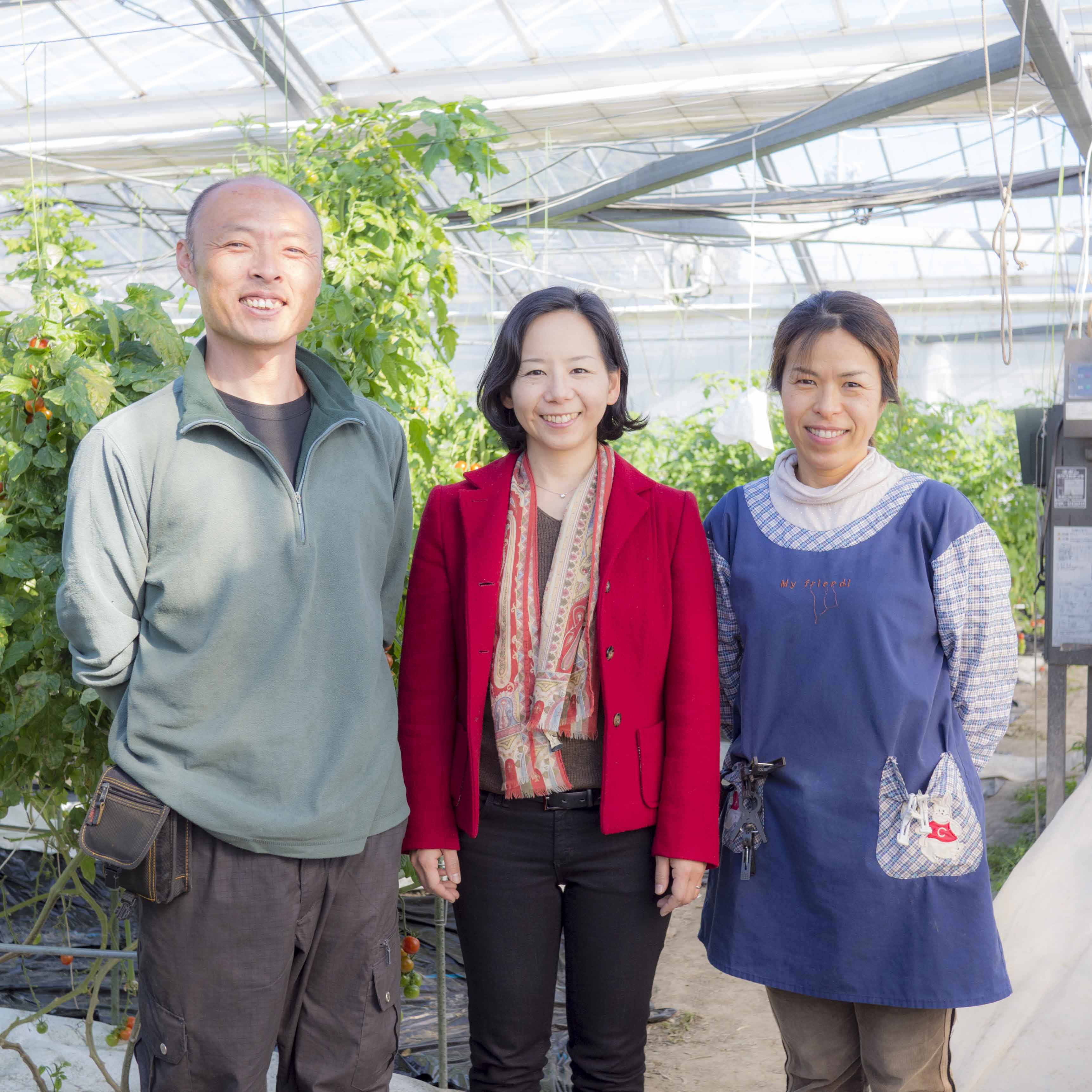 At Oishi Farm, one of the company's clients, which has grown delicious and safe tomatoes for 16 years.
Dr. Kato has recently discovered a new equation for her business, which is "Agriculture × ANY = HAPPY." She says that it was her answer to a question she asked herself: "Why am I so involved and passionate about agriculture?" So what does this equation mean for her? "It means that whatever you combine agriculture and farming with, the result is something happy and joyful. In my particular case it was a combination of agriculture × engineering and agriculture × IT, but it could mean different things for different people, like agriculture × school, or even agriculture × soccer; every combination results in a happy outcome. That is the amazing power of agriculture."
Dr. Kato tells a story about a fresh lettuce she had brought home from a farmer. She says with a laugh, "my daughter ate the whole thing as if it were a snack!" It seems that Dr. Kato's equation for happiness is working at home, too.
M2 Labo Co.https://www.m2-labo.jp/home-1
Establishing Japan's First-ever International Boarding School from Zero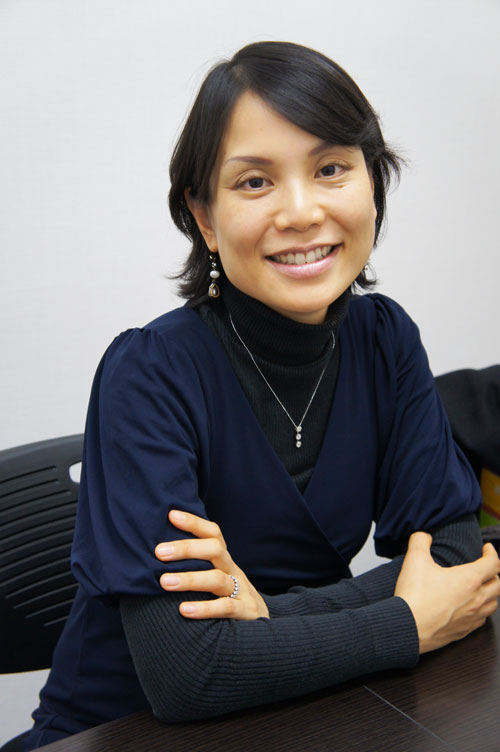 Lin Kobayashi
Chair of the Board, International School of Asia, Karuizawa (ISAK)
(Faculty of Economics, 1998)
This summer, a brand new international high school will open in Karuizawa with the aim of nurturing the next generation of Asian leaders. The defining characteristic of this school is that it will bring in students from the Asia-Pacific region to live and study together with Japanese students, creating a fully-residential international environment.
Ms. Kobayashi explains how her background led her to open this school. "When I was in my first year of high school, I was very doubtful about a system that requires students to gain good grades uniformly across all subjects. Therefore, I left high school in Japan and entered a fully-residential boarding school in Canada that was designed with the concept of focusing on students' particular talents and developing them further. This experience made me realize that there are limitations to what you can learn in a classroom environment; some things can be appreciated only by living with friends from a variety of different backgrounds."
At the age of 17 Ms. Kobayashi visited Mexico, the home country of one of her fellow students, and she was astounded at the inequality of educational opportunities that she saw. This was what initially opened her eyes to the importance of educational support for developing countries. After returning to Japan, she studied furiously and gained entry to the University of Tokyo. Her resolve to get involved in education was only strengthened further after taking part in a homestay program in a slum in the Philippines, which was a customary part of the seminar of Professor Toru Nakanishi of the Faculty of Economics. On this trip, she encountered a situation where child labor had become the norm due to the parents not having had an education themselves. "After graduation, however, I joined a major foreign financial firm and also managed my own startup venture. When I was younger, my aim was to gain experience and grow as a person by working together with outstanding people in the business world."
She returned to the field of education after making a career change and taking up a position in the Japan Bank for International Cooperation (JBIC), thanks to a connection from her University seminar. When a job opportunity came up at UNICEF for a Program Officer to coordinate non-formal education for street children in the Philippines, Ms. Kobayashi applied without a moment's hesitation. She initially thought that she had found her true calling; as time passed, however, she gradually came to have second thoughts.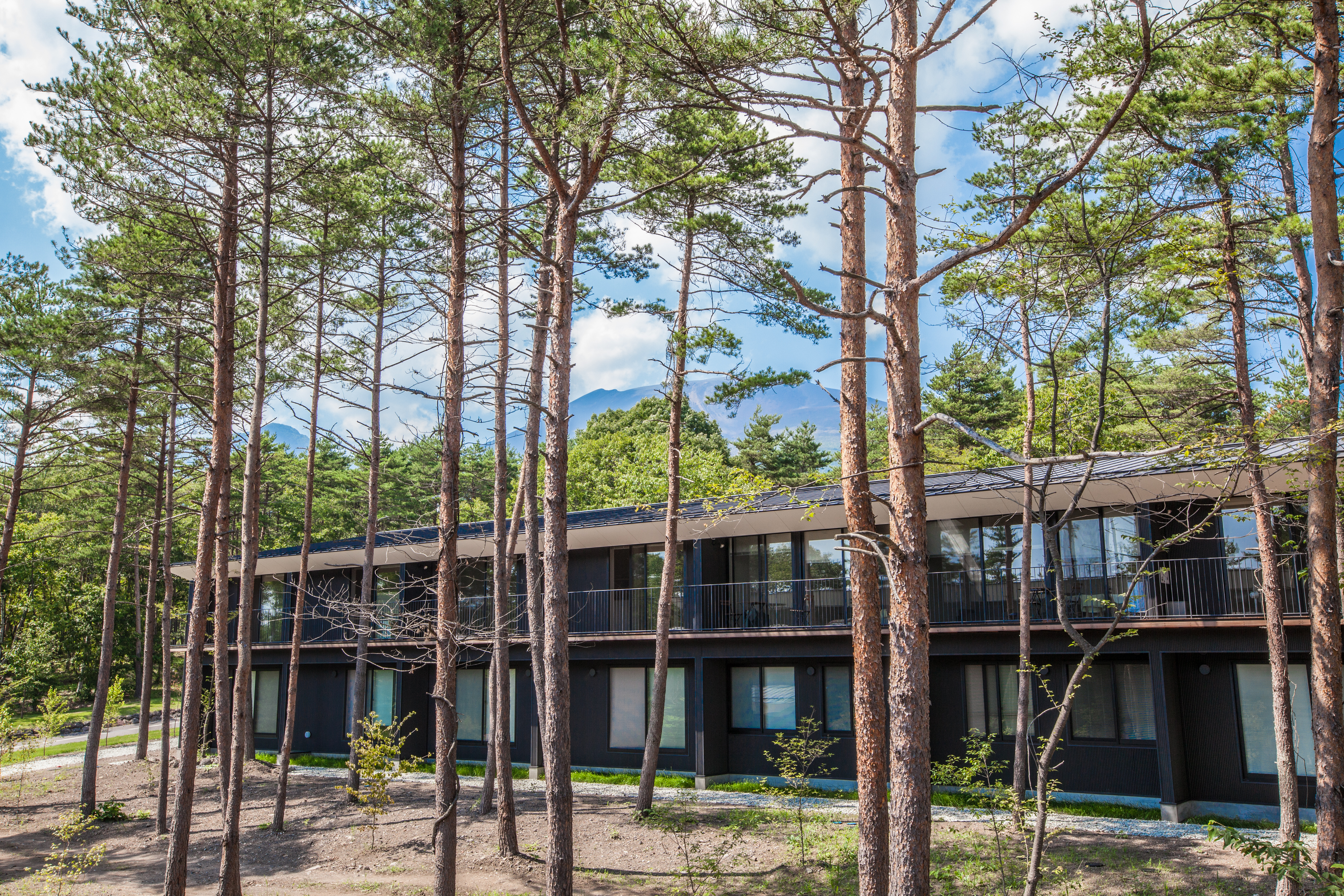 The school building in the rich, natural environment of Karuizawa. The large windows featured in all classrooms provide a feeling of openness and spaciousness, as well as magnificent views of Mt. Asama.
"Although education for those in the poorest class of society is important, it is also necessary to change the mechanisms of the society that perpetuates the existence of such a class. I began to feel that what was required was education for a class of leaders that transcends the stratification of modern society."
Also around this time, through an introduction from a University friend, she met Mr. Mamoru Taniya, Chairman and CEO of Asuka Asset Management, Ltd. (Representative Founder of ISAK and graduate of the University of Tokyo's Faculty of Law). Something about his idea to create a school rich with diversity immediately clicked with her.
"I thought that this would be a project that would bring all the various parts of my life together: study abroad, finance, venture business and UNICEF. It was like connecting the dots to form one large picture."
As Founder and Chair of the Board, Ms. Kobayashi has had to overcome various challenges, including the 2008 financial crisis, the Great East Japan Earthquake, and the acquisition of a school corporation license. The challenge moving forward, however, will be to ensure sustainable management of the school. Preparing scholarship funding for half of the total number of students is no easy matter. When asked for a message to the readers of Tansei, Ms. Kobayashi immediately says, "I would be delighted if readers would provide us with their cooperation in contributing to the Karuizawa hometown tax." Upon asking why, she explains that hometown tax contributions to Karuizawa are set up to provide direct financial support to the school. ISAK is set to open in August 2014.
International School of Asia, Karuizawa (ISAK)https://uwcisak.jp/