ARTICLES

Multiple photoreceptors work together in cyanobacteria
For effective control of photosynthetic production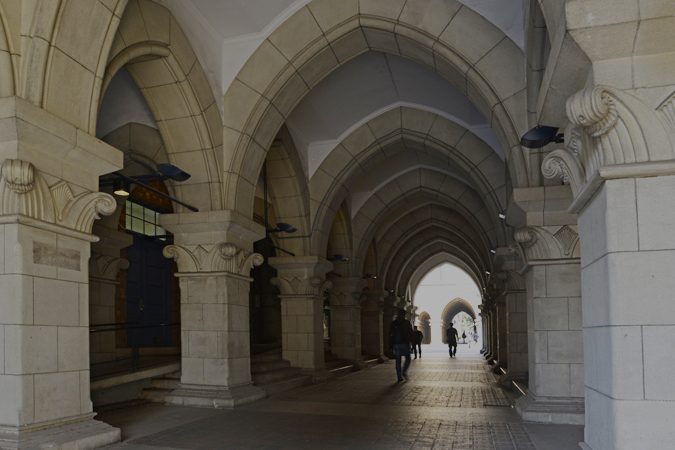 Researchers at the University of Tokyo have demonstrated that the coordination of multiple photoreceptors sensing light from the ultraviolet to the far red enables a highly efficient light-sensing system in photosynthetic bacteria. The application of this system would make a large contribution to the strict control of photosynthetic production.
Cyanobacteria are a type of microalgae that perform photosynthesis like terrestrial plants and have sophisticated light-sensing systems to adapt to ambient light conditions. Cyanobacteriochrome, one group of the cyanobacterial photoreceptors, can sense different colors of light covering the entire visible spectrum. The cyanobacteriochrome found in cyanobacteria exists in far greater numbers than other photoreceptors, but why this should be so was unknown.
The research group of PhD student Gen Enomoto and Professor Masahiko Ikeuchi at the University of Tokyo Graduate School of Arts and Sciences decoded the genomes of three cyanobacteriochromes in cyanobacteria that aggregate in response to blue light. The research group found that i) three cyanobacteriochromes regulate cell aggregation of a thermophilic cyanobacterium, ii) the three have distinct properties and play different roles, and iii) the coordination of the three enables highly sensitive and specific light-sensing system.
The application of the signal transduction system discovered in this research may be useful for regulation of photosynthetic production and recovery of the produced biomass, for example by designing a photoreceptor that induces cell aggregation in response to a particular color of light, or artificially switches photosynthetic biomass production on or off.
Press release (Japanese)
Paper
Gen Enomoto, Ni-Ni-Win, Rei Narikawa, and Masahiko Ikeuchi, "Three cyanobacteriochromes work together to form a light color-sensitive input system for c-di-GMP signaling of cell aggregation", Proceedings of the National Academy of Sciences of the United States of America Online Edition: 2015/06/16 (Japan time), doi: 10.1073/pnas.1504228112.
Article link (Publication)
Links
Graduate School of Arts and Sciences
Department of Life Sciences, Graduate School of Arts and Sciences (Japanese)
Ikeuchi Laboratory, Department of Life Sciences, Graduate School of Arts and Sciences