ARTICLES

3D internal structure of primitive plant cell
Billion-year time travel with world's most powerful ultra-high voltage electron microscope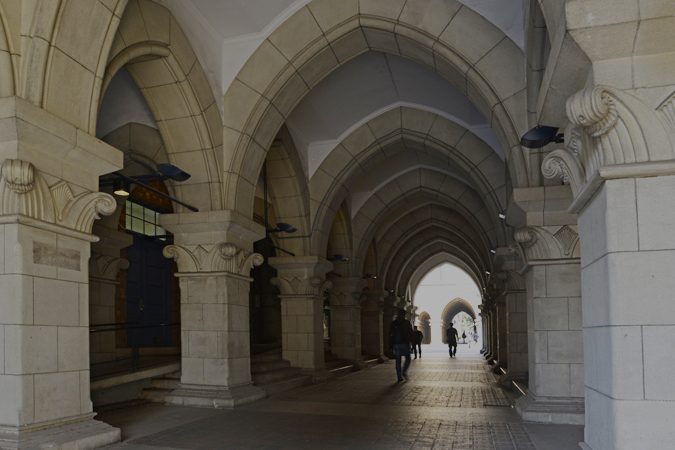 A University of Tokyo research group has revealed the microscopic 3D internal structure of cells of Glaucophytes, thought to be the most primitive type of plant cell, and inferred the structure of first photosynthetic plant cells formed through symbiosis with cyanobacteria some one to two billion years ago. This research will deepen our understanding of origins of photosynthetic plants by revealing the microstructures of other eukaryotic cells (cells with a nucleus or other membrane-bound structures).
The biological activity of almost all living things on Earth is based on energy ultimately originating from sunshine first received by chloroplasts in plants. It is generally thought that chloroplasts originated with the symbiosis of a cyanobacterium in a eukaryotic cell, from which the first plant evolved one to two billion years ago. However, details of this ancient first plant have remained uncertain.
The research group of Associate Professor Hisayoshi Nozaki at the University of Tokyo Graduate School of Science used the world's most powerful ultra-high voltage electron microscope to reveal the detailed 3D ultrastructure (nanoscale structure of the cell) of the thickly-walled cells of the genus Glaucocystis, belonging to the most primitive photosynthetic eukaryote group Glaucophyta
. This 3D ultrastructure shows that the whole cell membrane of the Glaucocystis cell is tightly backed by numerous leaflet-like flattened vesicles. The researchers speculate that the first plant cell might have exhibited a similar 3D ultrastructure when it was established by the chloroplast endosymbiosis.
This research would not have been possible without the use of a ultra-high voltage electron microscope, capable of revealing the internal structure of thickly-walled cells such as those of plants. The present study was carried out with the Osaka University Research Center for Ultra-High Voltage Electron Microscopy's ultra-high voltage electron microscope, the most powerful such microscope in the world.
"The three-dimensional structure of the first eukaryotic organisms revealed in this research suggests that this structure existed prior to the formation of the cell wall and incorporation of chloroplasts, and was intended to protect the cell," says Professor Nozaki. "We hope to test this hypothesis by verifying the internal structures of the cells of other eukaryotic organisms," he continues.
Paper
Toshiyuki Takahashi, Tomoki Nishida, Chieko Saito, Hidehiro Yasuda & Hisayoshi Nozaki, "Ultra-high voltage electron microscopy of primitive algae illuminates 3D ultrastructures of the first photosynthetic eukaryote", Scientific Reports Online Edition: 2015/10/06 (Japan time), doi: 10.1038/srep14735.
Article link (Publication, UTokyo Repository)
Links
Department of Biological Sciences, Graduate School of Science
Laboratory of Origin of Eukaryote Biodiversity, Department of Biological Sciences, Graduate School of Science