ARTICLES

UTokyo Hosts Falling Walls Lab Research Communication Contest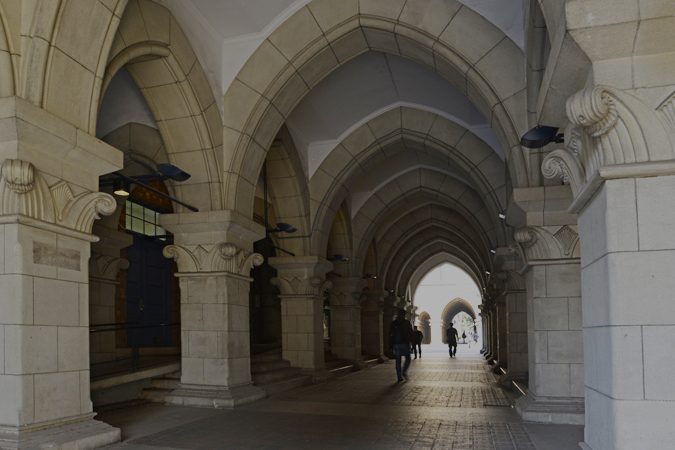 Date of activity: May 12, 2018
Can you present your research or idea to an audience of non-specialists in just three minutes?

Fifteen prescreened researchers at institutions from across Japan rose to that challenge at the University of Tokyo on Saturday, May 12, as it hosted the Falling Walls Lab Tokyo, an English-language research communication contest. Among the contestants, four were from UTokyo. Over 50 people attended the event held at Koshiba Hall.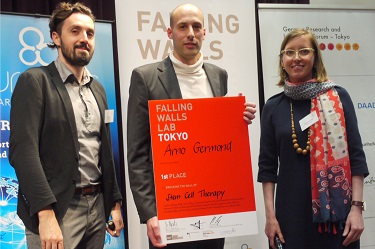 Arno Germond (center), the first-prize winner of the Falling Walls Lab Tokyo 2018, poses with Konstanze Lang (right), program director at the German Research and Innovation Forum Tokyo (DWIH Tokyo), and EURAXESS Japan representative Matthieu Py.
The first prize of the competition, part of an annual science event organized by the Berlin-based Falling Walls Foundation, went to Arno Germond from the RIKEN institute. Germond, originally from France, talked about how to make stem cell therapy safer and more accessible to the public.
Irwansyah, an Indonesian researcher at Kumamoto University, received the second prize for his talk on how to improve the hearing experiences of people using bone conduction devices. Germond and Irwansyah won a flight to - and accommodation in - Berlin to join 100 international finalists who will compete at the Falling Walls Lab Finale in November.
The third prize, selected by the audience, went to UTokyo researcher Mohamed Batran, originally from Egypt, who is studying how to manage congestion using big data. He received a podcasting microphone.
The event was co-organized by the German Research and Innovation Forum Tokyo (DWIH Tokyo) and EURAXESS Japan and supported by UTokyo.
While the seven-person jury, including Professor Yuko Fujigaki of the Graduate School of Arts and Sciences, deliberated on the winners, the audience was treated to a communications workshop by Caitlin Devor, a project senior specialist at UTokyo. Attendees formed pairs and tackled a series of game-like tasks, practicing how to explain their area of expertise using non-specialist language.
The event is part of the Falling Walls initiative, which is aimed at "breaking down walls" around the world, and promoting research and innovation. The initiative, which commemorates the 1989 fall of the Berlin Wall, has provided students, young researchers and professionals of all disciplines and nationalities an opportunity to present their research, business plan or social initiative in three minutes and in English in front of a general audience.
The 15 presenters at the Falling Walls Lab Tokyo 2018 pose for a group shot after the winners are announced.

Mohamed Batran from the University of Tokyo makes a three-minute presentation about his research on managing congestion by using big data, which won him third prize.

Caitlin Devor from the University of Tokyo's Division for Strategic Public Relations interacts with the audience during her workshop on research communication.