Therapy with Favipiravir and Nafamostat in Patients with COVID-19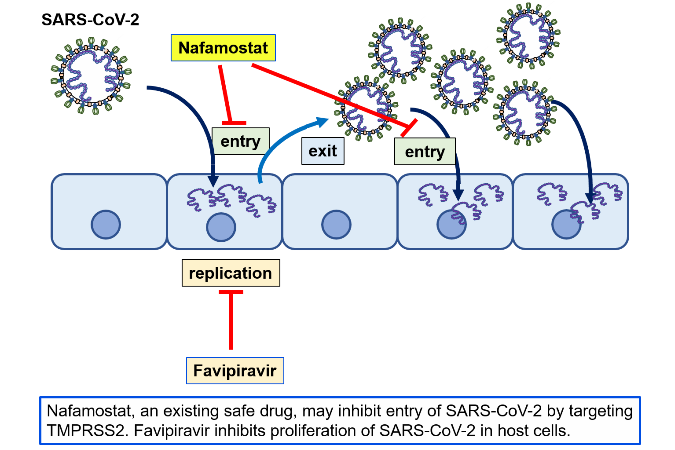 Launch of a Multicenter, Single-blinded Randomized Clinical Trial (RCT) of "Combination Therapy with Favipiravir and Nafamostat Mesylate in Patients with COVID-19 Pneumonia" Aimed at Expeditious Establishment of Therapy for COVID-19 Patients
At the University of Tokyo Hospital, we have launched a specified clinical trial (*1) of combination therapy with favipiravir (Avigan® 200 mg tablets) and nafamostat mesylate (Futhan® 50 Inj.) on SARS-CoV-2 positive patients developing pneumonia. In addition to the main testing center in The University of Tokyo Hospital, the study is also being conducted at several cooperating institutions.
Key Points
Favipiravir, in addition to being a candidate drug treatment for COVID-19 in multiple specified clinical trials and observational studies, is also progressing in a sponsor-initiated clinical trial. Nafamostat mesylate for COVID-19 has been subjected to domestic observational studies, but interventional studies have yet to launch in Japan.
Because favipiravir inhibits RNA polymerases, it is thought to inhibit the multiplication of SARS-CoV-2 in human cells. Nafamostat mesylate is an anticoagulant and has been used in Japan to treat acute pancreatitis and disseminated intravascular coagulation (DIC), but was discovered to inhibit virus entry into human cells at the Institute of Medical Science of The University of Tokyo (IMSUT).
Favipiravir and nafamostat mesylate act on different parts of the viral multiplication process, and so should have an additive effect when the two are used together. In a proportion of patients COVID-19 is thought to be involved in worsening pathological blood coagulation inside the blood vessels, and so we can expect nafamostat mesylate's anticoagulant activity to successfully counteract this condition. Thus, if both drugs together prove safe and effective, they should help to prevent patients from disease progression and shorten their hospitalization time, and contribute to the treatment of the rapidly increasing number of patients.
In this clinical study, we will compare two treatment groups, one receiving both favipiravir and nafamostat mesylate, and the other receiving favipiravir alone, with the goal of confirming our conjecture that the addition of nafamostat mesylate will prove safe and efficacious in patients.
Research Overview
In light of the current spread of SARS-CoV-2 infection around the world, attempts to search for therapeutics among existing drugs with confirmed safety profiles would seem to be the most sensible approach, and clinical trials of such candidate drugs are underway around the world. From among these candidate drugs, here we have chosen two promising therapeutics developed in Japan, favipiravir and nafamostat mesylate, and designed a clinical study to combat COVID-19. Favipiravir received approval from the Ministry of Health, Labour and Welfare in March of 2014 limited to its efficacy in treating "novel or reemerging influenza (but only when other anti-influenza drugs are ineffective or insufficient)."
Because its mechanism of action is conversion to a ribosyl triphosphate inside the body and selective interference with the viral RNA polymerase, the possibility exists that it will also show an effect against RNA viruses aside from influenza. Many clinical trials of favipiravir against COVID-19 are underway. To date, a scientific report from China has been posted that favipiravir reduces the symptoms (fever and pneumonia) of SARS-CoV-2 infection (MedRxiv, doi: https://doi.org/10.1101/2020.03.17.20037432, Engineering (Beijing) doi: https://doi.org/10.1016/j.eng.2020.03.007).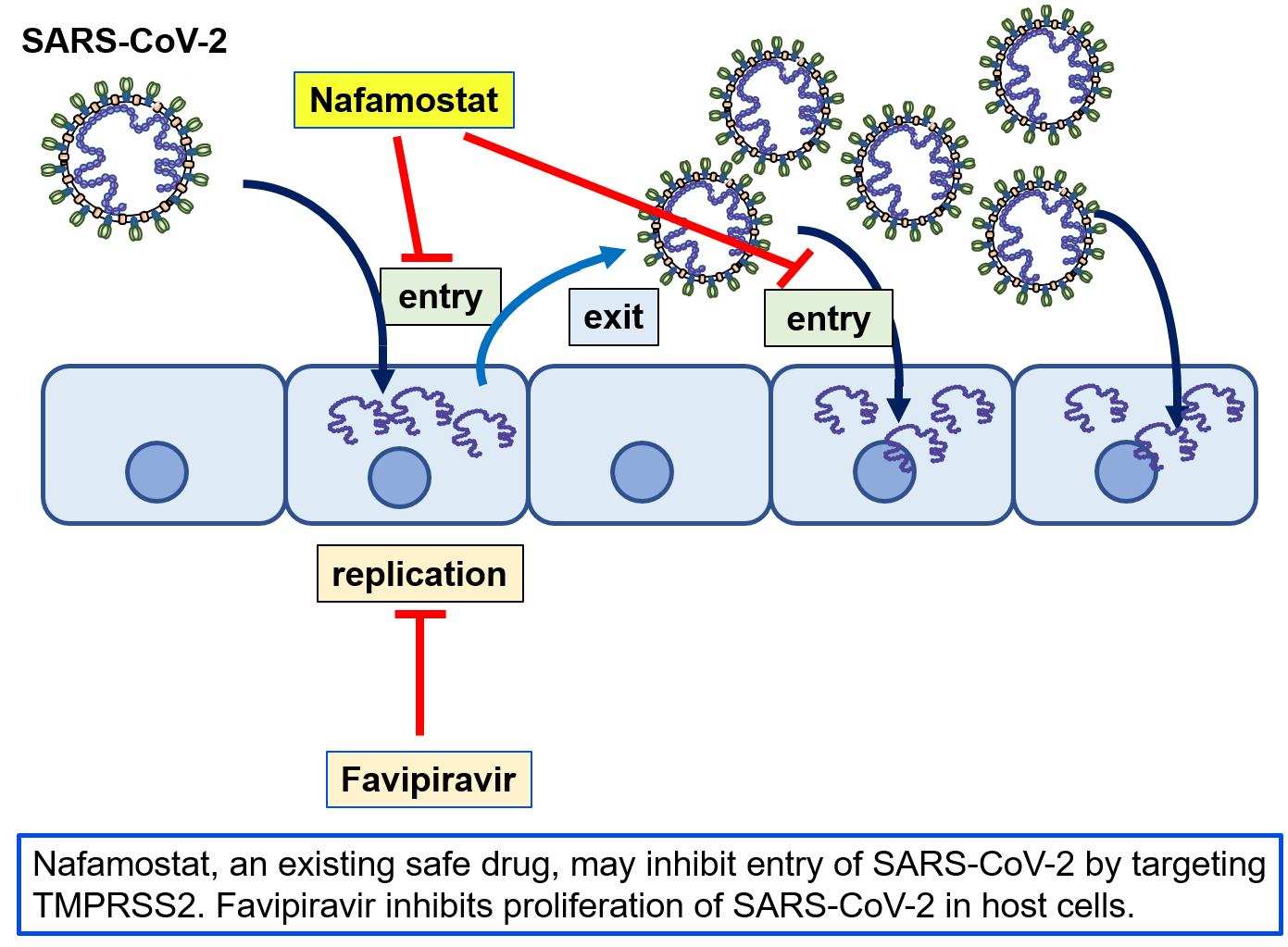 Because nafamostat mesylate has inhibitory activity against proteolytic enzymes, its usefulness in ameliorating acute pancreatitis and for DIC have been confirmed, and this drug has been used for many years in Japan.
IMSUT's Jun-ichiro Inoue group identified nafamostat mesylate as a pharmaceutical with the potential to inhibit entry of SARS-CoV-2 into human cells. In viral infection experiments using respiratory tract epithelial cells thought to be important for human infection, the nafamostat mesylate level needed to inhibit infection by 50% (EC50) was shown to be only around 10 nM, a very low concentration (bioRxiv, doi: https://doi.org/10.1101/2020.04.22.054981). Furthermore, blood clot formation inside blood vessels has been reported in severe cases of COVID-19 (Lancet Rheumatol, doi: https://doi.org/10.1016/S2665-9913(20)30121-1), and so, nafamostat mesylate is hoped to have beneficial effects apart from its antiviral activity.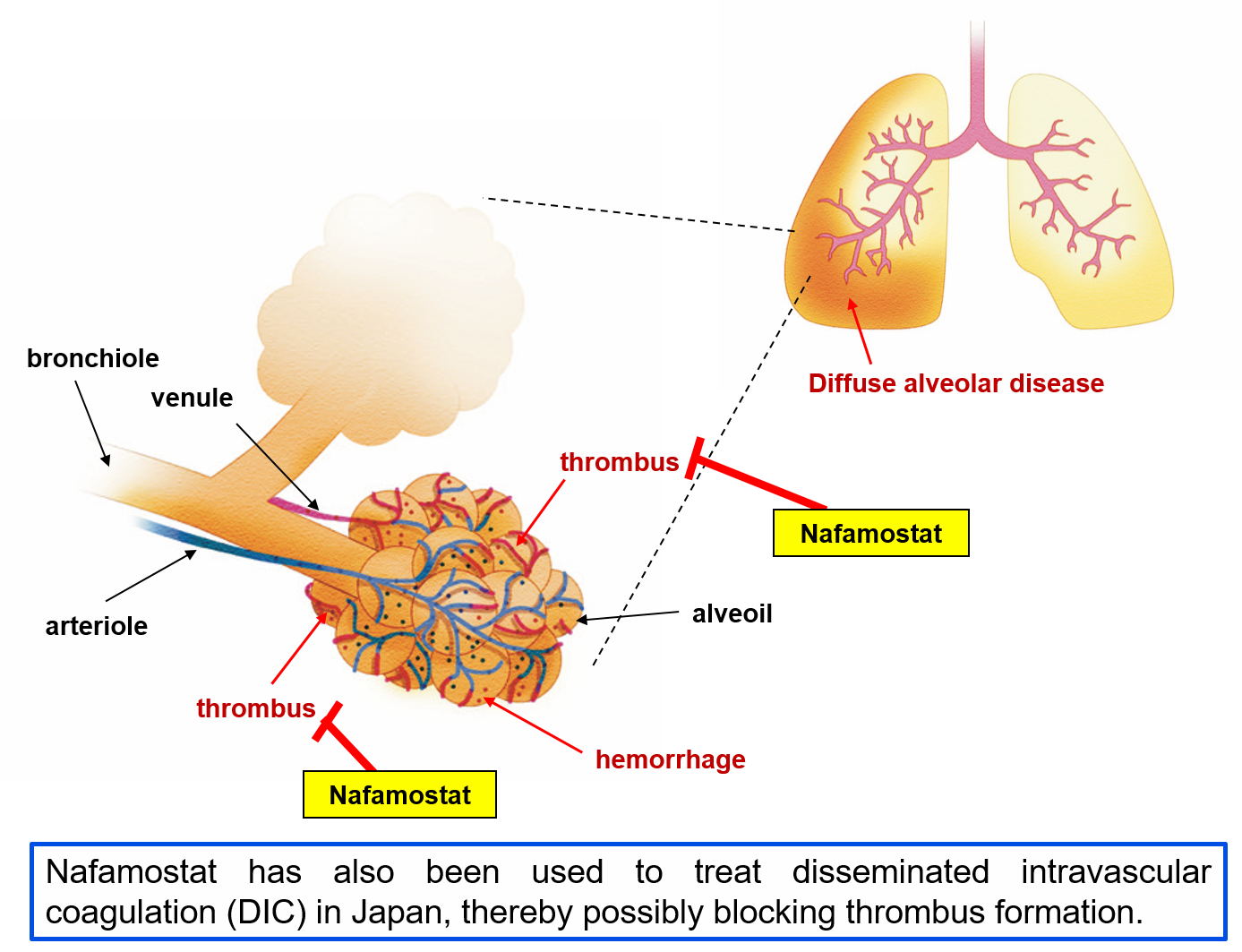 Both the favipiravir "Avigan® 200 mg tablets" from FUJIFILM Toyama Chemical Co., Ltd. and nafamostat mesylate "Futhan®50 Inj." from Nichi-Iko Pharmaceutical Co., Ltd. are being provided free-of-charge by their manufacturers for this study, and this study's implementation will be based on a design that relied on safety information provided by the two companies.
This clinical study was examined and approved by the Japanese national government-certified University of Tokyo, Clinical Research Review Board. Permission to conduct the study was received from the hospital directors of these hospitals and all participating institutions. Furthermore, this clinical study's implementation plan has been filed with the Ministry of Health, Labour and Welfare, and registered with the Japan Registry of Clinical Trials (jRCT). That information is available on the jRCT homepage.
Clinical Study Research Details
1. Title of Study
Multicenter, Single blinded Randomized Controlled, Comparative Study to Evaluate the Efficacy and Safety of Favipiravir and Nafamostat Mesylate in Patients with COVID-19 Pneumonia (jRCTs031200026)
2. Implementation System
[Principal Investigator]
Kyoji Moriya (Infection Control Center, The University of Tokyo Hospital, Professor)

[Project Director]
Yasuyuki Seto (Director, Stomach and Esophageal Surgery, The University of Tokyo Hospital, Professor) 

[Chief Research and Development Officer]
Takashi Moritoyo (Clinical Research Promotion Center, The University of Tokyo Hospital, Director / Professor)

[Chairman of Coordinating Committee]
Kohei Miyazono (Graduate School of Medicine, The University of Tokyo, Professor)

[Cooperating Hospitals and Institutions]
Aside from The University of Tokyo Hospital, information made public on the the jRCT homepage on May 11, 2020 states that the clinical study will be launching at 7 further institutions such as IMSUT Hospital (Division of Infectious Diseases and Applied Immunology, Professor Hiroshi Yotsuyanagi), Toranomon Hospital (Department of Infectious Diseases, Director Hideki Araoka), Tokyo Medical and Dental University, Medical Hospital (Department of Respiratory Medicine, Professor Yasunari Miyazaki), etc., with plans to add participating institutions sequentially, starting from now.
3. Eligibility: COVID-19 pneumonia patients fulfilling all the selection criteria below:
1) age: 20 ~ 74 (at the time of agreement)
2) gender: all
3) Inclusion Criteria:
  (1) Patients who have given written consent to participate in the study
  (2) SARS-CoV-2 PCR positive
  (3) Patients with pneumonia on chest image
  (4) Patients with fever over 37.5 degrees
  (5) Pregnancy test-negative
Please confirm the details of this clinical study at the Japan Registry of Clinical Trials (jRCT).
https://jrct.niph.go.jp/en-latest-detail/jRCTs031200026
Contact Information for News Media Inquiries
The University of Tokyo Hospital
Center for Liaison and Public Relations
E-mail: pr@adm.h.u-tokyo.ac.jp
###
Research Notes
(*1) The term "specified clinical trials" as used in Clinical Trials Act described here is clinician led and implemented clinical research that is initiated and designed to evaluate not-yet-approved off-label uses of medications, etc. in view of medical needs and importance. This differs from industry-initiated so-called "chi-ken" clinical trials that pharmaceutical companies carry out to test the safety and efficacy of new drugs to obtain manufacturing and marketing approval from the Ministry of Health, Labour and Welfare.