Rowing performance measurement conducted on Oxford and Cambridge University crew members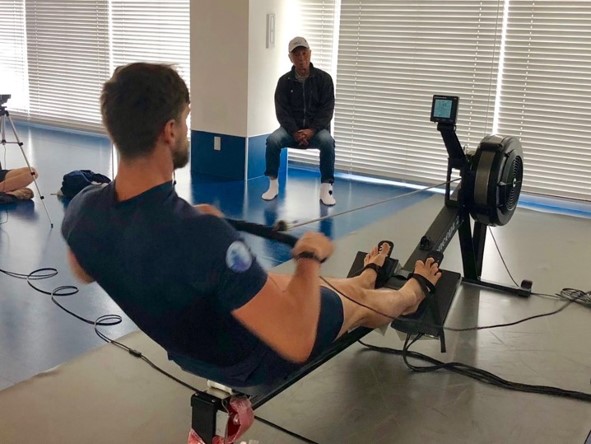 The opening ceremony for Sea Forest Waterway, the rowing and canoe venue for the upcoming 2020 Tokyo Olympic Games, was held on June 16, 2019. In the accompanying ceremonial regatta, the alumni crews of Oxford and Cambridge Universities were invited. The rowing clubs for both universities are proud of their long history and tradition, and the rowing race between the universities held on the River Thames is a big event in the spring season, known familiarly as "The Boat Race."

Almost all crew members coming this time have great rowing careers; not only have many of them participated in The Boat Race, but some of them are also medalists in Olympic games and world championship regatta. To take advantage of this invaluable opportunity, a research team led by Professor Daichi Nozaki (Graduate School of Education) performed a rowing performance test using the measurement system (Photos 1 and 2) developed through the UTSSI project "Scientific approach for achieving the optimal rowing movement."

According to the data previously collected from Japanese athletes, the team had already discovered the existence of rowing movement patterns specifically observed in first-class athletes such as how they move the handles and seats as well as how they exert force on the stretcher (footplate). The team also had proposed a theoretical and biomechanical explanation of why such rowing movement patterns are efficient. The data collected for Oxford and Cambridge University alumni crew members also demonstrated similar preferable patterns, supporting the validity of their proposed idea. The team is now trying to develop a novel methodology for athletes to acquire this rowing skill efficiently.
Photo 1: Measurement device (upper panel) and software (lower panel). Several sensors are attached to the commercially available rowing ergometer. This system enables measurement of the handle and seat movement as well as the handle and stretcher (footplate) force, and displays the data in real-time fashion for the feedback.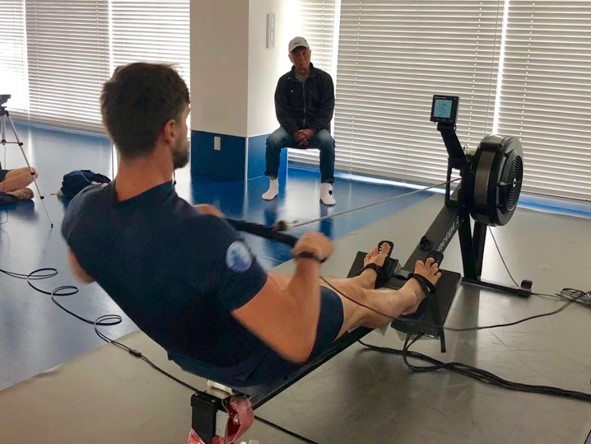 Photo 2: Mr. Paul Bennett, an alumnus of Oxford University, was tested on the measurement device. Mr. Bennett is part of the eight-member crew of the Great Britain team that won the gold medal in the Rio de Janeiro Olympics.