Leadership training for tomorrow's technologists
Event held at UTokyo lets students from around the world explore their leadership potential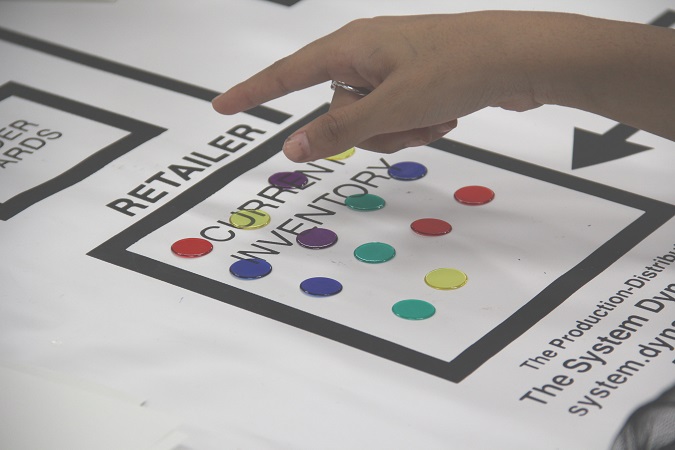 University students from around the world gathered at the University of Tokyo in August to participate in activities aimed at building leadership skills for tomorrow's scientists and technologists. The 12th annual Science and Technology Leadership Association (STeLA) forum, a series of debates, lectures and workshops, was held on the Hongo Campus from August 7th till the 16th. STeLA was founded in 2006 by a group of science and engineering students at MIT in the U.S., and has evolved into an international student-run organization.
A clamor of activity suggests something exciting is afoot in "the games room" of the STeLA forum held in the engineering department of the University of Tokyo. Sure enough, several dozen keen and eager students, mostly from Asia, Europe and the U.S., huddle around four long tables frantically scribbling numbers on color-coded cards and passing them to each other in an almost mechanical fashion — apropos as they're playing a game about the manufacturing industry.
"It's designed to provoke logical minds into solving problems using interpersonal skills," explained Sarah from the Australian National University, one of several supervisors, all of whom have previously participated in the program. She added, "When I took part last year the games improved how I communicate with others. In Australia, we can be quite outspoken. I learned how to share opinions with those who are less open or direct."
Participants do more than just play games. STeLA gathers groups of international students enthusiastic about science and technology, and each year brings them to one of several locations in its global network. There, they engage in a variety of themed activities designed to bolster useful career skills such as leadership, problem-solving, project management and networking.
"One of this year's themes is smart cities, so we're thinking about topics like automation and big data," said Rehab, a participant and civil engineering student from Abu Dhabi. "We've debated topics like overpopulation, where each of us was tasked with representing different stakeholders such as environmental groups or businesses to test our leadership abilities," she said.
STeLA's long-term goal is to encourage this ever-expanding network of bright young sparks to focus their careers on tackling global issues. The University of Tokyo was an ideal location for the 10-day event as it offers a strong and supportive academic environment in which participants could immerse themselves and draw inspiration from. Several UTokyo professors gave keynote speeches on this year's theme for the benefit of the participants.
"I was drawn to this event partly by the theme as it's relevant to my degree, but mostly by the prospect of meeting so many international students from different disciplines," said Mia, a UTokyo environmental science undergraduate. She continued: "But the best part for me was the way we've explored different models of leadership, the take-home idea being a nonhierarchical shared leadership model might be best to coordinate solutions to global issues."