Competition to simulate building resilience
The Earthquake Research Institute ran a building damage prediction competition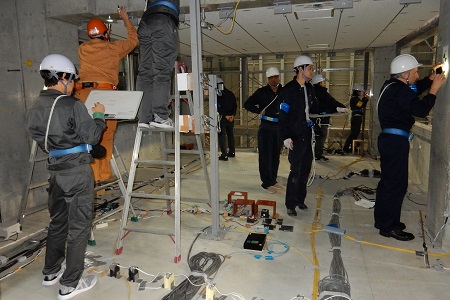 In December 2019, researchers from the Earthquake Research Institute ran an earthquake test simulation to collect data about buildings with modern architecture. In parallel with their test, they invited international research teams to predict how the test structure might react. Future competitions will explore the use of sensors to see if they can help improve the modeling of buildings during earthquakes.
Computational structural analysis is an important tool researchers use to ensure buildings are adequately safe in everyday circumstances and during disasters such as earthquakes and typhoons. Current analytical methods have a good track record for modeling existing kinds of architecture, but their applicability to new or uncommon architectural methods is unknown. A structure tested at the E-Defense earthquake simulation facility in the city of Miki in Hyogo Prefecture, Japan, is an example of such a building, so researchers felt it was a good opportunity to put structural analysis to the test.
"We wanted to evaluate the effectiveness of structural analysis approaches in predicting the behavior of the atypical three-story building we tested under different earthquake shaking intensities," said Project Researcher Trevor Zhiqing Yeow from the Kusunoki Laboratory of the Earthquake Research Institute. "To go about this, we decided to host a global competition for researchers and practitioners to see which team could make the most accurate predictions possible. We had 16 teams from China, Japan, Greece and New Zealand. The four winning teams had some impressively accurate models and results."
The E-Defense facility is built around a gigantic earthquake simulation stage, which can simulate different kinds of earthquakes and shake realistic structures built on top of it. The test structure for this simulation and competition was fitted with a range of sensors to record the acceleration and displacement of each floor of the building. Each team had until May 1, 2020, to predict the building's response after being given details about the building and the kinds of earthquakes it would be subjected to. The difference between each team's predicted results and the real sensor data showed how close the predictions were.
The winning teams are Beca from New Zealand, Stay Home Study Hard Team from China, TN Network from Japan and Xmliang_team, also from China. The winning teams will receive recognition for their respective achievements which could be useful for their future careers in this field. They were to be invited to join discussions about the state of structural analysis in earthquake engineering at the World Conference on Earthquake Engineering in Sendai, Miyagi Prefecture. However, due to the ongoing pandemic this has been postponed until 2021. The pandemic had also affected participation in the competition as over 30 teams were initially expected to partake but many were forced to drop out.
There are plans to run a further competition based on simulation data that was unused in this first competition. Five different earthquake shaking intensities were simulated at E-Defense, but only data from two of these were used in the first competition. Researchers hope additional competitions could help in investigating the use of data recorded from sensors in buildings to improve the accuracy of structural models, which could one day lead to improvements in earthquake safety.
This research is supported by the Tokyo Metropolitan Resilience Project of the National Institute for Earth Science and Disaster Resilience (NIED).