Collegiate Baseball Classic held by UBC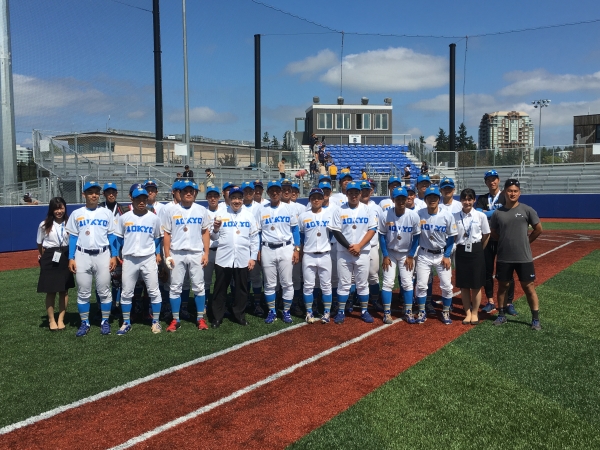 The Collegiate Baseball Classic was held in Vancouver, Canada, from August 13 to 18, where baseball teams from the University of Tokyo, the University of British Columbia (UBC), California State University Sacramento (CSUS), and Keio University participated. UBC in Vancouver boasts a large campus, and many great games have been played at the stadium there.
Last year, the UBC baseball team visited Japan where they played against Keio University and UTokyo. This year, the two teams from Japan travelled to Canada, where they were joined by CSUS, an American baseball powerhouse, for the first time in the tournament. This provided an opportunity for greater exchanges between the universities.
The tournament was held in a round-robin format, where the UTokyo baseball team won a shutout victory of 8-0 against CSUS. Unfortunately, they lost their games to UBC and Keio University. On August 18, the final day of the tournament, UTokyo played against UBC for the 3rd and 4th place, and President Gonokami attended the game to cheer them on. The UTokyo team won 3 -2, making their final tournament result 3rd place out of 4 universities.
[Schedule and Results]
In addition to exchanges through baseball, UBC held a number of events for the visitors: recreations and workshops among the four teams, lecture on physical exercise by UBC students, a visit to Whistler, a nearby tourist site, and an ice hockey experience on the off day. These events provided a valuable international exchange experience for UTokyo students.