Professor Iwasawa, newly elected ICJ judge, meets with President Gonokami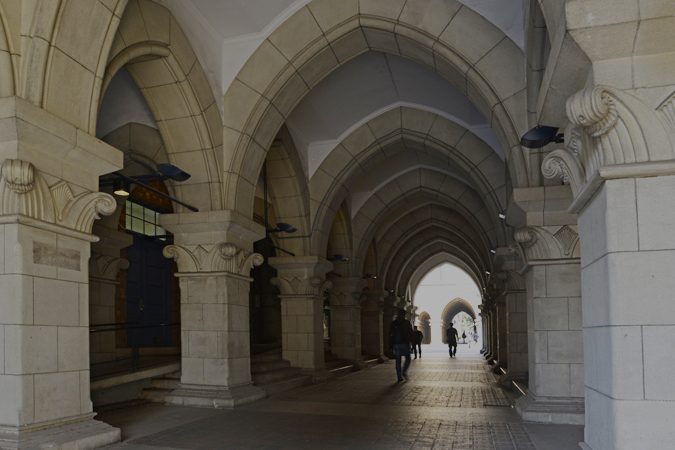 Professor Yuji Iwasawa of the University of Tokyo's Graduate Schools for Law and Politics, who was recently elected as a judge to the International Court of Justice (ICJ), met with President Makoto Gonokami on June 29. Professor Masahiko Iwamura, dean of the Graduate Schools, also attended.

At the meeting, Professor Iwasawa reported on his election to the ICJ through the special vote held at the United Nations to replace a resigning judge. The law professor also reiterated his gratitude for President Gonokami's tremendous support and encouragement toward his candidacy for the position. President Gonokami said he was honored that judges of the ICJ, who directly contribute to the global public, have been selected from the University of Tokyo community. He also stated that he looks forward to following Professor Iwasawa's contributions in the future.

Professor Iwasawa will head to The Hague in the Netherlands where he will begin his work as a judge on the ICJ. The University wishes him well and much continued success.

* Professor Yuji Iwasawa's last lecture will be held on Sunday, August 26.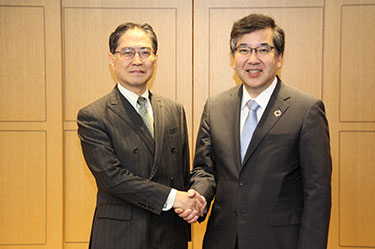 Professor Iwasawa (left) and President Gonokami (right) smiling as they shake hands.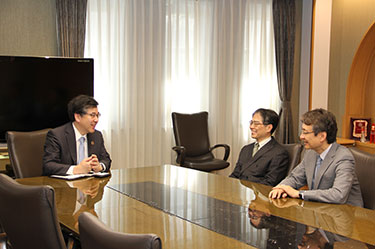 Professor Iwasawa and Dean Iwamura meet with President Gonokami in the Office of the President.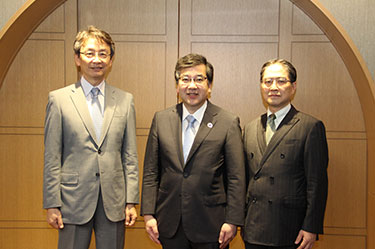 (From right) Professor Iwasawa, President Gonokami, Dean Iwamura