Student Guidance for Graduate School in ISSP, UTokyo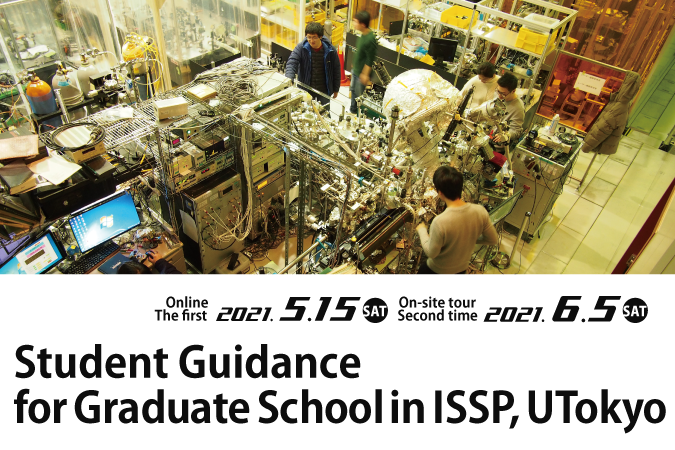 Details
Type
Lecture
Intended for
University students
Date(s)
May 15, 2021 12:50 — 17:30
Location
Kashiwa Area Campus
Venue
Online
Entrance Fee
No charge
Registration Method
Advance registration required
If you would like to attend the online guidance, please fill in the form. The registration URL will be sent to you accordingly. In order to attend the on-site tour, you must attend the online guidance.
Online registration


On-site tour spaces are limited and available on a first come, first served basis to those who register for online guidance.

Registration Period
April 19, 2021 — May 14, 2021
Contact
guidance2021@issp.u-tokyo.ac.jp
Interactive guidance: experience our research environment and cutting edge facilities.
Meet ISSP (The Institute for Solid State Physics) professors and researchers and learn about research activities and school life on Kashiwa Campus. As a national joint-research institute, ISSP is a research hub for international researchers in the field of condensed matter physics and materials science, and a home to the most advanced experimental facilities.
Registration
If you would like to attend the online guidance, please fill in the form. The registration URL will be sent to you accordingly. In order to attend the on-site tour, you must attend the online guidance.
Online registration
Student Guidance for Graduate School in ISSP, UTokyo
#1: 15 May, Online
#2: 5 Jun., On-site tour