EVENTS

The Future of Japan-UK Relations and Economic Security in the Indo-Pacific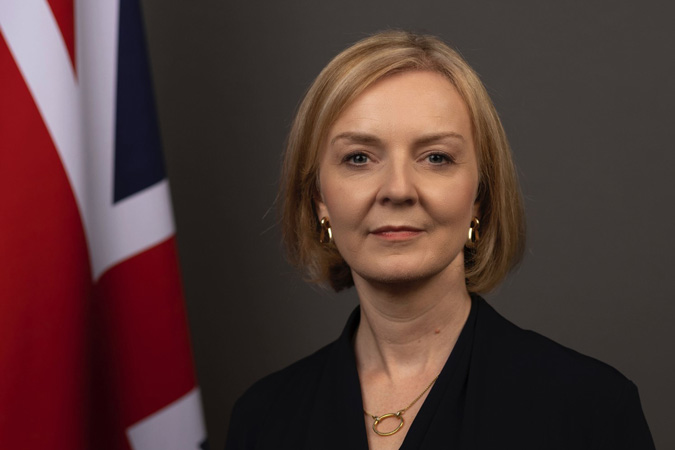 Details
Type
Lecture
Intended for
General public / Enrolled students / Applying students / International students / Alumni / Companies / University students / Academic and Administrative Staff
Date(s)
February 18, 2023 10:00 — 11:20
Location
Hongo Area Campus
Venue

Ito Hall, Ito International Research Center, the University of Tokyo

Capacity
316 people
Entrance Fee
No charge
Registration Method
Advance registration required
Please register in advance → Registration Form
Registration Period
February 10, 2023 — February 15, 2023
Contact

The Economic Security Program team from Rule-making Strategies Division, RCAST, The University of Tokyo
E-mail : igata@ip.rcast.u-tokyo.ac.jp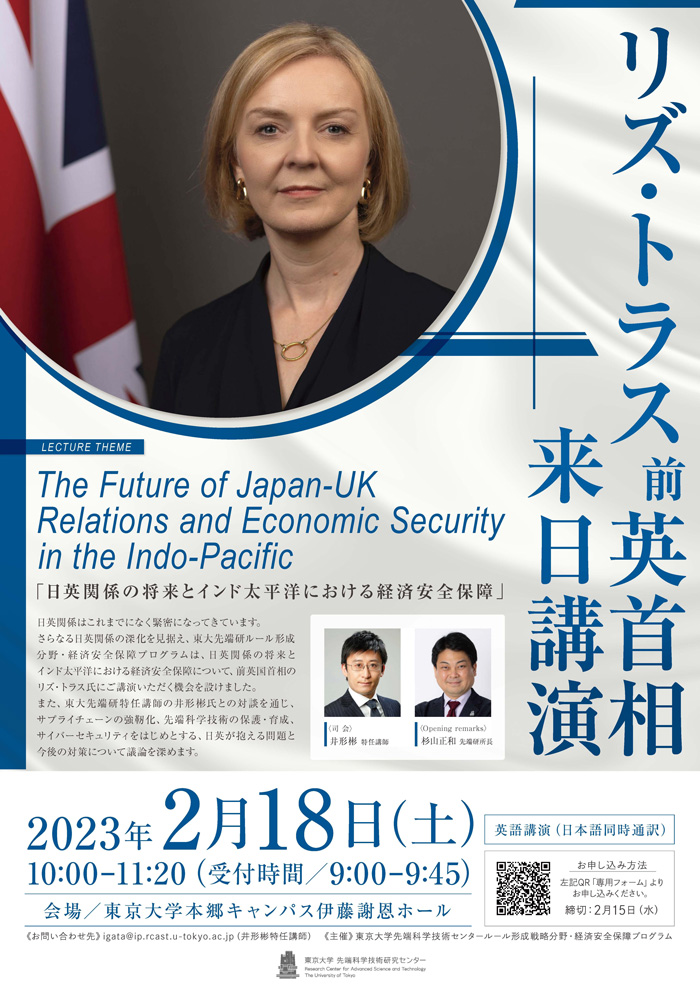 MP Liz Truss, who served as Prime Minister of the U.K. until last October, is coming to Japan for an international forum to be held this month. The Economic Security Program team from the Rule-making Strategies Division, Research Center for Advanced Science and Technology (RCAST) will invite her to give a lecture.
In her presentation, MP Truss will discuss what kind of problems the U.K. recognizes as economic security risks and what policies they implement in the face of the increasing geopolitical risks in recent years, and how Western democracies should cooperate with one another in the future.
She will also discuss with Mr. Akira Igata, a Project Lecturer at RCAST, the various issues the UK and Japan are facing, including supply chain resilience, fostering and protection of sensitive technology, and cybersecurity.
Language:
English / Japanese simultaneous interpretation
Other
*Participants will be determined by lottery. Those who are selected will be contacted individually.
*Registration is between 9:00 am and 9:45 am. If someone who already registered cannot come by 9:45, we may contact those who are on the waiting list, even on the day of the event.
*Please make sure to bring your ID (e.g., student card, driver's license or insurance card) on the day of the event for us to confirm your identity. For security reasons, we may decline those whose identity we cannot confirm.
*For those who applied after the list has been filled, we will contact you once there's a cancellation.
*Please do not come if you have a fever on the day of the event.
*We will inspect your baggage, and please do not bring large baggage.
*Simultaneous interpretation will be available at this event. If an interpretation device is lost or damaged, you may be asked to pay for the damage. Please be sure to return it when you leave.