FEATURES

Good vibrations in wireless technology for IoT age | Entrepreneurs 07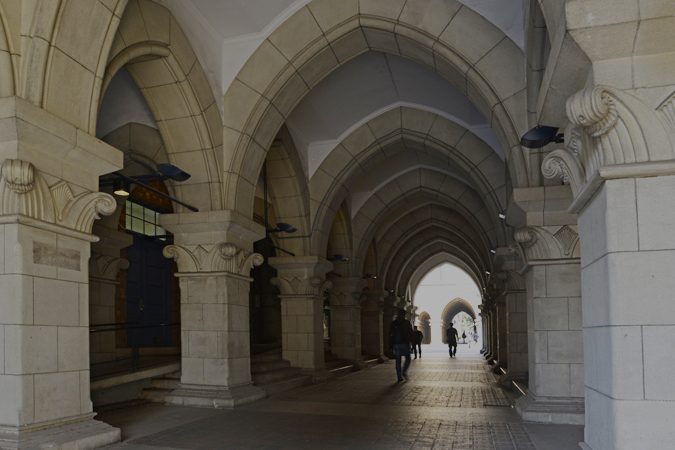 This series introduces entrepreneurs who have received startup support from UTokyo programs or who have utilized university research. UTokyo's support aims to expand Japan's innovation ecosystem.

Sotaro Ohara had toyed with the idea of becoming an entrepreneur while working as an engineer at a Japanese manufacturing giant in the early 2010s. But it was a 2015 reunion with his mentor from his University of Tokyo laboratory that prompted him to actually follow this dream and launch a business that developed a cutting-edge wireless communication technology for the internet of things (IoT), where devices, appliances, sensors and other such "things" are connected to the worldwide computer network.
At that time, Ohara's mentor, Makoto Suzuki, was researching a technology called concurrent transmission flooding at the laboratory headed by Professor Hiroyuki Morikawa of the Graduate School of Engineering. The technology allows transmission of identical data simultaneously over multiple devices, operating much like a bucket brigade, at high speed and with less energy, overcoming many of the shortfalls associated with conventional transmission technology.
Ohara readily welcomed Suzuki's proposal to commercialize the transmission method, developing it into a proprietary wireless technology called UNISONet. This system went on the market in April 2017. According to Ohara, this technology can better meet the demands of digital transformation — the integration of digital technology in all areas of an operation or business. Specifically, a vibration measurement system equipped with the wireless technology can be used to monitor large structures or machines for abnormalities or signs of wear by sensing and analyzing vibration anomalies.
The startup Sonas' UNISONet wireless network technology could help advance society's digital transformation if it becomes the industrial standard for this kind of technology.
Ideal qualities for a CEO
Originally from the city of Kameyama in Mie Prefecture, central Japan, Ohara admits he was not a diligent student during his first three years at UTokyo. But after joining the Morikawa Laboratory in his fourth year, Ohara became engrossed in his research. "I was totally preoccupied with my graduation thesis," Ohara recalled. "I often pulled all-nighters. And the more work I did, the better results I got."
By the time Ohara advanced to a master's program, he not only conducted research but he also helped managed the lab, handling its administrative work and taking care of his junior colleagues. This experience helped Ohara realize that he had a knack for juggling multiple tasks while also completing his master's thesis, for which he received an outstanding award from the graduate school. Consequently, Ohara decided to leave academia and take an engineering job at a multinational Japanese manufacturer in 2010.
This company advocated intrapreneurship and encouraged employees to conceive and implement new business ideas by exercising entrepreneurial skills. After working at the company for a while, Ohara began to consider starting his own business. "I was frustrated by the slowdown in my growth and decided I needed to change my environment," Ohara said. He studied independently to obtain a child care certificate and left the company in 2015 with ambitions of establishing an information technology-based child care service. However, a major company had already started a business similar to what Ohara was planning, so he quickly abandoned that line of business. But he nonetheless went ahead and established a company, Sonas, in November that year.
It was about then that Ohara caught up with Suzuki, who later joined Sonas as chief technology officer and also had become a co-founder. Kyoichi Jinno, another co-founder, had conducted research at the Morikawa Laboratory and now is in charge of the company's core business. Ohara oversees the entire operation as CEO, where his versatility and other qualities are well suited for the role.
How this technology works and is useful
Controlling radio transmission interference, in which overlapping radio waves weaken or strengthen each other, was considered essential in conventional transmission. But in 2011, a research group at a Swiss university published an article indicating that there was no destructive radio transmission interference when identical data are received from several devices at the same time — a finding that defied conventional understanding of wireless transmission. This phenomenon, concurrent transmission flooding, is the core of UNISONet technology.
However, this is easier said than done. As is often the case, Sonas faced one unexpected problem after another in the real-world application of its product. "We had to solve these setbacks one by one," Ohara said. "We racked our brains, but we eventually obtained patents for their solution. Overcoming these problems was difficult, but having these patents is now one of our greatest strengths."
The company's wireless vibration measurement system, which senses and analyzes vibration data, is expected to usher in automated inspections of Japan's aging infrastructure. Specialist technicians currently do these checks visually. Changing how Japan's infrastructure is inspected will require revising the law, so Sonas must wait several years before it can fully market its product for that purpose, Ohara said.
In the meantime, a prime business opportunity emerged in 2019 with the arrival of smart maintenance of large buildings. "From that year, many general contractors and condominium management companies began to differentiate their buildings from their rivals by adding features such as IoT technology for maintenance," Ohara said. "As a result, our products have sold like hotcakes."
The scope of UNISONet's applications is widening. Many companies are moving to digitalize their factories, which has created fresh demand to use vibration data to forecast and prevent equipment failure before they happen. Sonas is also jointly conducting experiments with the Railway Technical Research Institute of railway operator Japan Railways Group to monitor rail abrasion by measuring track vibrations.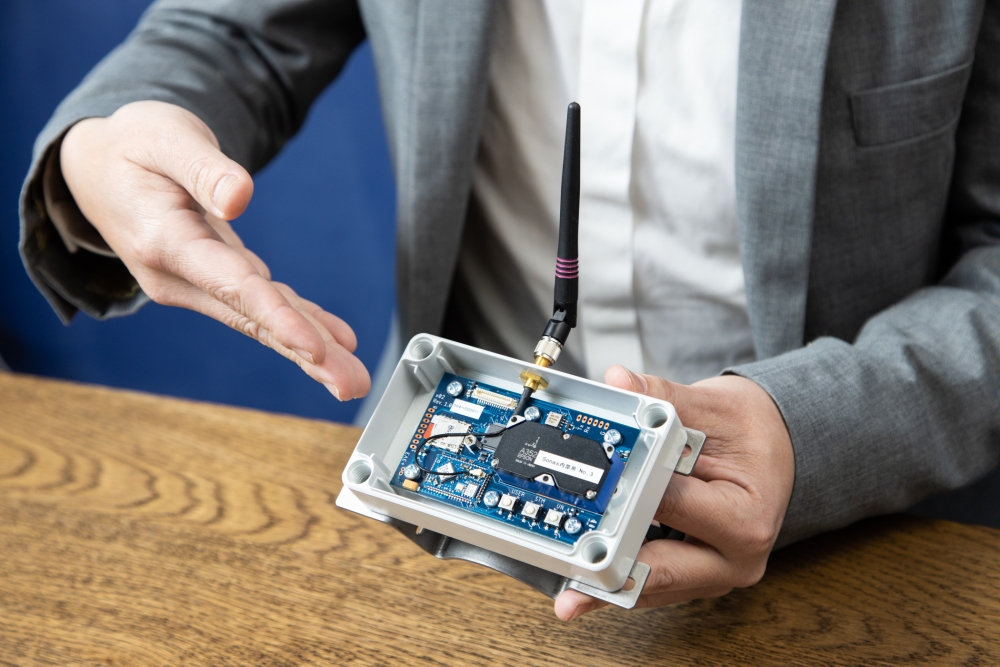 Grateful to alma mater
Sonas aims to make UNISONet technology an international wireless standard for IoT transmission. As a stepping stone toward this goal, the company will start marketing wireless modules that are in line with this standard this summer. This allows the use of UNISONet technology even for IoT devices made by other companies, paving the way for its wider adoption. "After gaining market share in Japan in the next few years, we plan to penetrate overseas markets including the United States, China, Europe and Southeast Asian countries," Ohara said.
Sonas' three co-founders participated in the EDGE Program offered by UTokyo's Division of University Corporate Relations to learn about the culture of entrepreneurship and build connections with venture capital firms. UTokyo Innovation Platform Co., Ltd., a wholly owned subsidiary of UTokyo established in 2016 to strengthen the university's ability to jump-start venture firms, supported them in starting the UNISONet business through its 1st Round hands-on incubation program and decided in April 2021 to provide a 200–million-yen fund to Sonas. Moreover, Sonas plans to use the results of research it conducted with UTokyo through patent coordination with TODAI TLO, Ltd., an organization established in 1998 to serve as a bridge between the university's inventions and companies, and to arrange technology licensing.
"I feel indebted to UTokyo," Ohara said. "We aim to become a listed company in the latter half of the 2020s. After achieving that goal, we want to somehow repay the university by helping it establish an 'ecosystem' to incubate and accelerate future entrepreneurs."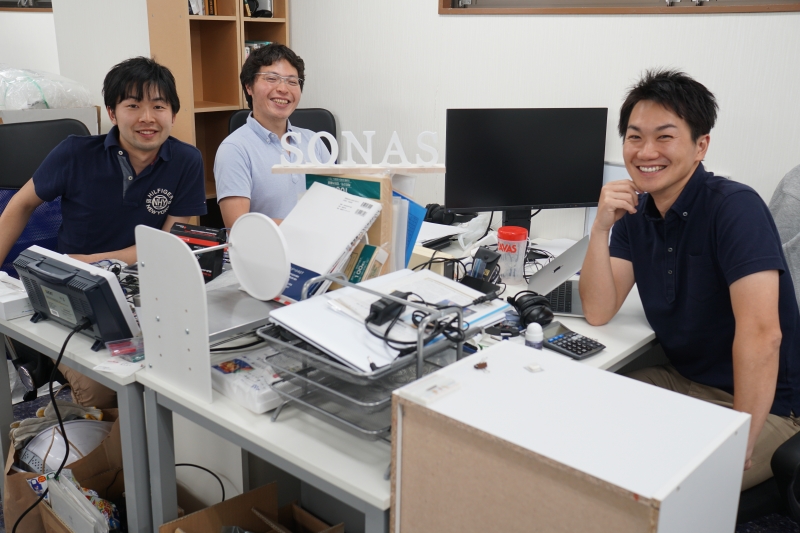 Sonas, Inc.
Established by CEO Sotaro Ohara in November 2015. After signing a technology transfer licensing agreement with UTokyo, the company started selling a wireless vibration measurement system featuring UNISONet, a next-generation wireless technology, in 2017. This product, which monitors bridges, high-rise buildings and factory equipment to forecast failures and improve the efficiency of safety checks, has steadily increased Sonas' sales revenue. UNISONet is also being adopted by a wide range of industries for use as wireless modules and for system integration services. Sonas procured several million yen in 2017, and got financing from venture capital firms Global Brain Corp. and ANRI in 2018, and UTokyo IPC and others in 2021. The company name derived from the Japanese term so wo nasu ("to serve as the foundation"), reflects Ohara's aim of having Sonas be a cornerstone to society. Pictured are Ohara (right) with co-founders Makoto Suzuki (center) and Kyoichi Jinno.
Date of interview: February 4, 2021
Interview/Text: Yumiko Mori
Photos: Yusuke Takeda