FEATURES

First Todai Research, on site
Introducing medical technology at the University of Tokyo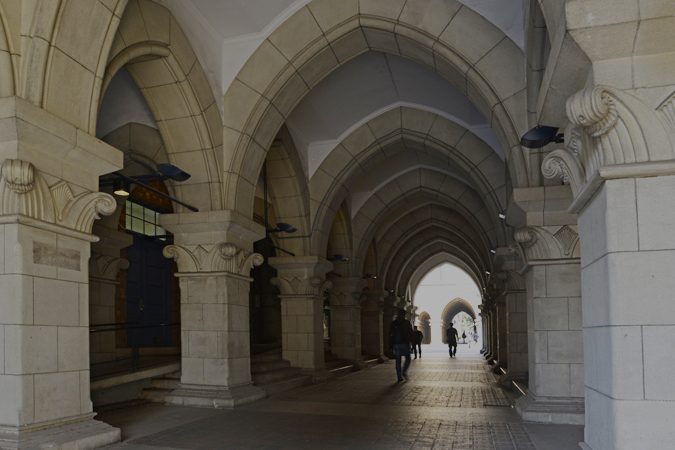 On Tuesday, 8 January 2013, the University of Tokyo (Todai) Public Relations Office organized the first in a series of "on site" events, introducing Todai's research to members of the foreign media and science attaches at foreign embassies in Japan. The theme of this event was "Japanese medical technology R&D: from interdisciplinary cooperation to clinical application," and took fourteen participants to see the cutting edge of Todai's medical technology research "on site."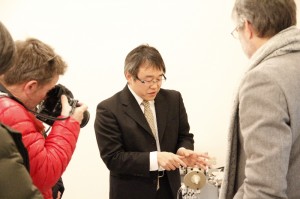 A pre-tour briefing by Professor Ichiro Sakuma of the Graduate School of Engineering Department of Precision Engineering outlined medical technology and translational research at Todai, after which Professor Minoru Ono of the Department of Surgical Sciences, Graduate School of Medicine, described clinical applications.
Participants then toured four research laboratories in two groups, engaging with research first hand and up close and asking questions directly to researchers. Three principle technologies were demonstrated: robot-assisted surgery, computer-aided surgery, and focused ultrasound technologies.
Robot-assisted surgery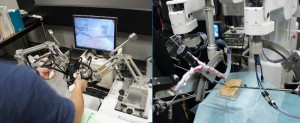 Professor Mamoru Mitsuishi and Associate Professor Naohiko Sugita's research group develops highly-advanced systems for robot-assisted and minimally invasive surgery. The research group developed a low latency codec to reduce data-transmission time-lag, enabling the use of conventional network infrastructure for long-distance surgery. Graduate students in the group demonstrated a master-slave surgical robot that has been used to perform a remote operation on an animal in Thailand, and a bone cutting robot for orthopedic surgery, both of which minimize patient impact and promote rapid recovery.
Computer-aided surgery
Associate Professor Ken Masamune's and Associate Professor Yoshikazu Nakajima's research groups develop image-guided therapy systems. Nakajima's group demonstrated their highly-accurate laser alignment system, which emits laser guides onto the surgical field and surgical tool, ensuring exact alignment and removing the need for the surgeon to look away from the field of operation. The system adjusts the laser guides to compensate for body movements and has been tested in over 50 clinical cases. Masamune's group demonstrated an imaging system that provides surgeons with live information to guide surgery within an MRI environment, and a novel endoscope and laser ablator that has been developed for minimally invasive fetal surgery. This is currently undergoing further development with a view to entering clinical trials in the future.
Focused ultrasound technologies

Professor Ichiro Sakuma and Project Associate Professor Takashi Azuma's group demonstrated a High Intensity Focused Ultrasound (HIFU) therapy for treatment of breast cancer. A HIFU beam precisely destroys cancerous tissue at the focal point. The system uses ultrasound instead of MRI for guidance, ensuring low cost, high maneuverability, high-speed imaging, low impact on patient health and minimal cosmetic impact. These characteristics mean that HIFU is particularly suitable for breast cancer treatment, which requires localized treatment in the preliminary stages. This may enter clinical trials within two years.
Informal social gathering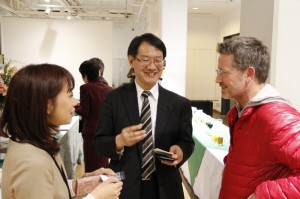 After the tour, participants continued lively discussion at an informal social event with researchers and university staff. The event was attended by Executive Vice President Masako Egawa, Executive Vice President Yoichiro Matsumoto, Senior Adviser to the Office of the President Stefan Noreen, and Public Relations Office Director Professor Shinobu Yoshimura from Todai.
Links (alphabetical order)
Project Associate Professor Takashi Azuma
Fluids Engineering Laboratory, Department of Mechanical Engineering, Graduate School of Engineering
Associate Professor Ken Masamune
Advanced Therapeutic and Rehabilitation Laboratory, Department of Mechano-Informatics, Graduate School of Information Science and Technology
Professor Mamoru Mitsuishi, Associate Professor Naohiko Sugita
Mitsuishi/Sugita Laboratory, Department of Mechanical Engineering, Graduate School of Engineering
Associate Professor Yoshikazu Nakajima
Medical Imaging and Information Science Laboratory, Department of Bioengineering, Graduate School of Engineering
Professor Minoru Ono
Department of Cardiothoracic Surgery, Graduate School of Medicine (Japanese)
Professor Ichiro Sakuma
Bio-Medical Precision Engineering, Department of Precision Engineering, Graduate School of Engineering