FEATURES

Third UTokyo Research, on site
Top down, Bottom up: Neuroscience at the University of Tokyo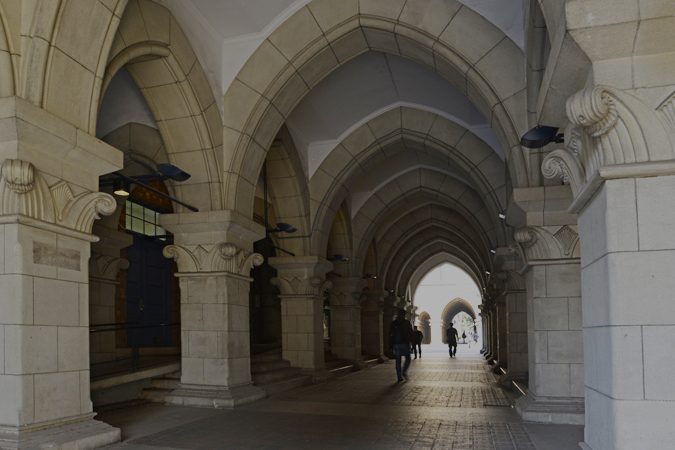 The brain is the most complex of all organs and makes all of human science and society possible, yet it remains a mystery in many ways. Researchers in neuroscience at the University of Tokyo are tackling that mystery from the top down and the bottom up, seeking to understand how the brain works from the way we act and our psychological state, from how it malfunctions, and from the very proteins inside its cells.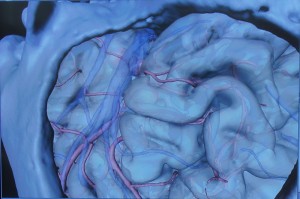 On Thursday, 30 January 2014, the third "UTokyo Research, on site" tour introducing neuroscience at the University of Tokyo was held at the Graduate School of Medicine and University Hospital. On the theme of "Top Down, Bottom up: Neuroscience at the University of Tokyo," 15 attendees (12 members of the media, 3 members of embassies in Japan) were welcomed to participating research laboratories.
The event started with briefings by Professor Shigeo Okabe of the Department of Cellular Neurobiology, Graduate School of Medicine outlining neuroscience research at the University of Tokyo, and Project Professor Nobutaka Hirokawa of the Department of Cell Biology and Anatomy, Graduate School of Medicine providing an overview of his research on the kinesin superfamily of motor proteins. This was followed by tours of the laboratories of Project Professor Hirokawa, Professor Nobuhito Saito of the Department of Neurosurgery, University Hospital and Professor Kiyoto Kasai of the Department of Neuropsychiatry, University Hospital. The event concluded with an informal gathering at which attendees had the opportunity to ask further questions and interview professors directly.
Briefing: Neuroscience at the University of Tokyo
Professor Shigeo Okabe, Department of Cellular Neurobiology, Graduate School of Medicine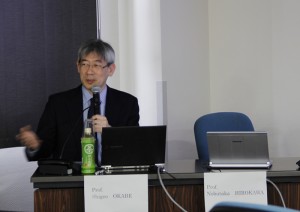 Professor Okabe stressed the great diversity of the field of neuroscience, and the great diversity of neuroscience research going on not just at the Graduate School of Medicine but throughout the University of Tokyo including at the Institute of Medical Science, Graduate School of Science and Graduate School of Engineering. As a broad field that involves cooperation between psychology, linguistics, and the social sciences, the University of Tokyo provides an ideal environment for neuroscience research with multiple collaborations and frequent exchanges of research ideas, technologies and research materials across the many departments involved. Research collaboration is particularly close between the Graduate School of Medicine and the University Hospital, with basic science research at the former and clinical research at the latter.
Briefing and tour: Powering the intracellular railway ? the functional roles and mechanism of motility of molecular motors
Project Professor Nobutaka Hirokawa, Department of Cell Biology and Anatomy, Graduate School of Medicine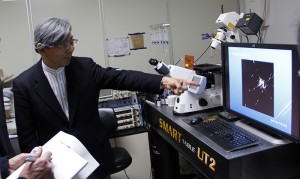 In the second part of the briefing, Project Professor Hirokawa provided an overview of his lifelong research into the kinesin superfamily of motor proteins, which are vital for intracellular transport. Much of the Hirokawa Laboratory's research has focused on the function of KIFs in nerve cells, which provide an ideal environment for their study as proteins are built in the cell body and transported to synapses down long axons. Using a wide variety of techniques including observation by electron-microscope, gene sequencing and protein interaction analyses, mouse-gene manipulation, mouse behavioral experiments, X-ray crystal structure analysis, the laboratory has determined the mechanisms by which most of these kinesin motor proteins bind, carry and release cargoes and their functions within the organism. Some of those functions are closely tied with higher brain functions including learning and memory. On the tour, attendees saw many of the various types of equipment used in the research to establish the functions of each of the KIF proteins.
Laboratory tour: Surgical simulation with multimodal fusion 3-D computer graphics
Professor Nobuhito Saito, Department of Neurosurgery, University Hospital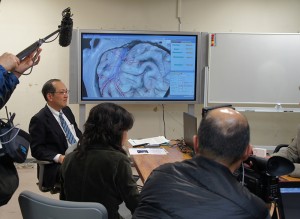 Recent advancements in medical imaging technology have allowed detailed preoperative examinations, but neurosurgeons still have to interpret large amounts of medical imaging data, and it is not uncommon for there to be several hundred to several thousand section images per case. Clinicians have to interpret and consolidate this information to form a 3-D image that can be used in preoperative planning. Professor Saito's laboratory has developed image processing techniques and image fusion methods to construct 3D computer graphics with a high spatial resolution. On the laboratory tour Professor Saito demonstrated the system by showing how the fused 3D image information can be viewed and manipulated on computer or a specially-equipped iPad, which allows pre-operative demonstration and is particularly useful for the training of junior surgeons.
Laboratory tour: Developing biomarkers to support early and accurate diagnosis of mental illness
Professor Kiyoto Kasai, Department of Neuropsychiatry, University Hospital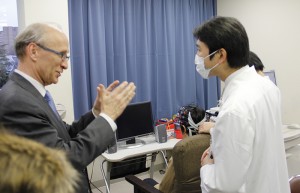 Objective biomarkers allowing accurate, early diagnosis and treatment of psychiatric and neurological disorders could help reduce the great burden they place on patients, their families and society. However, current diagnostic methods rely on doctors' examinations and patient and family reports. Professor Kasai's laboratory focuses on optical topography, a simple, non-invasive form of neuroimaging with minimal patient burden and suited to applications in mental illness. In conjunction with other medical and research institutions in Japan, Professor Kasai's group is working to be the first in the world to apply this method of examination as an auxiliary means of diagnosis for mental illness. During the laboratory tour, Professor Kasai demonstrated the optical topography examination of brain function carried out as part of a major multicenter study to discover biomarkers for distinguishing psychiatric and neurological disorders.
Informal social gathering
Feedback from attendees was overwhelmingly positive, focusing on the importance of meeting the professors and hearing their research explained in their own words. One attendee commented that "I have attended all three versions and every time is more impressive and interesting," and there were many requests to return and for private interviews with participating professors.
Links

Professor Shigeo Okabe
Department of Cellular Neurobiology
Graduate School of Medicine

Project Professor Nobutaka Hirokawa
Department of Cell Biology and Anatomy
Graduate School of Medicine

Professor Nobuhito Saito
Department of Neurosurgery
University Hospital

Professor Kiyoto Kasai
Department of Neuropsychiatry
University Hospital