FEATURES

Starting a second decade of innovation and entrepreneurship
The Division of University Corporate Relations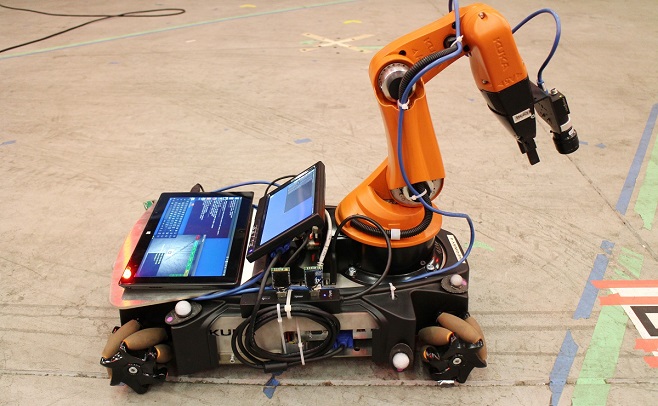 Like a hub on a modern-day Silk Road, the University of Tokyo is a major locus of innovation and the exchange of ideas. Pilgrims and merchants of knowledge and industry from around the world are drawn here in search of the latest concepts and devices—and the best collaborators. Opening the gates to this rich resource is the Division of University Corporate Relations (DUCR), tasked with promoting academia-industry collaboration. Via cross-fertilization of ideas, internationalization, and entrepreneurship, the DUCR is nurturing a new generation of dynamic leaders and problem-solvers to spread the University's wares throughout the world.
Industry-Academia Collaboration for the Benefit of Society
Through its various organizations, programs, and collaborations the DUCR (fig. 1) ensures the fruits of the University's successes are shared with industry and society. "The DUCR connects the academic research community with industry. We aim to create a platform where researchers from the University of Tokyo, and from around the world, can work together to create new knowledge, contributing to new services and products for society," says Professor Shigeo Kagami, General Manager of the DUCR's Office of Innovation and Entrepreneurship (I&E).
One of the DUCR's strengths lies in matching the ambitions of talented University researchers to the goals of industry, and creating a rapport between researchers and sponsor companies. This is no small feat in a university with over 5,800 researchers—not including graduate students—and over 1,600 joint-research projects, primarily with the private sector. "This is around 10 percent of such collaborations in Japanese universities," says Dr. Kazuhiko Kakehi of the DUCR I&E. "But simply connecting people is not enough: we also ensure the success of collaborations through schemes such as Proprius21, a feasibility study program for developing collaborative projects." Such was the case when the DUCR matched University researchers with the American multinational Boeing Company.
With funding provided by Boeing from 2010, Kakehi and the DUCR staff supported development of the Boeing-University of Tokyo project under the leadership of Professor Masatoshi Ishikawa, with its day-to-day management falling under the guidance of Project Lecturer Carson Reynolds. A few months later, Reynolds was joined by Assistant Professor Chris Raabe, then a graduate student at the Graduate School of Engineering. Raabe, from the US, was joined in 2014 by Project Assistant Professor Niklas Bergström, a Swedish national who replaced Reynolds.
How to make a robot that knows where it is
Raabe is an expert in controls research in the Suzuki-Tsuchiya Laboratory in the Graduate School of Engineering, and Bergström is a specialist in computer vision in the Ishikawa Laboratory in the Graduate School of Information Science and Technology. Both groups are world-leaders in their fields. Along with the Boeing Principal Investigator, Dr. John Vian, and Boeing Senior Engineer, Dr. Emad Saad, Raabe and Bergström tackled a sticky problem in unmanned vehicle research: how to create an on-board navigation and guidance system for both aerial and ground robots that was robust, precise and accurate.
The investigators set the bar high, aiming to create an algorithm for robot control that would fulfill these requirements. Which is to say, the algorithm had to integrate information about the robot's motion from multiple on-board and off-board sensors. In addition, it had to be robust, so that if one or more sources of information were lost, the vehicle could still navigate. Moreover, it had to be accurate within an absolute frame of reference, like GPS systems, but also precise within a local frame of reference, as is data from an on-board camera. Finally, it had to be responsive and react to fast-changes in the environment and adaptable so that it could work with both ground-based and aerial robots (fig. 2).
More than the sum of its parts
Raabe, the controls and guidance specialist, says "The problem with a small, hovering helicopter (drone), is that disturbances—due to small gusts and turbulence, say—can lead to quite a large deviation from the desired position. You need a fast sensor that can detect those disturbances so that you can compensate. Otherwise, you are liable to crash the drone. The challenge was trying to fit the existing technology into a platform that could be carried on a small vehicle and still produce very fast measurements and compensate quickly."
Bergström, the computer vision expert, faced a different but related problem: how to fuse position information from a vision sensor with other sources of position, and then make them work harmoniously to provide a reliable position to Raabe's control system. "There were significant challenges," Bergström says. "For instance, you might have vision and other sensors on-board the vehicle. But you might also employ external sensors that track the vehicle, so you have sensor information coming in from many different sources. Moreover, latency—delay between stimulus receipt and response—in the system leads to a significant reduction of controllability."
In addition, each sensor has its own reference frame. An on-board camera can deduce position relative to natural features it sees, but it has no understanding of where those features are. It can detect a change in camera position that is precise to within a few centimeters, but relative to an unknown reference position. Meanwhile, an off-board sensor, a camera fixed in the room, say, can give an accurate global position, but lacking in precision. Guidance and navigation methods exist to fuse both on-board and external inputs to guide and control the robot.
However, what if this external sensor is blocked or lost, say when a ground robot drives under an obstacle like a bridge, or a sensor fails? Raabe says, "We were able to fuse these different kinds of position sources, so that in cases where one or more sensors suddenly become unavailable, we can rely on the remaining sensors with minimal loss in accuracy and precision. One major challenge that we worked on recently was creating a fusion algorithm that could quickly align position sensors with differing reference frames. We've tested it; it works; and we've published a paper." The tests were carried out at Boeing in Seattle, U.S.A. Such tests would not have been possible without access to the company's extensive research facilities (fig. 3).
Raabe and Bergström believe that there are many applications for their research—in manufacturing, consumer applications, or for civil uses such as post-disaster search-and-rescue activity—in a collapsed building requiring a robot to search for victims, for instance, while "working out" its position in a disturbed environment.
From companies and universities to shop floors and households
In addition to fostering industry-academia joint research projects, the DUCR is also facilitating knowledge-sharing and contributing to society by fostering an environment of entrepreneurship where ideas born in labs and classrooms can take flight in business on their way to the rest of society.
"The DUCR," Kagami says, "is unique in Japan in that we also provide entrepreneurship education, including through the UTokyo Entrepreneurship Dojo since academic year 2005. We teach students how to create startups, how to write a business plan, build an entrepreneurial team and work with the venture capital community." Some 1,800 students have enrolled in the Dojo in the last decade, and over 70 are involved in creating new enterprises. UTEC, the venture capital arm dedicated to the University of Tokyo, has invested in scores of successful startups launched at the University.
Via a Ministry of Education, Culture, Sports, Science and Technology (MEXT) grant, the division manages the EDGE program, an education and mentorship scheme designed to encourage researchers to broaden their perspective, including thinking about launching their own startups using their own technology.
Many of the technologies resulting from DUCR initiatives lie deeply embedded within society in the form of patents, for instance, but its important achievements are the personal networks and ecosystem nurtured through activities such as the EDGE program and the Entrepreneurship Dojo. Recently, several University startups have been in the news, including SCHAFT, a robotics company that won the DARPA challenge in 2013 and was bought by Google, PeptiDream, a bioventure company listed on the Mothers Stock Exchange Market for emerging stocks, and Euglena, a biotech company listed in the first section of the Tokyo Stock Exchange. The latter two companies were incubated in a facility called the University of Tokyo Entrepreneur Plaza run by the DUCR.
DUCR—From Silk Road to superhighway
Established in 2004 following incorporation of the national universities system, the DUCR was restructured in April 2013 to make it a focused, innovation-driven organization comprised of two main sections: Office of Innovation and Entrepreneurship and the Office of Intellectual Property, with Mr. Tetsuo Ogama as General Manager (fig. 4). Kagami's I&E is a new organization created by integration of the former Office of Collaborative Research Development and the Office of Science Entrepreneurship and Enterprise Development (SEED).
Looking to the future, Kagami is optimistic that the DUCR ecosystem of entrepreneurship, risk-taking, and collaborative effort will nurture a new generation of forward-thinking young researchers, business leaders and social innovators. "Entrepreneurship education is like swimming," Kagami says. "When you learn, you first need to develop muscle memory by training. Then you can execute whatever you set your mind to and realize your dreams. That is where the Entrepreneurship Dojo comes in." Kagami's sentiments are in accord with former University President Junichi Hamada's views. "Entrepreneurship education," President Hamada said, "is basic education for everybody."
The DUCR celebrated its tenth anniversary in 2013. The division is able to look back with pride at its accomplishments in its first decade and forward to what is yet to be done in its second. In a world drawn closer by high-speed digital networks and international collaborations, the DUCR is opening the gates to the University's riches, establishing the University of Tokyo as a major hub on the modern-day Silk Road—a road that is rapidly becoming a superhighway of knowledge.
Interview/text: John Amari
Researchers (alphabetical order)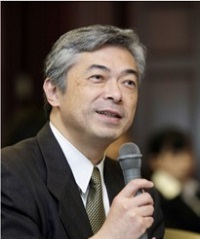 Professor Shigeo Kagami, General Manager, Office of Innovation and Entrepreneurship, DUCR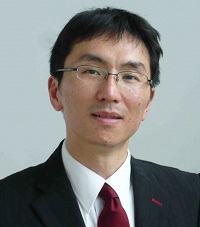 Program Officer Kazuhiko Kakehi, Office of Innovation and Entrepreneurship, DUCR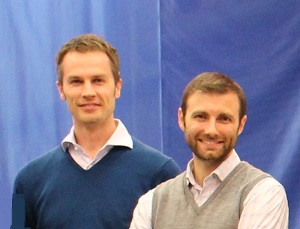 Project Assistant Professor Niklas Bergström (left), Ishikawa Laboratory, Department of Creative Informatics, Graduate School of Information Science and Technology
Assistant Professor Chris Raabe (right), Suzuki-Tsuchiya Laboratory, Department of Aeronautics and Astronautics, Graduate School of Engineering
Links