FEATURES

Keeping Your Bearings with Classical Literature | UTOKYO VOICES 001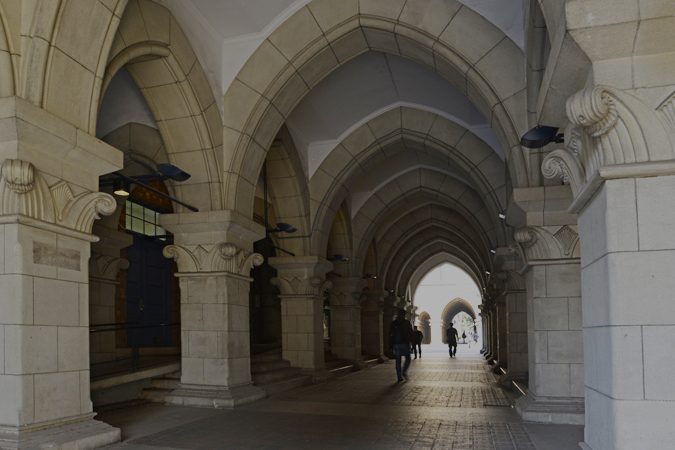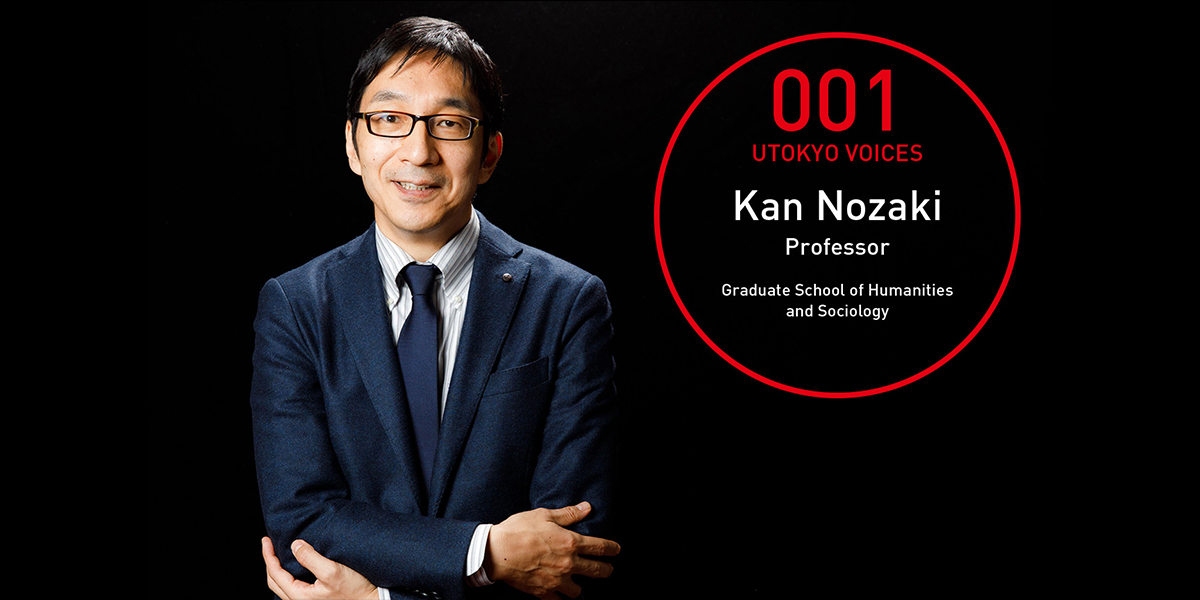 Keeping Your Bearings with Classical Literature
Kan Nozaki first read Jean-Christophe by Romain Rolland in fourth grade. Recalling his excitement, he says, "By the time I finished reading it, my whole family was asleep, while I alone was traveling in a different world." The book had been rewritten for children, but without question had a decisive impact on his later life.
With that, he was hooked on books. Nozaki read the Shonen Shojo Sekai Bungaku Zenshu ("Collection of Children's Classics") diligently, and his world expanded. In junior high school, he bought Kodansha Bunko books with his allowance, immersing himself in world literature. At the same time, he was captivated by books from the Japanese publisher of mystery novels, Sogen Suiri Bunko, and began reading at an even faster pace. However, he felt guilty reading just mysteries all the time, so always made a point of buying each one together with a book that looked difficult. He says he did not feel at ease unless he had two options open to him at all times, so his propensity to relativize no doubt developed around that time.
Due to his weak health, Nozaki was unable to take part in elementary school class trips. Awed by the film Fantastic Voyage, he became absorbed in watching movies. In junior high school, he was infatuated with British rock music, including The Rolling Stones and Led Zeppelin. To this day, literature, movies and music continue to stimulate him and serve as the driving force behind his freewheeling ideas.
Nozaki was first drawn to simple American literature, but was especially excited by Daigaku Horiguchi's Gekka no Ichigun, a translated anthology, and works by Baudelaire and Balzac that he first encountered in junior high school. This led him to consider French literature the pinnacle of world literature and, on the career guidance questionnaire handed out by his teacher, he wrote "French Literature at the University of Tokyo" as his preferred path of study. His teacher argued that this would have no practical application, but he had seen "Graduated from University of Tokyo with major in French Literature" in the profiles of many translators of the books he had read, so was convinced he could get an interesting, paying job. He enrolled at the University of Tokyo, majoring in French Literature as he had desired. After graduate school and studying abroad in France, he continued on his path as a researcher.
That said, along the way, he got stuck while writing his master's thesis in graduate school and had to endure the humiliation of a leave of absence. In the difficult autumn of the fourth year of his master's program, he studied Voyage to the Orient, the very long novel by Romantic poet Gérard de Nerval, but worried that he lacked the ability to comprehend it in its entirety. At that time, Dr. Takeshi Tamura advised him that, Voyage to the Orient being so long, he could write his thesis on the prologue alone, and was finally able to complete it. "It was so unexpectedly well-received, I almost cried," he says.
He says there are three things that make studying French literature interesting. "First, there is a continuity from Romanticism all the way to the present day, and this is key to finding one's feet in a world of fluctuating values, which were once thought to be absolute. Next, being a Japanese researcher, I am able to share the works that are the focus of my research with readers in Japan by way of translation. It's also fun to connect it to other genres such as film. Film has been impacted by French researchers in the same way as literature. Both are ways of trying to reveal the truth of things."
Today we find ourselves between the old era of book culture and the birth of a completely new civilization that can break through all kinds of barriers with the Internet. Smiling, Nozaki says, "Precisely because the times are changing, if you can find your bearings while facing the past, even if you were to be swept away, you won't lose yourself. My goal for the future is to keep the classics meaningful and relevant to people."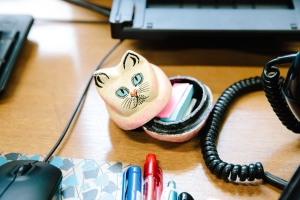 Nozaki's "cat case." In playing with a cat that would come to the lodge where he used to work, Nozaki became a real cat lover. He purchased this case about 30 years ago at a store near his workplace. Up until recently he had a cat at home that was always with him while he worked.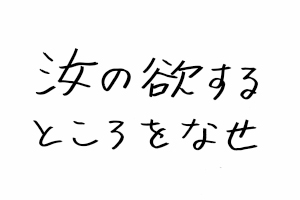 This phrase is from a work by Rabelais, a Renaissance writer. It has been passed down from generation to generation as the motto of the French Literature Department. [Text: Nanji no hossuru tokoro wo nase (Do as you wish); French: Fais ce que tu voudras. Rabelais, Gargantua and Pantagruel.]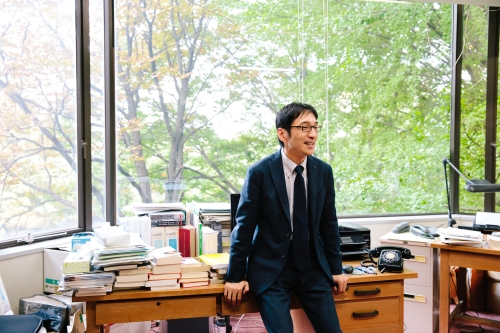 Kan Nozaki
Kan Nozaki graduated from the University of Tokyo with a major in literature in 1981 and withdrew from the master's program at the Graduate School of Humanities and Sociology and Faculty of Letters. After working as a lecturer at the Faculty of Law of Hitotsubashi University, assistant professor at the Graduate School of Language and Society of Hitotsubashi University, and assistant professor at the Graduate School of Arts and Sciences and College of Arts and Sciences of the University of Tokyo, he is now a professor at the Graduate School of Humanities and Sociology and Faculty of Letters of the University of Tokyo. As well as engaging in French literature research, he has been active as a film and literary critic. His translations and works include Jean Renoir: Films That Transcend Borders (Seidosha, Suntory Prize for Social Sciences and Humanities), Educating Infants (Seidosha, Kodansha Essay Prize), On Parfum exotique: Nerval's Voyage to the Orient (Kodansha, Yomiuri Prize for Literature) and Toussaint's The Bathroom (Shueisha, Belgian French Translation Prize).
Interview date: November 1, 2017
Interview/text: Tsutomu Sahara. Photos: Takuma Imamura.