FEATURES

The Value of a Good Academic Record—An Unconventional Researcher with a Straightforward Approach to Higher Education | UTOKYO VOICES 004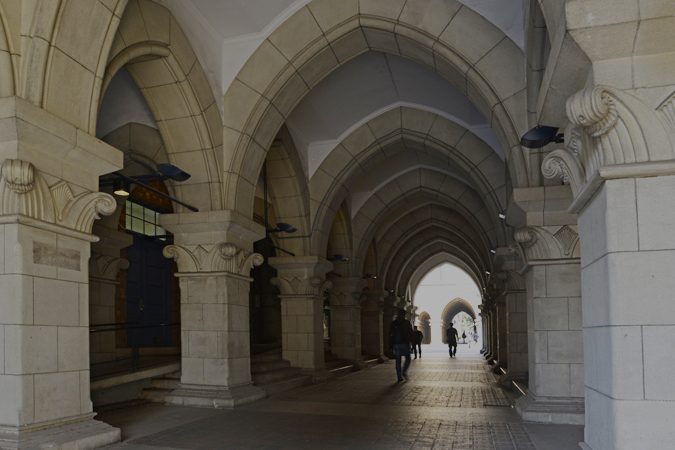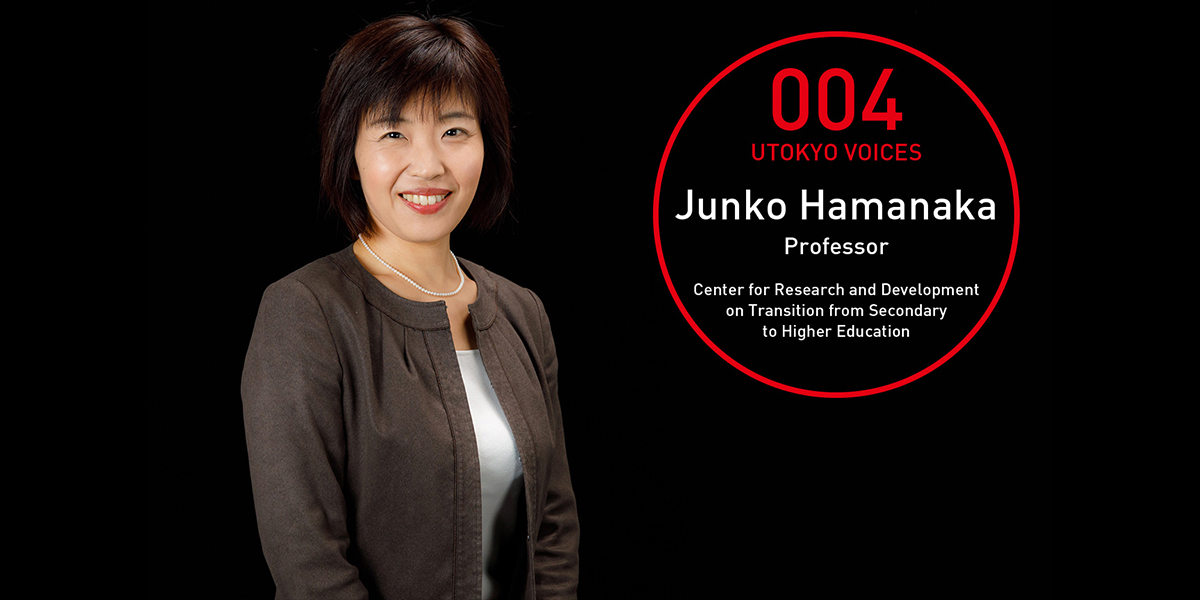 The Value of a Good Academic Record—An Unconventional Researcher with a Straightforward Approach to Higher Education
Being straightforward is not a virtue in educational sociology researchers. Rather, what is demanded of them is the kind of critical thinking that reveals issues in modern society and education. However, Junko Hamanaka readily affirms the benefits of the current education system, getting a higher education and of having a good academic record. This may be perceived as "straightforward," which Hamanaka says some may consider grounds for criticism as a researcher. Nowadays, with more than 50% of young people enrolling in university, the argument that universities are unnecessary is gaining traction. The argument put forward is that academic qualifications are useless in this day and age, and that much of what is learnt at university is irrelevant.
"In the real world, people often loudly establish their identity based on their experiences and the impressions of what they have seen. However, it is dangerous to apply this perfunctory approach to determining your future or Japan's educational system."
Hamanaka's research is based on the writings of the social engineer Masakazu Yano. Yano points out that while there are various factors that affect a person's earnings, education and training are really the only factors that can be controlled by the efforts of the individual. Hamanaka believes this observation to be accurate, and that the only thing individuals can do to significantly affect their earning power is educate themselves.
By the time Hamanaka entered graduate school, criticism of the education system in general was already rife, with curriculums and teaching methods said to be outdated and change being needed. Hamanaka questioned whether the current education system was really in such a bad state and intuitively felt that public criticism was off the mark. She therefore started to research the actual situation using techniques, such as social surveys, that she learnt while studying educational sociology.
"If you look only at the shortcomings of the current education and academic qualification system, and try to change everything, you will lose what is good about it, too. I wanted to shed light on the good parts that were not being talked about."
There are many incisive studies that point out acute problems from a critical perspective, and Hamanaka wondered what she could add to the debate as a researcher.
"Rather than considering education or society from an angle, I wanted to present materials that would provoke a completely new debate. In my research I consider it important to honestly recognize what is good as being just that: good."
Hamanaka points out that the current lifetime wage disparity between high school and university graduates is much greater now than it was 40 years ago, and has published the results of research and analysis demonstrating that studying hard at university contributes to career improvement after graduation. Her work has attracted a great deal of attention from both educators and the media.
"When I talk about learning experiences in my research, I don't mean the accumulation of knowledge but asking questions, investigating, analyzing, and presenting findings to others. To be honest, I lacked an awareness of social issues when I was a student, and I stumbled when I tried to ask questions. But I was taught these skills at university."
After working at a private research institution and the National Center for University Entrance Examinations, Hamanaka started working in the examination planning division of the Center for Research and Development of Transition from Secondary to Higher Education. The University of Tokyo entrance examination is another topic that is prone to be discussed on the basis of second-hand impressions, rather than the facts.
"In every aspect of education, I wanted to close the gap between perfunctory talk and reality." Hamanaka now not only writes about the value of learning and the significance of academic qualifications, but is also talking to people about the topic directly through public lectures.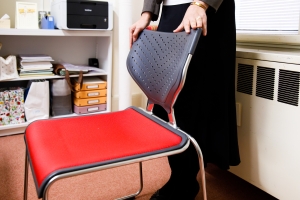 Hamanaka was hospitalized in 2006 after developing a hernia as a result of spending long hours sitting writing papers. She chose this chair as a celebration gift for her discharge from the hospital, noting with a smile that, despite having been used for meetings at her previous workplace, it is extremely comfortable to sit on.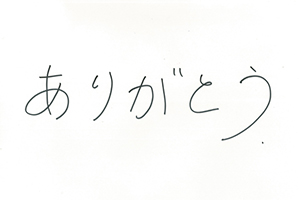 "When I enrolled at the University of Tokyo I had no particular goals or thing that I wanted to do, but thanks to being taught how to study, I was able to build a life for myself as a researcher. I am extremely grateful to my professors, the University of Tokyo, and to 'education.'" [Text: Arigatou (thank you).]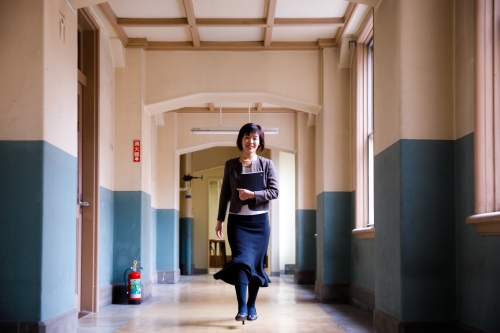 Junko Hamanaka
Junko Hamanaka graduated from the Graduate School of Education, The University of Tokyo. Former project researcher at the Center for Research of Core Academic Competences. Joined the Recruit Works Institute in 2006 to learn more about the corporate world. Appointed assistant professor at the National Center for University Entrance Examinations in 2007 and moved to current position in April 2017. Author of Kensho, Gakureki no Koyo (Utility of Testing and Academic Qualifications) (received labor studies Excellence Award), 'Cho' Shingakko Kaisei & Nada no Sotsugyosei – Sono Kyoiku wa Shigoto ni Ikiruka (Graduates of 'Ultra' University Prep Schools Kaisei and Nada – How Education Contributes to their Careers) and co-author of Kyoiku Retsui Shakai – Kyoikuhi o Meguru Yoron no Shakaigaku (The Educationally Disadvantaged Society – The Sociology of Opinion Concerning Educational Expenses), etc.
Interview date: November 14, 2017
Interview/text: Eri Eguchi. Photos: Takuma Imamura.