Demystifying human intelligence
Research center explores brain, AI, pathology through "neurointelligence"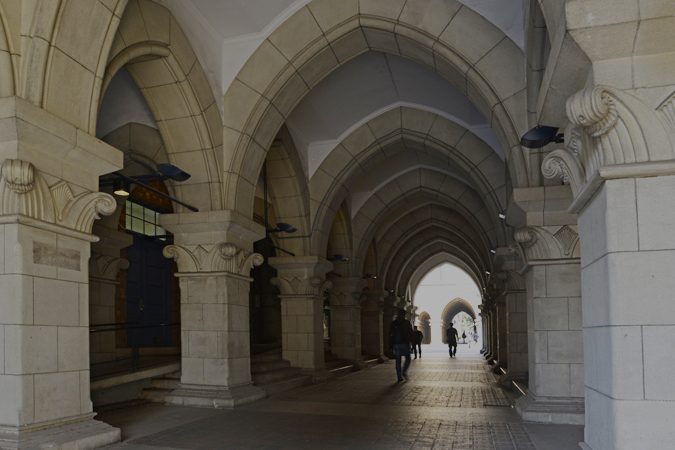 Despite centuries of inquiry, humanity still does not know how our own intelligence developed. An ambitious international research center is creating a new field—neurointelligence—to solve the mystery of what makes human intelligence so special.
World-leading neuroscientist Professor Takao Hensch is director of the International Research Center for Neurointelligence (IRCN), founded in October 2017 at the University of Tokyo. The IRCN will establish the new discipline of neurointelligence by fusing neuroscience, medicine, social science, and artificial intelligence (AI).
"We are unique because we are not just focused on the forefront of basic mechanisms of brain development, but at its intersection with mental health and novel AI. At the IRCN, specialists across disciplines will intermingle to discuss and create a new science of neurointelligence," said Tetsushi Kagawa, the administrative director of the center.
In April 2018, the IRCN moved into a recently renovated building on the University of Tokyo's Hongo Campus. The facility includes tools for advanced imaging, including super-resolution, multi-photon laser and rapid light-sheet fluorescence microscopes, as well as space for developing novel animal models of brain development and disorders. Data science, science writing, and human fMRI cores round out the state-of-the art bridge between life science and social science.
Natural development and artificial intelligence
"Humanity has made great technical strides recently to pry open the black box of the brain. Artificial deep-learning algorithms can now defeat masters in ancient board games like chess and Go. But we are still far from understanding the general and flexible characteristics of human intelligence," said Hensch.
Traditionally, AI is limited to just one mode of perception while the brain has neurons to perceive vision, hearing, touch, emotion and movement. Deep learning AI algorithms still require 10 million or more data points to learn just one task, and usually struggle to learn second tasks. The IRCN aims to develop new types of AI that can learn in a more human way and in doing so ideally boost performance.
"We will not be able to imagine the potential applications of this AI technology until we actually try to develop it," said Kagawa.
IRCN research teams will investigate how neurons mature inside the brain, with the goal of uncovering the principles of how neural circuits develop. Researchers will apply those discoveries to develop innovative AI technologies and to understand how impaired neural development can cause mental or developmental disorders, including schizophrenia, autism spectrum disorders, and language disabilities.
"Focusing on key principles of neural circuit development and how it goes awry in mental disorders promises new insights for building a more efficient, neuro-inspired AI. This in turn will offer computational approaches to better understanding the human condition in a virtuous cycle of innovation," explained Hensch.
International focus
The IRCN held its first annual symposium in December 2017 and ceremonial opening of the new facility in May 2018, on both occasions welcoming collaborators from around the world to discuss the center's research themes and to set its agenda.
The center is the core of a new international network of research institutions focusing on the foundations of brain development, with Boston Children's Hospital at Harvard University and the Max Planck Florida Institute for Neuroscience in the U.S.; the Agency for Science, Technology, and Research (A*Star) Singapore; the Italian Institute of Technology (IIT) in Genoa and Trento; and the École Polytechnique Fédérale de Lausanne (EPFL), the University of Lausanne, and the University of Geneva in Switzerland among its partners.
Another important feature of the center is to facilitate the international exchange of brilliant student minds to nurture future AI-neuroscientists. In the summer of 2018, six international students participated in a 10-week long exchange within IRCN labs.
"I am particularly pleased by the opportunity to train a new generation of global scholars fluent in both neuroscience and information science by connecting talented international students with the University of Tokyo environment," said Hensch.
The 15 IRCN core faculty and their lab members will be based on-site in Tokyo and international collaborators will visit throughout the year. IRCN members will come together for research collaboration, workshops, student exchange, and at the annual IRCN international symposium. The center has plans to expand its reach in the future by collaborating with researchers in the humanities and social sciences to deepen our understanding of human intelligence and solve societal problems.
Local excellence
The larger University of Tokyo research community has welcomed the addition of the IRCN to its campus. Professor Hitoshi Murayama, director of the Kavli Institute for the Physics and Mathematics of the Universe (IPMU), cheered the new IRCN.
"I am excited to welcome a sister World Premier International Research Center Initiative to the University of Tokyo! We will share our Kavli IPMU experiences in kick-starting the IRCN and hope also to have scientific interactions between scientists who study the outer Universe and the inner Universe," said Murayama.
The World Premier International Research Center Initiative (WPI) title is an official designation from the Japanese government Ministry of Education, Culture, Sports, Science and Technology (MEXT). The WPI program currently supports a total of seven Japanese centers that perform world-class scientific research and are charged with creating an international innovative research environment.
The University of Tokyo is now the first institution to host two such prestigious centers, the Kavli IPMU and IRCN. The Kavli IPMU opened in 2007 and also receives support from the Kavli Foundation and is a member of the global family of Kavli research institutes.
"Like the Kavli IPMU, the IRCN will be a special area within the University of Tokyo, creating a truly international environment that will accelerate our efforts to internationalize the university campus as a whole," said University of Tokyo President Makoto Gonokami.