FEATURES

Revitalizing a planned community known for its massive apartment complex
The Takashimadaira Project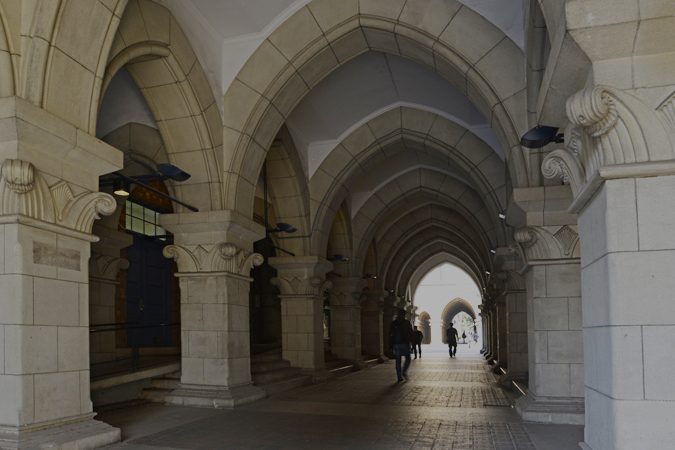 Local UTokyo Project 27 @ Itabashi City (Tokyo)

Naoto Nakajima / from Tokyo
Associate Professor
Graduate School of Engineering

Kimihiro Hino / from Ehime
Associate Professor
Graduate School of Engineering
The Urban Design Lab of the University's Department of Urban Engineering has been involved in many community development activities across Japan, including in Kanda and Ueno in Tokyo, Teganuma and Sawara in Chiba, Uchiko in Ehime, Mikuni in Fukui, and Shimizu in Shizuoka. The Takashimadaira Project, launched in 2016, has unique qualities that differentiate it from the others.
"Our projects to date have mainly focused on old historic districts, so a planned residential area constructed through large-scale land readjustment like Takashimadaira was a first," says Professor Nakajima, who started the project. Through academic society activities, he found out that Itabashi City was eager to revamp Takashimadaira; he sought this opportunity and put himself forward to take on the task. And there is also Professor Hino from UTokyo's Housing and Urban Analysis Laboratory, who spent his newlywed days in Itabashi City and is thus familiar with Takashimadaira. The two formed a cross-organizational partnership to revitalize the Takashimadaira area, getting their students involved as well. Their activities included redeveloping the "promenade" greenbelt zone extending through the center of the area, support for those with very limited access to shopping facilities, discovering the unique heritage of Takashimadaira, and growing flowers with the elderly.
"Another activity I have been advocating is 'jogging patrol,' which is when volunteers monitor their area while walking or jogging. I hope that doing this in Takashimadaira will increase local security, while helping residents keep an eye on people with dementia," says Professor Hino.
"Since Takashimadaira was a planned community, it has a lot of open space. I am confident that the area holds great potential for us to utilize our expertise in urban engineering," says Professor Nakajima.
In 2006, the Urban Design Center Kashiwa-no-ha (UDCK) was established to foster community building through the cooperation of public, private and academic sectors. Subsequently, the Urban Design Center Takashimadaira (UDCTak) opened in autumn 2016 as the 14th urban design center in Japan and the first in Tokyo. In this manner, the seeds for regional cooperation sowed by the University of Tokyo have sprouted and continue to grow across the country.
32 Local UTokyo Projects
Held across Japan, from Kanto, Chubu and Western Tokyo to Itabashi and Hongo
Numerous projects are being held across Japan by the University of Tokyo, and we introduce 32 of them in this edition of Tansei. On themes as varied as teacher training, farming, production of local goods and association football, these projects are just some examples of those now under way. UTokyo was, is, and will be engaging in projects with partners all across the country.
Note: This article was originally printed in Tansei 35 (Japanese language only). All information in this article is as of September 2017.