FEATURES

Beginning with Keiji Usami's Kizuna …
Symposium transcript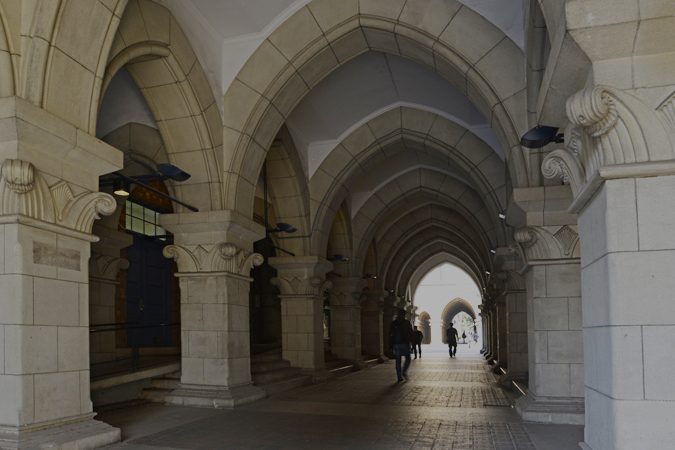 Symposium transcript: Beginning with Keiji Usami's Kizuna …
On September 28, 2018, the University of Tokyo convened a symposium at Yasuda Auditorium.
The painting Kizuna that had previously adorned the wall of the Hongo Campus' Central Cafeteria had been disposed of in the course of renovations. The event was an occasion for profound reflection on this incident, as well as an opportunity for further consideration of Kizuna and other works by Keiji Usami, of postwar Japanese art, and moreover of cultural resources in the University and beyond.
Keiji Usami


Born in 1940 in Suita City, Osaka Prefecture. As a painter, Usami began producing work on his own before attracting notice in his first solo exhibition at the Minami Gallery in 1963. Using four human silhouettes extracted from a press photograph taken during the 1965 Watts Riots in Los Angeles, he created paintings that considered the structure of the world, and which consisted of human bodies rendered as symbols while incorporating bands of gradation and circles enclosing the human bodies. His major literary works include Kaigaron: Egaku Koto no Fukken [On Paintings: The Revival of the Art] (Chikuma Shobo, 1980) and Dushan [Duchamp] (Iwanami Shoten, 1984). He died in 2012.
Program
Opening Remarks
Makoto Gonokami (President, the University of Tokyo)
Statement of Purpose
Atsushi Miura (Moderator) (Professor, Graduate School of Arts and Sciences)
Special Lecture
Shuji Takashina (Emeritus Professor, the University of Tokyo / Director, Ohara Museum of Art)
Part 1
On Keiji Usami's Kizuna
Lecture
Izumi Suzuki (Professor, Graduate School of Humanities and Sociology)
Lecture
Kenji Kajiya (Associate Professor, Graduate School of Arts and Sciences)
Discussion
Izumi Suzuki, Kenji Kajiya and Akira Takagishi (Associate Professor, Graduate School of Humanities and Sociology)
Part 2
Keiji Usami and Postwar Japanese Art
Lecture and Discussion
Kenjiro Okazaki (Sculptor / Visiting Professor, Musashino Art University) and Michio Hayashi (Professor, Faculty of Liberal Arts, Sophia University)
Part 3
The University of Tokyo and Cultural Resources
Lecture
Naoyuki Kinoshita (Professor, Graduate School of Humanities and Sociology / Director, Shizuoka Prefectural Museum of Art)
Lecture
Yasuhiro Sato (Professor, Graduate School of Humanities and Sociology)
Discussion
Naoyuki Kinoshita, Yasuhiro Sato and Mari Kobayashi (Professor, Graduate School of Humanities and Sociology)
Open Roundtable
Note that the full transcript has been excerpted here to fit the constraints of publication.
Opening Remarks
Makoto Gonokami
On behalf of the University of Tokyo, I would like to offer my apologies to Keiji Usami, his surviving family members, and other parties concerned, as well as to everyone to whom the opportunity to encounter this precious work has now been lost. This work, which since the completion of the Central Cafeteria forty years ago had been an inseparable part of that space, was lost as the result of insufficient information sharing and an inadequate understanding of cultural property. As the party responsible for managing the cafeteria, the University should have communicated closely with the cooperative association that owns the cafeteria and shared with them the knowledge of the value of the work.
Having spent my time on the Hongo Campus since 1978, I have gotten to know the Central Cafeteria, which is near my lab, as a place for lunch, dinner and conversation with students. Looking at the cafeteria after the renovations, I wondered what had become of that work, and was startled and disappointed when I learned that it had been disposed of.
For me, Usami retains a place in my heart as a thinker through his book on Marcel Duchamp. When I was an undergraduate in the liberal arts faculty, I heard about the plan to build a replica of Duchamp's Large Glass, and found myself fascinated by this daring attempt to replicate such a difficult and complex work.
When I learned that Usami had published Duchamp in 1984, I wasted no time buying a copy. Kizuna was a piece that Usami produced in preparation for the writing of this book, and when I revisited the book the other day, I once again encountered the ideas of a man who at the time was a rising young painter, making me feel all the more responsible for the loss of this work.
With this symposium as our first step, we will endeavor to adopt a thorough approach to sharing information about academic and cultural resources on campus and ensuring their proper storage and management, in order that a similar mistake will never happen again.
Special Lecture
Keiji Usami and the Idea of Kizuna
Shuji Takashina
Around 1977, when I was teaching in the Faculty of Letters, I was contacted by the University of Tokyo Cooperative Association (Co-op) to ask my advice about what work of art might be suitable to install as a mural in the new cafeteria. Mulling over the question of a work that might be fitting for a place where students gathered for meals rather than to appreciate art, I settled on three conditions: first, that it must be a work of the highest accomplishment; second, that it should be contemporary; and third, that it should be intellectually stimulating. With that, the person who naturally came to mind was Usami, who also happened to be a longtime friend.
I feel that an important consideration for a cafeteria mural is that it can be seen at a glance, without any special consciousness about doing so. This is a mysterious relationship in which the students in the cafeteria and the work on the wall are unconsciously aware of each other even as they ignore each other. Engendering this relationship is one of the powers of works of art. Whether in facilities or in the streets, they are more than mere decorations; they create links between the people in those spaces in a mysterious way. "Kizuna" is the Japanese word for the bonds that connect human relationships, and I believe that the painting Kizuna was indeed such a work.
Part 1: Lectures
Two or Three Things I Know about Kizuna
Izumi Suzuki
Works of art are material objects, and will thus all disappear in time. And yet, even so, we feel the starkness of this fact in how this work was discarded in such a prosaic manner. Historically, the destruction of cultural properties has been carried out primarily for political or religious reasons, but this destruction was merely prosaic. It was a matter of institutions and organizations. It was a matter of simple ignorance. This stark intellectual deterioration may well lead us to the white and bright space of a new cafeteria. But I am overcome with surprise and shame at the deterioration of our intellect.
The distinctive elements of Kizuna included size, inflection points, and circular forms. It was a huge work, measuring 4m x 4m, and marked an inflection point leading to the artist's return to models of the body. In subsequent works, bodily representations appear sealed within circular forms. Perhaps this pivot may have even been inspired by the curved wall of the Central Cafeteria. From a formal point of view, too, Kizuna held a unique and important place within Usami's oeuvre. And his theoretical discourse up until this point was also pioneering and important in terms of the institutional resistance it aroused on the part of the arts establishment.
It has now been fifty years since the Yasuda Auditorium Incident. And while this is an episode of history rarely mentioned at the University of Tokyo, the memories of this building deserve to be shared. Kizuna represented the Vietnam War, the Watts Riots, and the Yasuda Auditorium Incident as links in a kind of chain. Seeing it below Yasuda Auditorium, we could not help but be conscious of the links to those events. Although we have lost such an important and monumental work of art, for it to have been in the Central Cafeteria at all was a miraculous gift.
Kizuna in the History of Art
Kenji Kajiya
Usami staged his first solo exhibition at Minami Gallery in 1963. That an unknown newcomer had been able to secure a solo exhibition at a leading contemporary art gallery was by virtue of his rare talent. Subsequently, he began producing works using human figures, based on a photograph of the 1965 Watts Riots. While these express the four movements of crouching down, recoiling, running and throwing, none of the figures had a head, suggesting his interest in the human form itself. He also turned his hand to a pioneering work that used lasers to represent human figures. By reflecting laser light with multiple mirrors and interposing the viewer, the entanglements of the light disappear, changing its relationship with the human figure. In contrast to painting, the artist's control over works involving lasers is more limited. Perhaps he may have been thinking about how much a work might be able to escape from its completed structure.
In a solo exhibition staged in 1971, he presented the "Ghost Plan" series, in which segmented humanoid parts wander about in search of a structure (i.e., a ghost). Kizuna is a part of this series. In the work, several human figures are depicted performing the four actions I mentioned earlier, each connected by a colored line according to the shape they hold in common. The common shapes are completed, while others are depicted only in part. To have things in common is to be complete; to be solitary is to be incomplete. Conceivably, the work was entitled Kizuna due to this kind of relationship. The work is more simplified than others in the series, which could be seen as representing a didactic intention in terms of making it easier for students to reflect on. After all, didn't Usami create the work by envisioning something for a space where students would build relationships over a meal?
Part 1: Discussion
On Keiji Usami's Kizuna
Izumi Suzuki, Kenji Kajiya and Akira Takagishi
Takagishi You have both talked about how Kizuna represents a convergence of Usami the philosopher and Usami the artist.
Suzuki Simply looking at the work normally, one might not realize the intellectual operation that is being performed, but this was understood in Professor Kajiya's analysis. Kizuna may have intrinsic qualities, but despite that autonomy, it is not closed off. With a closed-off interiority, we would not see any systems or structural changes engendering external connections. I wonder what Usami thought of the fact that the work was both independent and open.
Kajiya Usami was interested in matters other than art, such as philosophy, social issues, architecture and music. He interacted with people from a variety of fields, and incorporated these fields into his own works. We can say that he was someone who was open to outside experience. There's something I would like to ask Professor Suzuki. Artists have long attracted the attention of philosophers. I wonder if Usami might have been an artist to whom philosophers should pay more attention. What do you think?
Suzuki Usami's ideas were extremely ahead of their time, and it's possible that they may not initially have come across in the 1970s. In the terms of the paradigm that governed that period, his work would not have been sufficiently comprehensible, and many would not have understood the conceptual framework underlying his paintings' structures. Rather, I feel keenly that now is the time when we should be reading this discourse. He was the rare individual in whom the artist, critic and philosopher coexisted.
Takagishi Kizuna was a work that presented difficult ideas in a relatively easy to understand manner. What did Usami want to convey at the Central Cafeteria?
Kajiya Looking at examples like the Suma Rikyu Park in Kobe, he created works with a view to developing his own oeuvre rather than tailoring them to the venue. I expect he saw links between the large cafeteria that brought together students, staff and faculty as a space of "relationships" and his own ideas of "connections" and "solidarity."
Takagishi Usami's books are difficult to understand, but when his writing touches on old art, I often encounter perspectives that cause the scales to fall from my eyes. For example, in his description the Heiji Monogatari Emaki [Illustrated Scrolls of the Tale of Heiji], he makes an interesting point about how the lively movements of the samurai attacking the Imperial Palace contrast with the fastness of the gate, which divides the panel at a forty-five-degree angle. I feel that he was looking to draw on old art forms to develop canvases with overlapping grids and temporalities.
Suzuki We cannot just finish off this event with a memorial or apology. As a member of the faculty, I would like to propose that a reproduction be left behind to convey that there was once an important work here worth reading from multiple perspectives.
Part 2: Discussion
Keiji Usami and Postwar Japanese Art


Kenjiro Okazaki and Michio Hayashi
Hayashi Okazaki-san, you had a close connection with Usami for many years, and in fact you were the last one to interview him before his death. I feel that was a dialogue between fellow artists, one that transcended the relationship between student and teacher.
Okazaki It was around 1977 that I met Usami-san for the first time. He would have periods when he stopped painting new works, which he used to joke with me were my fault. Kizuna was a work created during such a period.
 I learned of the destruction of Usami's painting when I came across a Q&A column on the UTokyo Co-op's website while looking up some of Usami's works at the Museum of Modern Art, Wakayama. A response to a question by a student asking about the whereabouts of the work stated that the work had been discarded. For me, this was something that happened in the realm of information – I believed it, and I'm talking about it even now, but there was no physical evidence. That's to say, this was an event unfolding purely in the realm of discourse. The mechanism whereby something is orchestrated without the audience's knowledge is a distinguishing feature of Usami's work, and I feel that this was something akin to that. I even had the sensation of being set up for a conversation with him.
 It's been occasionally said that Keiji Usami was more design-oriented. This may be why his work did not feature in much discourse, which in turn led to its destruction. We don't see Keiji Usami in retrospectives of 1970s art. What we do find is the Mono-ha (the "School of Things"). For my own part, as someone influenced by Usami and his circle, I have been called "post-Mono-ha." That's art history for you. What the circumstances of this incident show us is the arbitrary influence of discourse.
Hayashi The 1970s were absent any discourse like that of Usami, who felt that the Mono-ha had not extracted itself from the framework of phenomenology, but regarded it in structuralist terms. I feel that's the responsibility of art history and art criticism.
Okazaki The movement to "return to painting" brought with it a simple argument about which school of thinking offered the more authentic way of seeing things, and things with inherent diversity ended up considered impure and were excluded. This was what led Usami to use the term "closed system" (heisa-kei) for the sense of blockage he felt around the time he produced Kizuna.
Hayashi The fact that the work was self-contained and had a structure that could be turned was for him a closed system. There's a sense that his approach to the problem meant that he had to pursue that first, and only afterwards noticed the hermetic nature of the closed system.
Okazaki A system is only able to recognize that which one is able to recognize oneself; it cannot understand extraneous paradigms. This is a typical closed system in that it becomes an argument to the effect that variations are foretold by the system. When we ask how we might escape, the conversation turns to confronting the system with another system to generate homology or disjuncture. Though I should add that I don't feel that this is correct.
Hayashi Listening to you speak, I feel we've learned that there are still a variety of possibilities for how to interpret the works of Keiji Usami.
Part 3: Lectures
On Something's Being There and on Its Being Art


Naoyuki Kinoshita

I was a member of the Campus Planning Office. While the refurbishment of the Central Cafeteria should also have been discussed there, the issue of the painting was never broached. And while the Planning Office checks building exteriors, interiors fall outside our jurisdiction. The fact that more consideration tends to be assigned to what is visible from the outside and that our awareness of interiors is relatively weak seems to me to be one of the causes behind this incident.

I organized the Hakushi no Shozo [Portraits of the Scholars] exhibition in 1998. The painted portraits and portrait sculptures scattered across campus are forgotten and are moved by virtue of the fact that they stand in for other people. I knew the reality of this and undertook an investigation of their placement. One of the reasons why portraits receive such various treatment is that the question of their ownership is quite vague. Although they are managed by the University, there is a strong implication that they were essentially placed by volunteers.

After Kobu Bijutsu Gakko, which had opened its doors in 1876 as the Meiji government's first school of fine art, was absorbed into the University of Tokyo as part of the Faculty of Engineering, so was its collection of works from the early Meiji period. The works used in the classroom included many valuable items. Some had been scrawled upon with graffiti, yet despite this and other indignities, a survey of the collection was carried out primarily by faculty members in the Department of Architecture. They then established a conservation policy, and the collection is now available as an archive.

Unlike an art museum, a university is not a place devoted to the appreciation of works of art. What is to be done in circumstances where various things begin to exist for various reasons, and many others disappear? The answer is to tell stories. If the spirit of this symposium is that we should "relay the stories of what has been lost," this is an issue that goes beyond Kizuna. What is important is that we direct our attention to the things that we can see but do not understand, so as to think about what they are.
When Art is Discarded


Yasuhiro Sato

Art often has been abandoned to the ravages of history. Iconoclasm in the eighth century, the expulsion of new art by the Nazis, and the recent destruction of the statues of Bamiyan ... Yet the case of Kizuna differs from these. I would like to offer a few similar examples.

One of these is the sliding screen paintings by Ito Jakuchu at the temple of Okushoin at Kotohira-gu Shrine. Having reached an advanced stage of deterioration, these paintings were discarded in 1844, leaving behind only a few. So, even pictures by the renowned Jakuchu were thrown out. There are countless examples from everyday life of paintings being damaged and discarded. Next is the case of a mural from the former Tokyo Metropolitan Government Office. This work, by Taro Okamoto, was demolished along with the building when the government offices were moved. While the reason in this case was that it would have been difficult to remove the tiles, preservation would have been possible had there been a will to pursue it. A third example is a work titled Video Blind Piece by Gerald Minkoff. This work, which consisted of fourteen television sets buried in the ground in a particular order, was removed by a gardener who mistook it for trash. Here is a case of the disposal of a work because it was not regarded as art. This is key. Many of those involved with the Central Cafeteria saw Kizuna as just a fixture. Here is another example. In conjunction with the construction of a new library, the University of Kochi incinerated 38,000 books due to the narrowness of the new building. Books imprinted with the name of the university could not be sold and it was said that nothing was available in terms of temporary storage for transfer, yet there should have been other options.

Universities teach us that books and paintings are not mere objects, but rather things that influence the human spirit. To burn books or discard works of art is tantamount to expressing an attitude that ignores matters of the spirit, to lending strength to the growth of such poisonous weeds. When art is discarded, the university falls.
Part 3: Discussion
The University of Tokyo and Cultural Resources


Naoyuki Kinoshita, Yasuhiro Sato and Mari Kobayashi
Kobayashi What I felt upon learning of this incident was the "absolute nature of ownership." The principle by which we can do whatever we want to something as long as we own it is an idea that has become commonplace thanks to the establishment of capitalist society. "Cultural value" functions as a check on this absolute quality, and the fact that an incident neglecting cultural value took place at a university is a problem. We well understand that Kizuna was an important work. So, would it be okay to dispose of the work of a relative unknown? What should we allow to remain at a university? It seems that we have a situation in which information is not shared despite the presence of experts on campus. What should we do to avoid this kind of problem in the future?
Kinoshita Organizations have a tendency to work toward the creation of frameworks that do not cause problems, but a perfect system can never be realized. My feeling is that it is essential first of all to investigate what happened. Was it really discarded? How was it discarded? Professor Sato's presentation could also have been called "When We Discard Art." Another possibility is that it was not discarded when it was not recognized as art, but that it was thrown away in full recognition that it was art, or even because it was art. There are a variety of aspects that we must consider.
Sato I feel that we need education about cultural resources on campus. The Act on Protection of Cultural Properties is premised on future beneficiaries. We need to popularize the idea of not exhausting the use of what we now have so that it can be used by future generations.
Kobayashi When designating an important cultural property, we make sure whether or not the owner will permit this designation. This is because ownership is an absolute right. Some owners are reluctant out of a concern that once designated, they will no longer be able to treat their property as they please. Perhaps those of us in the Faculty of Letters should promote the possibilities that cultural value brings to counter that mindset. More than institutional improvements, we should cultivate an awareness that appreciates the importance of culture. How might we make use of the cultural resources of the University of Tokyo for the future?
Kinoshita We should seek out cultural resources, evaluate them, and think about what they are. And such attempts should be repeated. Our only choice is for various people to push forward with this idea from a variety of viewpoints.
Sato Much has already been lost. I feel that there is also a need to survey and catalog all cultural resources on campus.
Kobayashi In my own lab, after the incident, we started trying to investigate what kinds of interesting items are held at UTokyo. My students are seeking out various things on their own initiative. I think we will also need a point of contact for consultation regarding cultural resources.
Open Roundtable
Kizuna and the University of Tokyo
Miura I would like to ask everyone for a comment, such as what they felt after listening to each of the presentations that we have heard so far.
Takashina While I found the intellectual analysis of Usami's work to be wonderful, little mention was given to its sensory aspects or the issue of color. I feel that the colors used are unique in the worldwide context of postwar art. I feel that at the same time as being an intellectual composition, the work was also powerful in decorative or ornamental terms, in a broad sense. I also sense that that is a particularly Japanese characteristic.
Takagishi The situation of a screen measuring four meters squared hanging on the wall of a communal space reminded me of the Mandala of the Two Realms in esoteric Buddhism, which features an ordered arrangement of buddhas and bodhisattvas. While it would be difficult to know whether the colors in Usami's work are connected to those of traditional Japanese art, I felt that the way that the deep blue, red, green and violet – four colors normally found in Buddhist paintings – became pastel shades like in the color gradations we see in paintings in the style of ungen saishiki (an artistic coloring technique) was also something the work had in common with a mandala.
Okazaki In Usami's atelier, the paintbrushes were always kept clean. He was very precise in his use of color, to the point that he found it unacceptable if they were not always washed. Thinking about the color wheel in structuralist terms, the purple part linking red and blue would have been difficult. Also, the way he used colors underwent a change in his later period. He began using colors and tones that connoted a sense of tragedy, colors reminiscent of classical paintings.
Hayashi Although he had previously mainly used light blue, bright red and lemon yellow, for Kizuna a shade of red was used that was almost orange, which seems to have continued into his subsequent works. The way that Usami put it himself was that he started to confine colors with shapes.
Kajiya I feel that it is significant that he was making his kind of expression in the 1970s, which was an era when little attention was given to color. The impression given by the light blue is strong in other works in the "Ghost Plan" series, but somewhat calmer in the case of Kizuna.
Okazaki Blue is characteristic of the human figures in his early period. It's a color manufactured in Japan known as "Shinbashi blue." He also used a matching vermilion color, which in a sense might have been intended as a Japanese color scheme.
Suzuki What I found most concerning about today's discussion was the question of the level at which works of art should be protected. Naturally, excellent works of art will be kept, but what is to become of those that are not considered as such? Indeed, this is a problem for art as an institution.
Okazaki I think that it would be good if we all knew that we lose out when we throw away a work of art. It's regrettable that we weren't resolved enough to say: "If you throw it out, I'll save it. I'll build a Keiji Usami Museum of Art!" The problem with contemporary art is that it eschews discussion and only attracts more journalistic language, which is the fault of attempts to discuss it in terms of general knowledge in the discourse. In retrospect, from the 1980s onwards, Keiji Usami was already "authorized," and as such no longer a topic of discussion for young people. So even by that time, Keiji Usami was not being discussed.
Hayashi When I was first admitted to university, I read every book by Usami with excitement as soon as it came out. I left Japan in 1985, and when I returned fifteen years later, the situation had changed. Although I remembered him as having been an important person in my youth, he was no longer being talked about. I really felt the change in the discourse.
Miura At Komaba, if someone is wondering whether a work of art is of any value, the usual custom has been to consult with the Komaba Museum. It is unfortunate that this was not the practice at Hongo Campus. It was also problematic that the Central Cafeteria didn't have an interpretive plate with the title of the work or other information.
Kinoshita Actually, there's nothing displayed for Misei Kosugi's murals behind us, either. The problem is that there are no procedures for checking information about what we have on campus. However, were we to risk a conversation about compiling a thorough ledger and ranking the works, the problem that would arise is the question of who would decide the relative superiority of the works. Our only choice seems to be to continue to accrue individual discussions.
Okazaki They should have sent it to the TV show "Nandemo Kanteidan" [We'll Appraise Anything]. It's unbelievable that they would have just thrown it away without doing anything.
Kobayashi The fact that they should have asked an expert but didn't might also be partly due to the fact that trust in scientific experts and other authorities has been shaken in the wake of the Great East Japan Earthquake. And while today's discussions were quite difficult, I feel that we need people who can bridge art and society.
Sato What's been brought home to me again is the fact that Kizuna was really neglected. No conservation measures were put in place, nor was it damaged. It was a sad state of affairs in both senses. To mention one of my own fantasies about the work, I wonder if the series of human figures included in Kizuna could be seen to depict an exploration of how people who live in four-dimensional space would be seen if they were to appear in three-dimensional space. Just as we would lose thickness and appear flat in a two-dimensional world, maybe four-dimensional people might look like they do in Kizuna, for example. It's a whimsical interpretation, perhaps, but Kizuna was a work that we could see in that way.
Miura We have two art museum directors with us today, so I would like to ask them their thoughts on the conservation of contemporary art in an art museum context.
Takashina Since contemporary works often involve the use of multiple materials, preservation presents quite a difficult problem. The fact is that some materials might last a long time, while others will not. Also, some artists may not mind if the state of the work changes over time. This brings up the issue of whether or not to keep such works of art in their original state. With Japanese art, for instance, sometimes an artist using silver as a material will create something in the expectation that the silver will tarnish. So, our only choice is to think about each work in turn.
Kinoshita At the Shizuoka Prefectural Art Museum, our storage rooms are already full. Availability of space is an issue being faced by many of Japan's art museums. Although an art museum is a building with walls, nowadays there are many forms of expression that do not have any particular need for walls. Art museums are only one base for art, and I don't feel that art can be adequately served by art museums alone.
Okazaki Given today's technology, there is no need for works of art to be housed solely in art museums. Art data just needs to be archived and made publicly available on Google Earth, for example. The problem is the sharing of information. It's a mystery to me why this couldn't have been done for Kizuna in this day and age.
Miura We must keep talking about and remembering valuable works of art. And we need to continue a rigorous examination of how best to check on the cultural properties held on campus and ensure that they are kept. With a shared awareness of these two tasks as our takeaway from today, I would like to conclude our symposium.
* In light of the discussions that took place at this symposium, the University of Tokyo will continue to raise awareness about cultural resources among campus faculty and staff by taking advantage of opportunities arising for training and other activities. In addition, we plan to establish a system for appropriately understanding cultural resources kept on campus in order to be able to confirm and seek advice on how they should be handled.
* This article was originally printed in Tansei 38 (Japanese language only). All information in this article is as of March 2019.