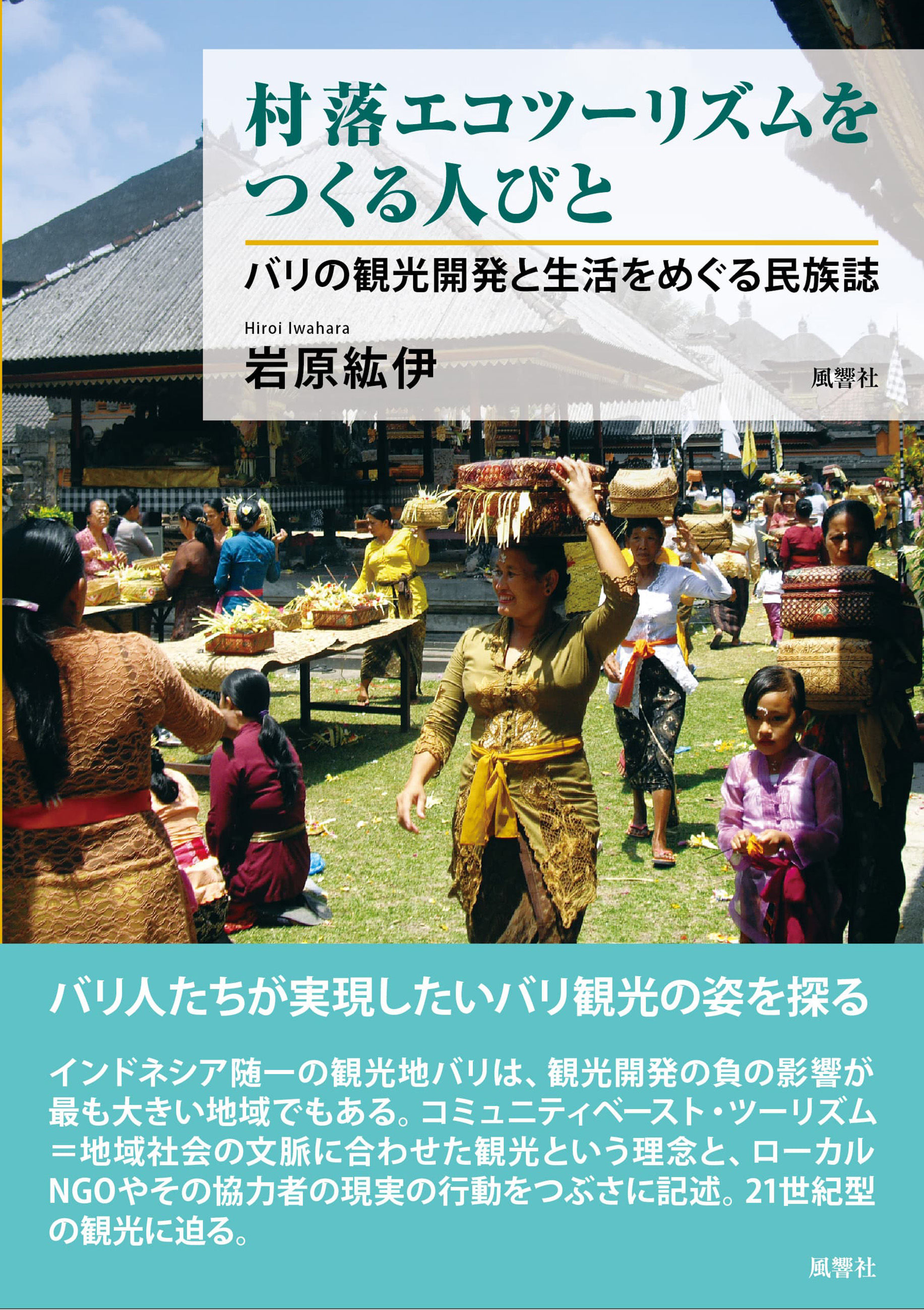 Son-Raku Ecotourism o tsukuru Hitobito
(Making Village Ecotourism - Tourism Development and Everyday Life in Bali)
This book is based on my doctoral dissertation "An Ethnographic Study of Tourism Development in post-Suharto Indonesia, Bali: Through Focusing on Community-based tourism"submitted to the Graduate School of Arts and Sciences, University of Tokyo, in March 2018. Through a case study of Bali — Indonesia's most prestigious tourist destination — the purpose of this book is to explain how the process of community-based tourism (CBT), which is becoming globally popular as a result of international cooperation, is being applied in the context of local communities while focusing on the trends and practices followed by the local NGOs and their partners. Through this book, I also aim to publish my research results on a contemporary theme such as CBT and promote further research and development on this topic.

Developing countries that gained independence after the Second World War have taken various steps to promote tourism in their countries as international tourists are considered to be an important source of foreign currency. On the other hand, tourism in these countries, which tends to develop in an uncontrolled manner, often gives rise to problems such as environmental destruction, distortion of the national economy, and destruction of traditional culture. In response to this, the international community has been putting emphasis on achieving "sustainable tourism" since the 1980s. "Sustainable tourism" is a concept that has adopted the principles of "sustainable development" in the field of tourism to rectify its negative impact on the environment, society, and economy. CBT is a branch of tourism that is founded on the idea of the local community actively participating in an initiative from development and planning to operation, as well as holding the rights and duties of the initiative, which is also the focus of this book. Today, CBT is positioned as a form of tourism that can play a central role in achieving sustainable tourism.

This modern tourism phenomenon is developing in the midst of two conflicting polar vectors: the development vector that prioritizes economic results and the opposing vector of participative development. What effect does this conflict have on the lives of people living in these tourist locations? In this book, we will explore this question with Bali, Indonesia, which has now become a world-class resort and tourist destination due to global capitalism. People living in international tourist destinations are easily susceptible to the effects of globalization. The ethnography created from the case study of Bali depicts the conflicts and changes in values that people living in this international tourist destination are facing today. The same conflicts and value transformations also apply to other resort and tourist destinations.

Since the collapse of the Suharto regime in 1998 and the start of the era of decentralization and democratization, there has been a move to change the paradigm of tourism in Bali, which was based on mass tourism, through CBT with local NGOs and urban middle-class at the center. This book is based on the results of a 27-month long field study in Bali, targeting a local NGO and two villages affiliated with the NGO. It is an ethnography that depicts the nature of modern tourism phenomena based on how the people living in the tourist destination, accustomed to mass tourism, perceive and incorporate the value of a different form of tourism such as CBT.


(Written by: IWAHARA Hiroi / June 21, 2021)