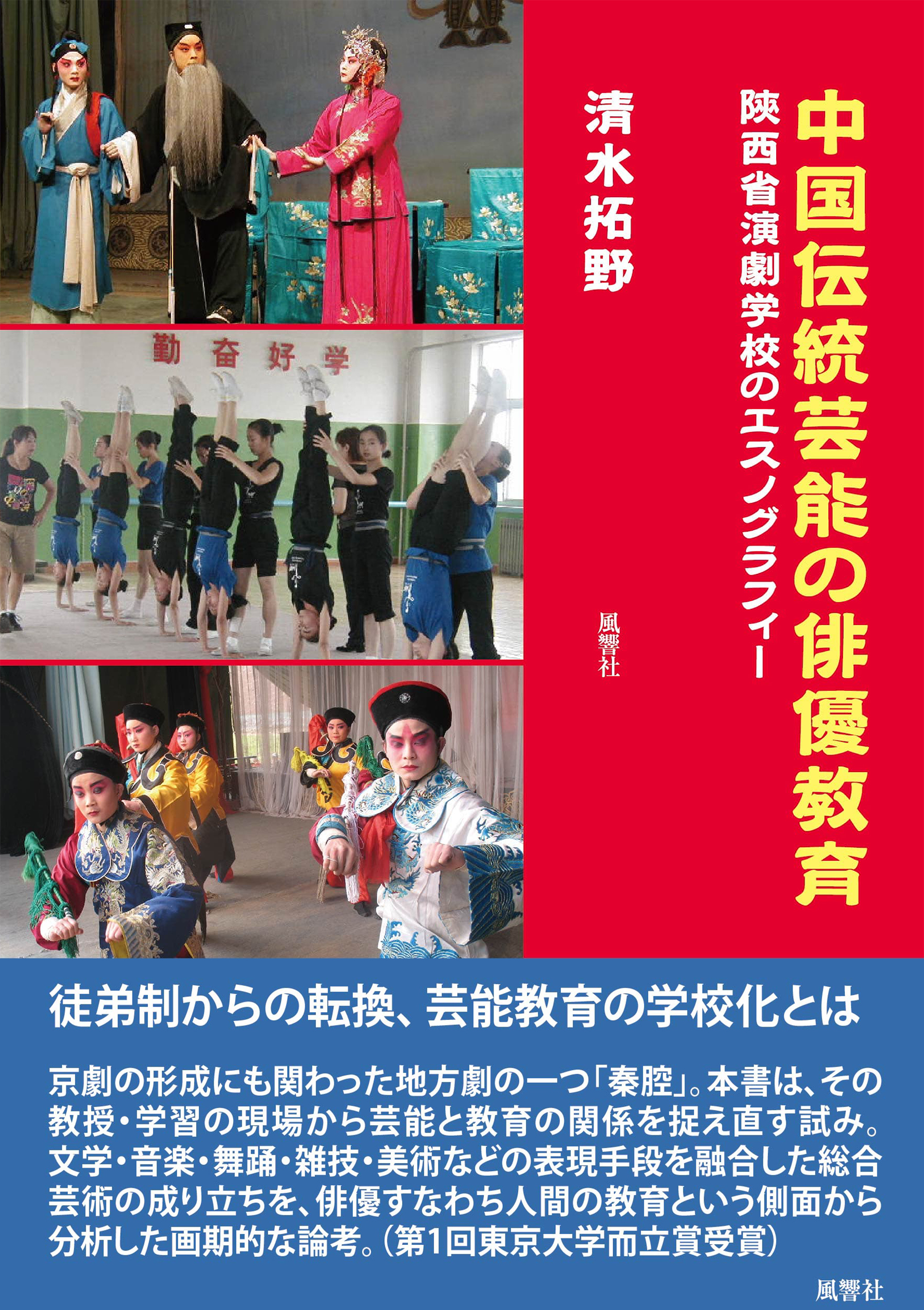 Chugoku Dentogeino no Haiyukyoiku
(An Anthropological Study on Actor Education of Chinese Traditional Performing Arts - Ethnography of Shaanxi traditional theater school)
This book is an anthropological study on actor education of Chinese traditional performing arts: a rare focus among studies of traditional Chinese theater. Most educational studies on traditional performing arts have focused on apprenticeship and have paid little attention to schooling. In a country like China, however, school education has played a central role in training aspiring performers. Moreover, traditional performing arts that have become intangible cultural heritage are often transmitted through school education in China. Given this context, this book focuses on the pivotal roles of school education in training aspiring performers and transmitting intangible cultural heritage: a topic that has hitherto been insufficiently explored by previous studies in related fields.

More specifically, the book takes the example of Qin opera, the regional theater of Northwestern China, which is rarely researched by non-Chinese scholars, to analyze how school education has been influencing the education of aspiring performers. The opera has been taught at theater schools since even before the foundation of People's Republic of China in the 1930s. Based on two decades of fieldwork on Qin opera, this book takes an interdisciplinary approach, blending theories of theater anthropology, folk performing arts studies, and educational studies on teaching and learning to elucidate the mechanism of what the author calls "schoolnization" (the process of educational transformation from apprenticeship to modern school). This concept then avoids the long-debated dichotomy between apprenticeship and schooling (which has previously been treated as diametrically opposite) and illuminates how aspiring performers used to and continue to acquire performance skills and knowledge. It also enhances our understanding of the merits and demerits of both the former apprenticeship system and current school education, thus demonstrating the ideal educational form for aspiring performers. Furthermore, the concept provides a practical analytical framework and a vantage viewpoint for comparative studies on educational modernization (not limited to traditional performing arts) in the future.

Although this book is mainly an educational study, it can contribute to studies on intangible cultural heritage as well. In anthropology and its related fields, most studies on intangible cultural heritage have concerned themselves with issues such as contested ownership and ethnic/gender identities. Meanwhile, in terms of education and transmission, studies in China have mainly focused on the national protection of certain chosen masters, recording their performances and enhancing their apprenticeship education. This book, however, provides a whole new perspective on the actual teaching and learning processes of aspiring performers and their teachers that illustrates the importance of paying attention to the educational environment of practitioners of intangible cultural heritage. If forms of intangible cultural heritage are to be protected and developed further, especially in China where "dynamic inheritance" of the tradition is highly prioritized, cultural management of the educational environment of aspiring performers is quite indispensable to solve any potential problems and enhance the development of their artistic creativity. The book's microscopic focus on teaching and learning imperative skills and knowledge can thus be helpful in understanding understanding the ideal management of cultural heritage.


(Written by: SHIMIZU Takuya / December 03, 2021)
Foreword
Introduction: Qin opera and Schoolnization of performing arts education
Chapter 1: Shaanxi province, Xi'an city, and Qin opera
Chapter 2: History of actor education and overview of my fieldwork
Chapter 3: Analysis of actor education at the training site
Chapter 4: Analysis of actor education in the institutional context
Chapter 5: Analysis on Schoolnization of performing arts education
Chapter 6: Conclusion
Afterword
Reference
Glossary of Qin opera related terms
Content to list of pictures and diagrams
Index