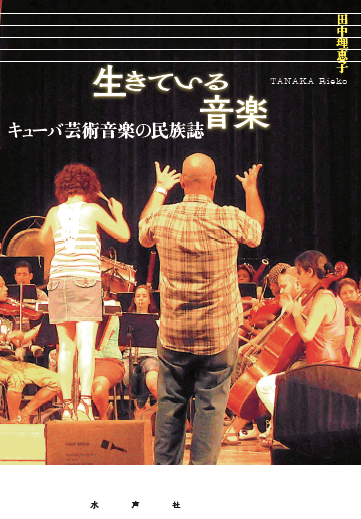 Ikiteiru Ongaku
(Lived music - An ethnography of art music in Cuba)
388 pages, A5 format, hardcover
This work focuses on art music in Cuba in the capital of Havana, employing anthropological techniques to depict the practices of the musicians engaged in musical performance, learning, and creation.

Cuba is known for its great musical traditions and is a place where folk and art music traditions remain profoundly alive. However, amid the difficulties experienced by the country following the dissolution of the Soviet Union, it is not immediately apparent that the state has kept its art music alive. Therefore, we begin with this simple question: What does it mean for Cuban people to continue musical activities exactly in present-day Cuba?

Firstly, Cuban art music is a largely new topic of study in the field of anthropology. This is also the case in related fields. For instance, the art music of Cuba, a non-Western European society, has been treated only peripherally in art music studies. Additionally, studies of Cuban music have neglected Cuban art music, a composite of diverse elements (it is based upon Western musical traditions, includes elements of African music, and makes extensive use of Russian musical education methods and American compositional methods).

Such consideration of Cuban art music reveals our prejudices; that is, we regard art music as a uniquely Western creation and see folk music as characterized by uniformity (land=ethnicity=music).

On this basis, the present work begins by attending sensitively to the reverberations of sounds, words, and things encountered in the field. The field shows us neither people dancing the day away nor a landscape pervaded by revolutionary ideology. Instead, what gradually comes to light in the field is a dynamic struggle for "presence": We see people searching for ways to continue to perform music and be present in Havana while navigating the challenges of daily life.

Furthermore, to facilitate a profound understanding of the ways in which art musicians have continued creating music while navigating daily life in Havana, this work takes the unique approach of depicting multiple layers of life and music in a holistic fashion to mirror the lived reality of musicians. Thus, the work employs a new method that might be called "multilayered ethnography," consistently superimposing the artistic, ethnic, and social layers of Cuban art music upon one another rather than reductively addressing these areas individually.

For this reason, although this book is nominally about Cuban art music, it does not always discuss music directly. The reader may be surprised by this unique approach. However, music continues to reverberate deep within people's experiences in Havana, even in situations that seemingly have nothing to do with music. One of the aims of this work is to consistently bring such experiences of music to life for the reader.

In present-day Japan, we too have experienced a breakdown of normality due to the Tohoku earthquake and the coronavirus pandemic. This work will hopefully prove a useful resource for those faced with the challenge of how to remain present in our reality today.


(Written by: TANAKA Rieko / February 09, 2022)