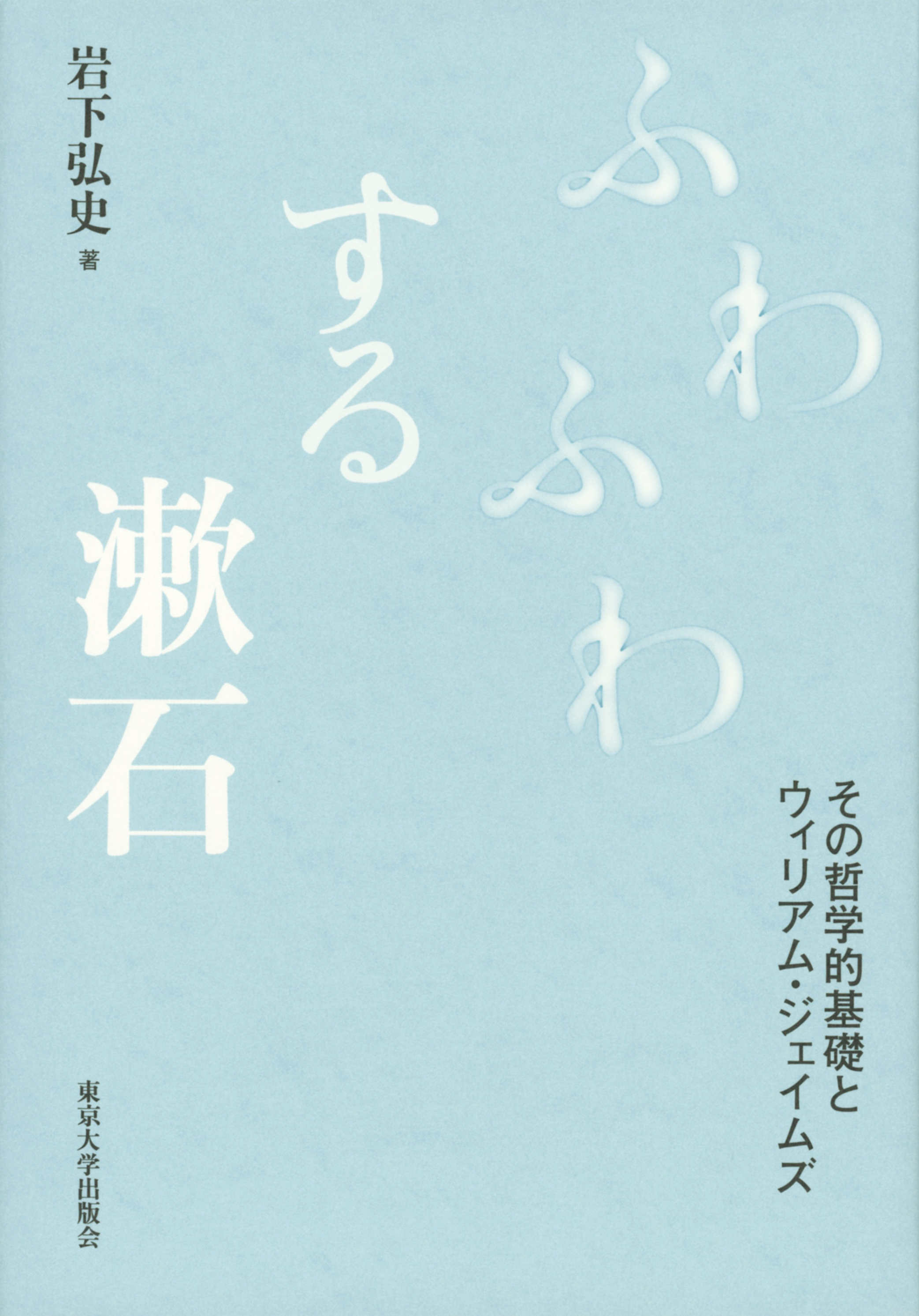 Fuwafuwa Suru Sōseki
(Floating Sōseki: The Philosophical Foundations and William James)
University of Tokyo Press
In Natsume Sōseki's oeuvre, there looms a mysterious sphere between dreams and reality, life and death, being and nothing. This applies not only to his fantastic short stories such as Ten Nights of Dreams (Yume Jū-ya) and Drifting in Space (Yōkyoshū), but also to his "serious" novels such as Light and Darkness (Meian).

It is crucial to note that Sōseki often uses the onomatopoeic word fuwafuwa ― which is usually used to illustrate something that is floating, for example, in water ― to describe people and things drifting in the sphere. In this sense, the word fuwafuwa well represents the inscrutable charm of Sōseki's literature, which is why it is included in the Japanese title of this book.

Considered against this background, the word brings about thoughts of William James, one of the leading thinkers of the late nineteenth century. When we think of James, the first thing that might come to mind is pragmatism. However, it was in the field of psychology that he first gained worldwide fame. He contended that our consciousness does not appear to itself in little pieces but is a continuum, introducing the famous term "stream of consciousness." Sōseki adopted this term for his own philosophy, even arguing that the basis of all existence is the "stream." For this reason, people and things apparently floating on the "stream" appear in his work.

This book is a thorough exploration of the relationship between Sōseki and James, which resonates at a fundamental level. The first and second chapters focus on Sōseki's Theory of Literature (Bungakuron). The formula (F+f) and "truth in literature," which play an important role in the work, can be related to James's thoughts in such works as The Principles of Psychology and The Varieties of Religious Experience.

In Chapters 3 and 4, Sōseki's philosophical foundations, which appear in "Philosophical Foundations of Literature" (Bungei no Tetsugakuteki Kiso) and "The Attitude of a Creative Artist" (Sosakuka no Taido), are analyzed. In these chapters, why Sōseki's texts depict "floating" people and things and how they relate to James's thought is clarified. Furthermore, based on these philosophical foundations, the new significance of Sōseki's famous idea of "self-centeredness" (jiko-hon'i) is also discussed.

Finally, in Chapter 5, Sōseki's novels of his later years, Grass on the Wayside (Michikusa) and Light and Darkness are considered. In these two works, the expression that people "melt" with each other, which also has something to do with "floating," plays an essential role. It is revealed that this "melting" is inspired by the mystic philosophy of James's last major work, A Pluralistic Universe, which Sōseki read very carefully. This interpretation ultimately leads to an understanding of the enigmatic thought of Sōseki implied in the phrase, Sokutenkyoshi ― which literally means "follow heaven and depart from the self."

As described above, this book focuses on the fuwafuwa aspects of Sōseki's work, considering James's thoughts underpinning them. It is a must-read for those who have any interest in two giants representing modern Japanese literature and American philosophy.

(Written by: IWASHITA Hirofumi / January 11, 2022)