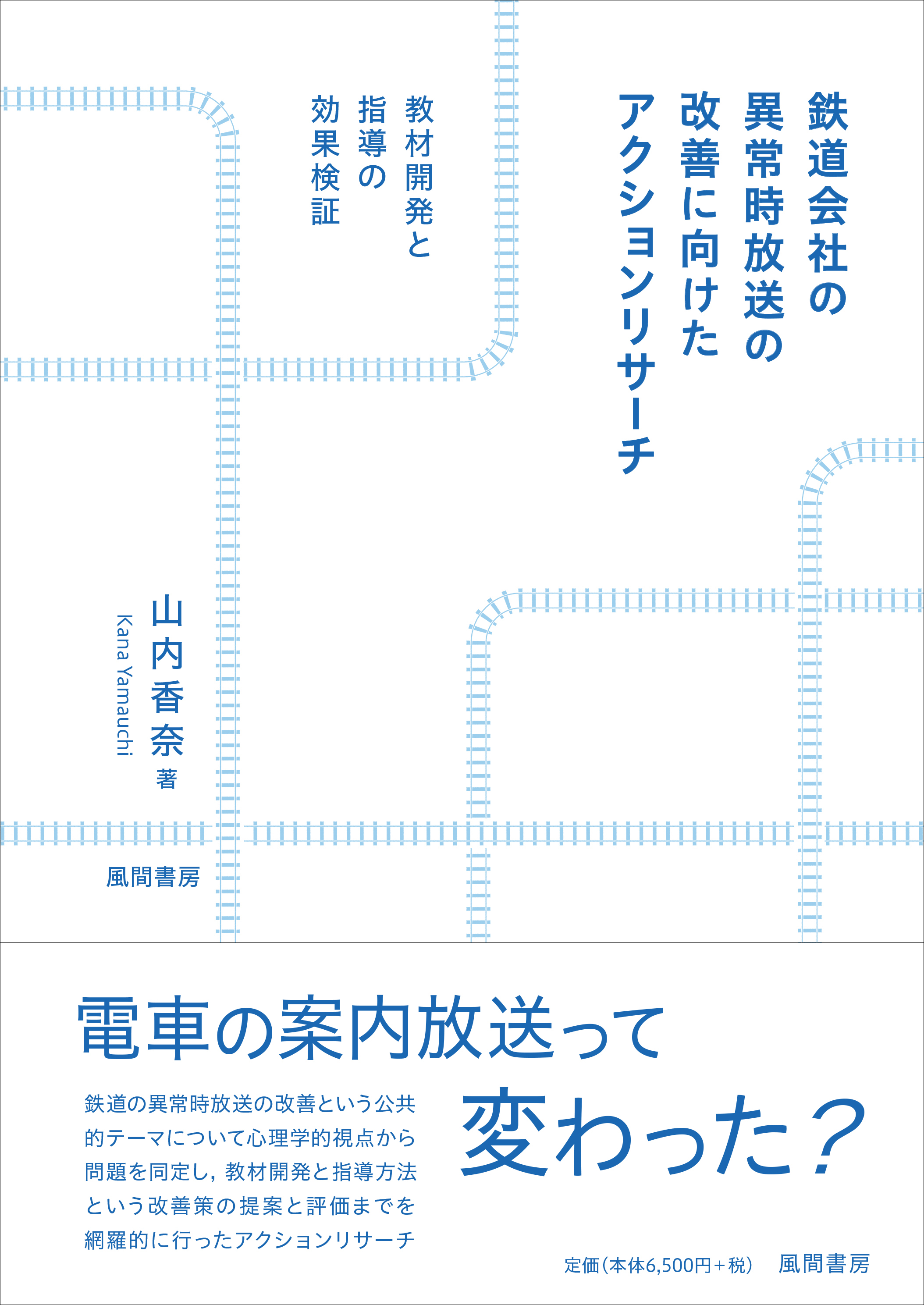 Tetsudou-gaisya no Ijyouji-housou no Kaizen ni muketa Action Research
(Action Research for the Improvement of Railway Company Broadcasts During Disruptive Events - Teaching Material Development and Verification of Effects of Instruction)
Nowadays, in the event of a transportation disruption (i.e., irregular situation), such as an accident or disaster that causes trains to suddenly cease operating or their schedule to be severely disrupted, information regarding the estimated time when operations will resume has come to be provided relatively quickly to passengers in the stations and trains of the railways of major metropolitan areas. However, if such prompt guidance were unavailable, passengers would have no choice but to wait for that information while aboard trains or in stations, leaving them unable to take action to cope with the disruption (by contacting work to inform them of the delay, making use of an alternative route, etc.), and as a consequence, very stressed. When the research presented herein began, passengers were frequently encountering such situations, and it had become a serious social problem.

It goes without saying that the prevention of transportation disruptions, which frequently affect our lives and work, is important. At the same time however, it is just as important to alleviate the inconvenience and frustration passengers suffer when transportation disruptions inevitably do occur. With a focus on the psychological dimensions of such passengers, this book presents action research that delves into information announcements to demonstrate the effectiveness of collaborating with multiple railway companies to formulate improved methods for broadcasting information, in addition to incrementally developing and implementing instructional materials and methods for railway employees.

The research is unique in that it was undertaken with the goal of producing results that could be implemented in society, while applying social scientific research methods and social psychological theories to research themes that leverage the characteristics of the research institutions the author worked for at the time it was conducted. While parts of this research have been presented in psychology journals and railway industry publications, there has not yet been an opportunity to present an overall picture of the work and the results obtained to the world at large. For this reason, it is the author's great pleasure to have this opportunity to present the world with this publication.

The first aim of the book is to describe action research conducted by the author and others and empirically demonstrate the kinds of psychological problems that were encountered as well as the kinds of educational intervention methods that were effective as pragmatic solutions for achieving improvements to railway companies' broadcasts during disruptive events. In addition, using this material to present a model of action research that aims to solve social problems is the second aim of this book. This involves a thought process that systematically follows a series of steps: (1) the identification of social problems, (2) elucidation of the psychological and organizational cultural factors behind the problems, (3) proposing new ideas for intervening on the problems, (4) ascertaining their feasibility and prospects for social consensus, and (5) verifying those interventions. It also involves a combinatorial stance toward research that makes full use of various social science research methods (questionnaire surveys, interviews, experiments, etc.) for each argument set forth, while under the actual constraints of a corporate setting.

The author would like readers to know that, in addition to helping solve the problems of daily life in clinical settings, such as school education and counseling, psychology has the potential, even if only small, to contribute to the development of society by enabling practical problem solving in the form of action research in collaboration with companies and organizations.

(Written by: YAMAUCHI Kana / July 25, 2022)