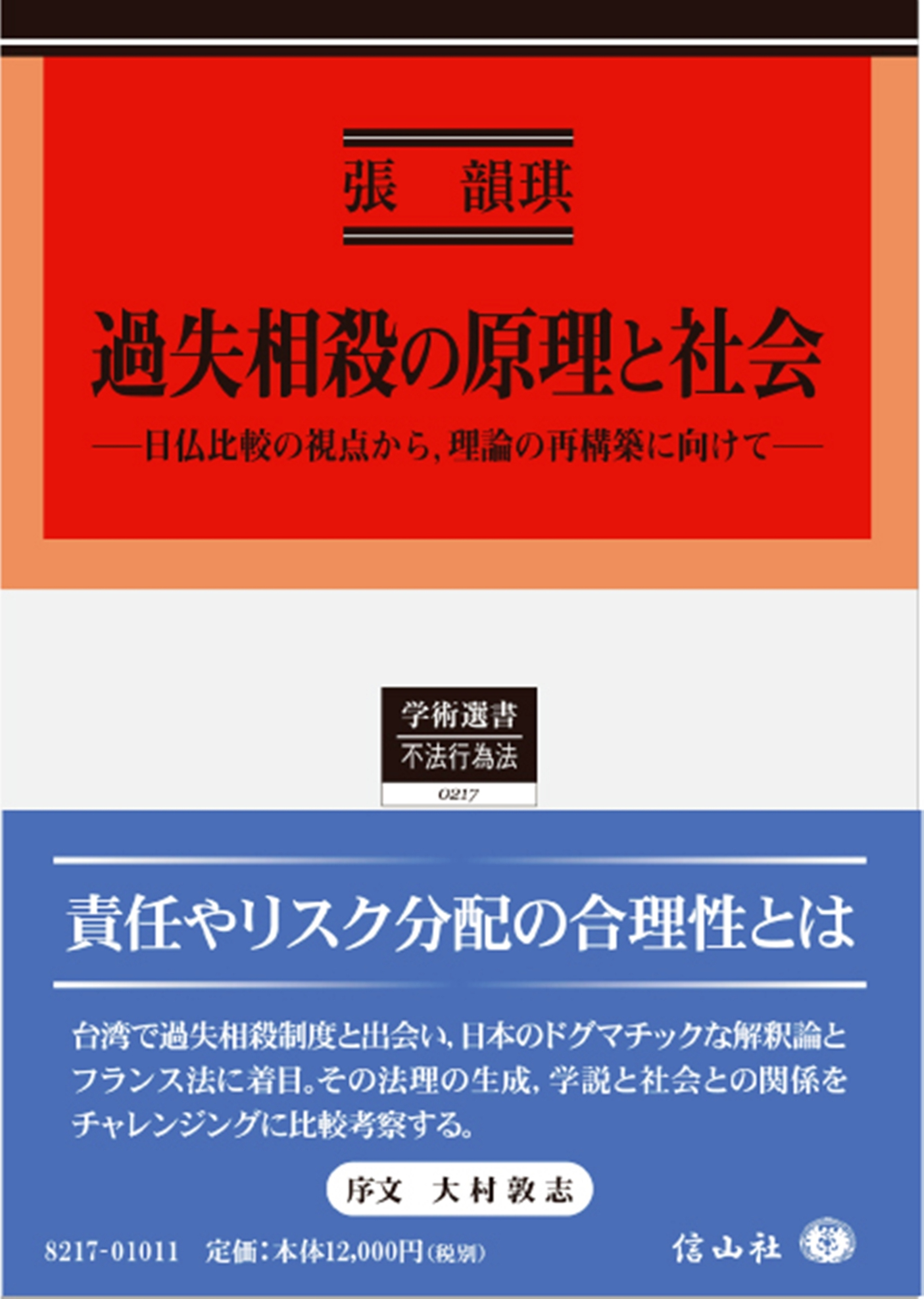 Gakujutsu Sensho Tort Law
Kashitsu-sousai no Genri to Syakai
(The Basis of Comparative Negligence and Society - From Comparison of Japan and France, Towards Reconstruction of the Theory)
Sinzansha Publisher Co., Ltd.
Article 722 Paragraph 2 of the Japanese Civil Code stipulates that "if a victim is negligent, the court may determine the amount of compensation by taking that factor into consideration." This is the institution of comparative negligence, which is said to be based on the concept of "fairness".

If an accident between two vehicles occurs due to the negligence of both drivers, applying comparative negligence is "fair". That said, should comparative negligence be applied to a worker who dies from karoshi [overwork] if he or she frequented bars and drank heavily after work? Should comparative negligence be applied to the parents of a child who has died from suicide due to bullying if the parents did not notice their child's abnormal behavior? Should comparative negligence be applied to an individual who loses his or her entire savings after being scammed into purchasing high-risk investment products for being "greedy"?

Everyone has their own idea of fairness; formulating concrete standards based on the abstract concept of "fairness" is almost impossible.

The preface of this book first outlines the history of doctrinal discussions regarding comparative negligence in Japan. It points out that many of the conflicts in the doctrinal discussions are due to the existence of various "senses of fairness" regarding issues facing Japanese society. Next, it argues that breaking the deadlock between conflicting viewpoints requires a return to the values "intrinsic" to comparative negligence and to ask, "what exactly is the purpose of comparative negligence?"

To answer this question, Chapter 1 examines 19th century French law, from which Japan's institution of comparative negligence is derived and whose comparative negligence is established by judicial precedents. This chapter delineates how in the age of industrialization, work-related injuries and personal injuries due to transportation accidents gave rise to the application of comparative negligence. Chapter 2 examines the doctrines on comparative negligence from the 1930s to the 1950s, during which time traffic accidents became a social problem. Chapter 3 focuses on judicial precedents before and after the enactment of the French Road Traffic Act in 1985. The Desmares judgement, which stated that comparative negligence does not apply if there is no gross negligence on the part of the injured party, was surprising from the standpoint of Japanese law where the application of comparative negligence to traffic accident victims is viewed as "common sense". Here also, we see how the idea of "protecting victims" is foundational to the interpretation of comparative negligence in French law. Chapter 4 focuses on the doctrinal discussions on comparative negligence since the 1990s, with particular attention being paid to the "demise" of comparative negligence that has accompanied the establishment of concrete risk distribution rules.

Based on the examination above, this book reconstructs the institution of comparative negligence as a "transitional institution". It argues that comparative negligence should only exist during the period when people have not yet set a clear rule of damage distribution between victims and wrongdoers. It also concludes that we should work hard to create concrete and ex-ante rules for "distributing damages" related to all kinds of risks because this facilitates usage of insurance for risk distribution. Overall, this book argues that reliance on the institution of comparative negligence is undesirable.

(Written by: CHANG Yunchi / December 16, 2022)