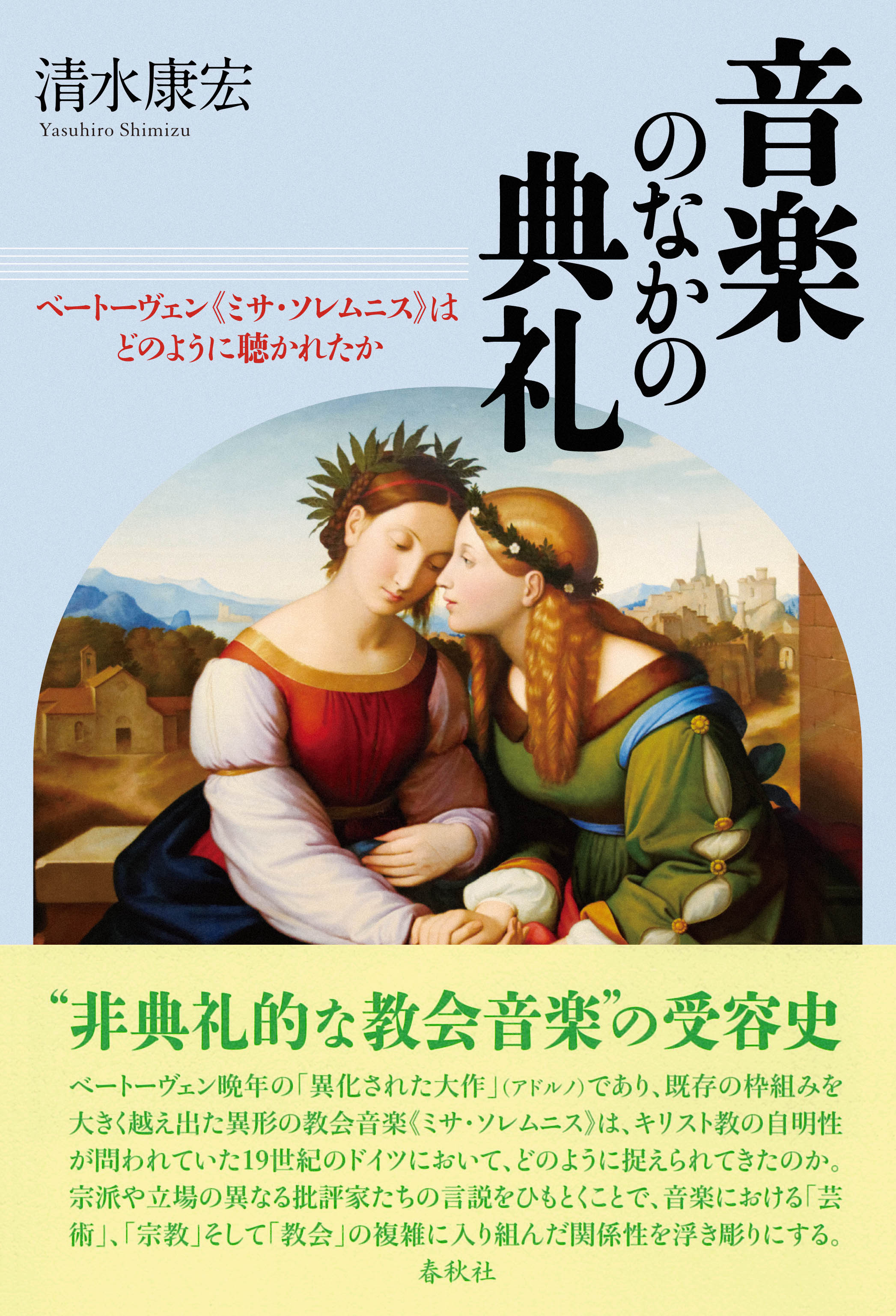 Ongaku no naka no Tenrei
(Liturgy in Music - Reception History of Beethoven's "Missa solemnis")
First, please note the title of the book, which is not Music in Liturgy, but Liturgy in Music. Rather than examining the types of music used in Catholic liturgy, this book considers concepts of religious (ritual) manifestation in music itself as well as conceptions of how music and religion overlap. This study will examine Beethoven's "Missa solemnis," a piece of church music. Particular attention is devoted to interpretations of the mass by music critics in the German-speaking world between the 1850s and 1870s, as well as to how these critics situated the mass historically. The theme of this book is the complex relationship between the three elements of art, religion, and church as conceived by contemporary critics.

Next, please note the cover of the book. This beautiful painting is "Italia und Germania" by J.F. Overbeck (1789-1869), known as a Nazarene movement painter. As the title indicates, the work depicts the friendship between two females who personify "Italia" (Italy) and "Germania" (Germany). The painting reminds us of the content of the book, which examines the relationship between Catholics and Germany. Despite highly praising the religiosity of old Italian church music such as that of Palestrina, the German Romantic writer E.T.A. Hoffmann (mentioned in the preface) believed the instrumental music of the same time period, such as that of Beethoven, to be technically superior. Hoffmann, who lived in the early 19th century, may have recognized in modern church music the potential to inherit the spirituality of old Italian music and integrate it with artistic expressiveness of the contemporary instrumental music. However, the conflict between the two, that is, the conflict between suitability for the church (Catholic religiosity) and the artistic autonomy characteristic of the time period, was seen as a problem not only by Hoffmann but also by Catholic music critics in the German-speaking world during the second half of the century. They identified this conflict in Beethoven's "Missa solemnis."

For Catholic critics, "Missa solemnis" posed more fundamental questions about the relationship between art and religion itself rather than a simple question whether it is autonomous art music or heteronomous church music. How did they conceive of the potential of this mass, which is both richly artistic and deeply religious, as a type of church music for a new age? The critical debate presented in this book should prove informative to those interested in religious art and religious music as well as those who generally conceive of modern artistic autonomy in opposition to systematized church liturgy.

(Written by: SHIMIZU Yasuhiro / June 12, 2023)