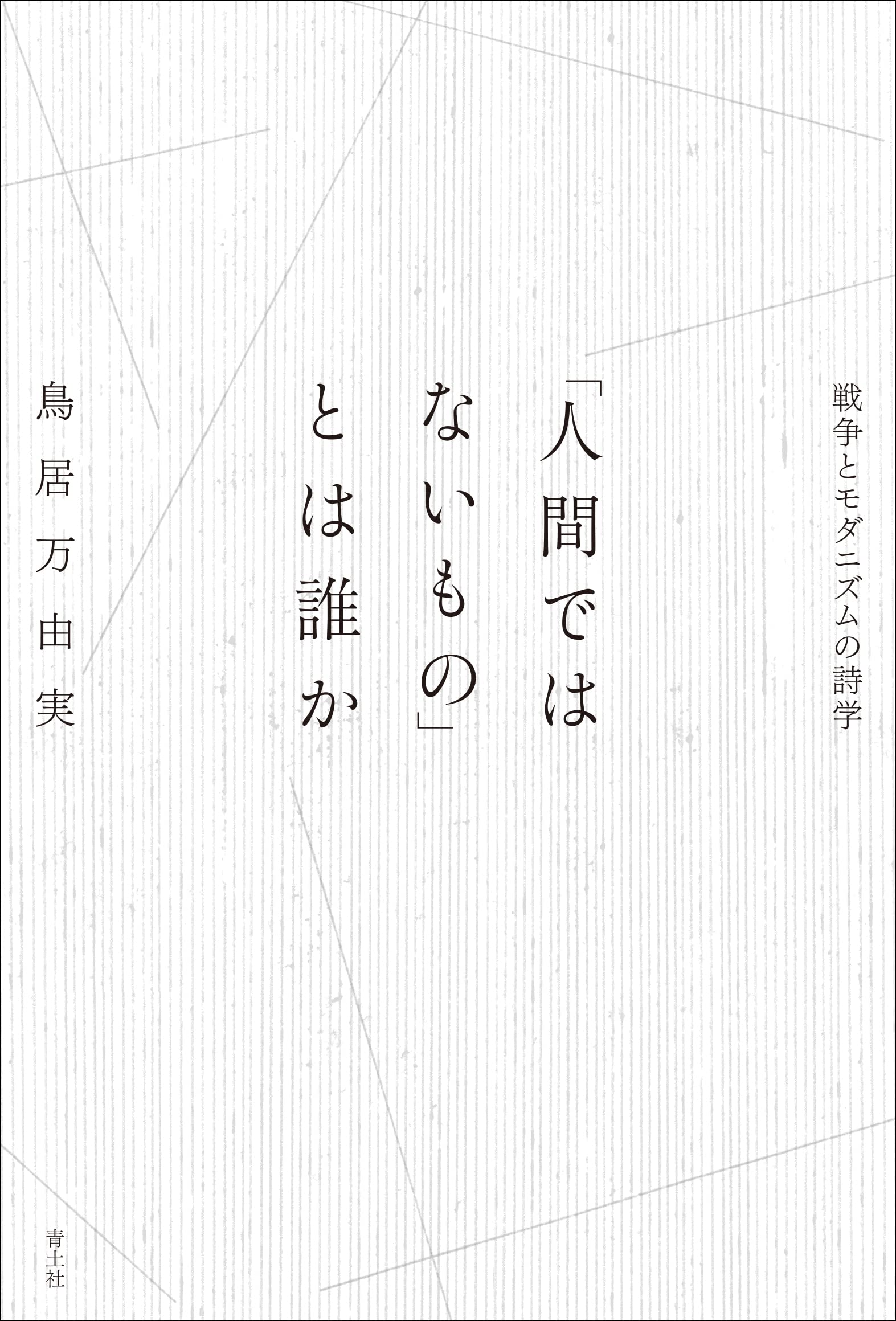 "Ningen dewa nai mono" towa dareka
(Who are "non-humans"? - Poetics of War and Modernism)

The idea for this book came from feeling a strange connection between the prewar period of around the 1920s and the present day. I was born in the outskirts of Tokyo in the 1980s, in a residential district that stretched out endlessly over the horizon.

Japan's urban cityscapes are generally a chaotic mishmash of various architectural styles. The endless concrete cityscapes strip away history and leave us not knowing where and in what time period we find ourselves. Furthermore, when I was growing up, the TV and media landscape included many shows on unidentified flying objects and other occult phenomena. This environment likely led to an inner confusion within myself as well.

These issues of urbanization and the media, as well as the transformation of the concept of gender, came to the forefront in earnest starting in the 1920s. Thus, while reading poems from that period, I was surprised to find something in them that resonates with our modern-day crisis of "who we are." This period may hold a secret key that will allow us to reexamine our bearings and confirm where we are now.

From the 1920s to the late 1930s, as the suppression of free speech intensified, images of "non-humans" such as animals and machines proliferated in poetry. This was a time of major social upheaval, encompassing the development of technology and industrial machinery, changes in the concept of gender associated with the increase of career women and the "modern girl" phenomenon, urbanization, and the expansion of colonial empires, including Japan's. In this context, images of "non-humans" could be said to reflect the fact that the prevailing concept of humans had been wavering.

Interestingly, the rapid surge of images of non-humans in modernist poetry until the 1930s settled down just as rapidly as totalitarianism plunged Japan into the Asia-Pacific War. This suggests that while changes in the structure of Japanese society had disturbed existing cultural norms, unifying norms that took precedence over those norms (for example, norms as subjects of the Empire of Japan) would soon become dominant in the society.

Accordingly, this book addresses the question of how the concept of humans has changed, through a close reading of poems in terms of the keywords animals, machines, and humans—in other words, from the perspective of normative humans and others. It is also a document of the identity crisis people faced at that time and what they did to overcome that struggle.

Angels, demons, monsters, androids, and other non-humans have always been popular in various fictional works. We may have a subconscious fascination with the idea of becoming non-humans. This book could be considered an attempt to find a part of the reason for that.

(Written by: TORII Mayumi / March 06, 2023)