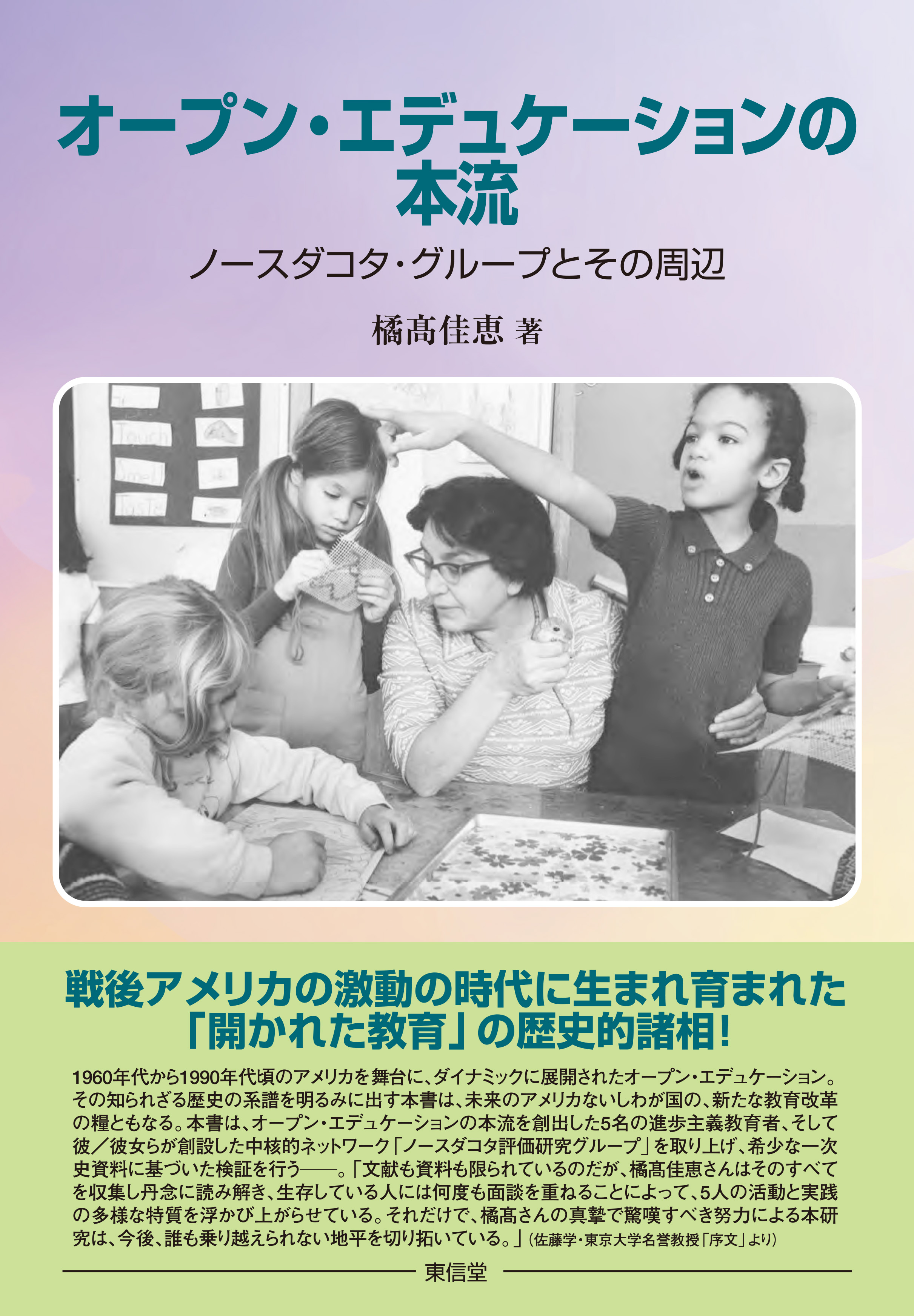 Open Education no Honryu
(The Mainstream of Open Education - North Dakota Study Group on Evaluation and Its Contemporaries)
230 pages, A5 format, hardcover
This publication depicts the life of open education, an educational line of practice and theory in the United States from the 1960s to the 1990s.

Succeeding John Dewey's progressive tradition, open education was among the most influential in the field of education internationally during the latter half of the 20th century. However, who the central figures in open education were and what role they played had remained unclear. In this publication, the central figures of open education are identified, and their distinctive work clarified for the first time.

As an overview of the book, Chapter 1 presents a brief history of progressive education from the 1960s to the 1990s in the context of US political and societal trends. Chapter 2 focuses on Lillian Weber, shedding light on her practice and discourse that were founded on English and US progressive traditions and that led her professional life of public-school reform and teacher education in Harlem, New York. Chapter 3 focuses on Patricia Carini, clarifying her practice and thought that demonstrated how each person is particular and being particular is the universal condition of humanity. Chapter 4 focuses on Vito Perrone and the North Dakota Study Group on Evaluation, describing how the group was formed in the early 1970s and developed thereafter to resist testing and racism inherent in the system, with Perrone as its long-time coordinator. Chapter 5 focuses on Deborah Meier, discussing her practice and philosophy that were founded on socialism and unionism and that led her work in East Harlem, New York.

The publication reveals the mainstream of open education and its vision of democracy. Hoping to secure inquisitive and creative learning for all children, the central figures of open education attempted to transform the system of public education. America's cultural transformation was envisioned. The author hopes that the intellectual and progressive history of open education revealed in this publication will provide clues across national and cultural boundaries for renewed visions of public education.

(Written by: KITTAKA Yoshie / June 05, 2023)
Foreword (Manabu Sato)
Preface
Explanatory Notes

Introduction

Chapter 1
Progressive Education from the 1960s to the 1990s: An Overview

Chapter 2
Beyond Cultural Deprivation Theory: Lillian Weber's Practice and Discourse

Chapter 3
Learning from Children and Their Works: Patricia Carini's Educational Thoughts

Chapter 4
The Network of Progressive Educators: Vito Perrone and North Dakota Study Group on Evaluation

Chapter 5
Attempting New Systems of Public Education: Deborah Meier and Her Schools

Conclusion

Addendum
North Dakota Study Group Today

References
Postscript