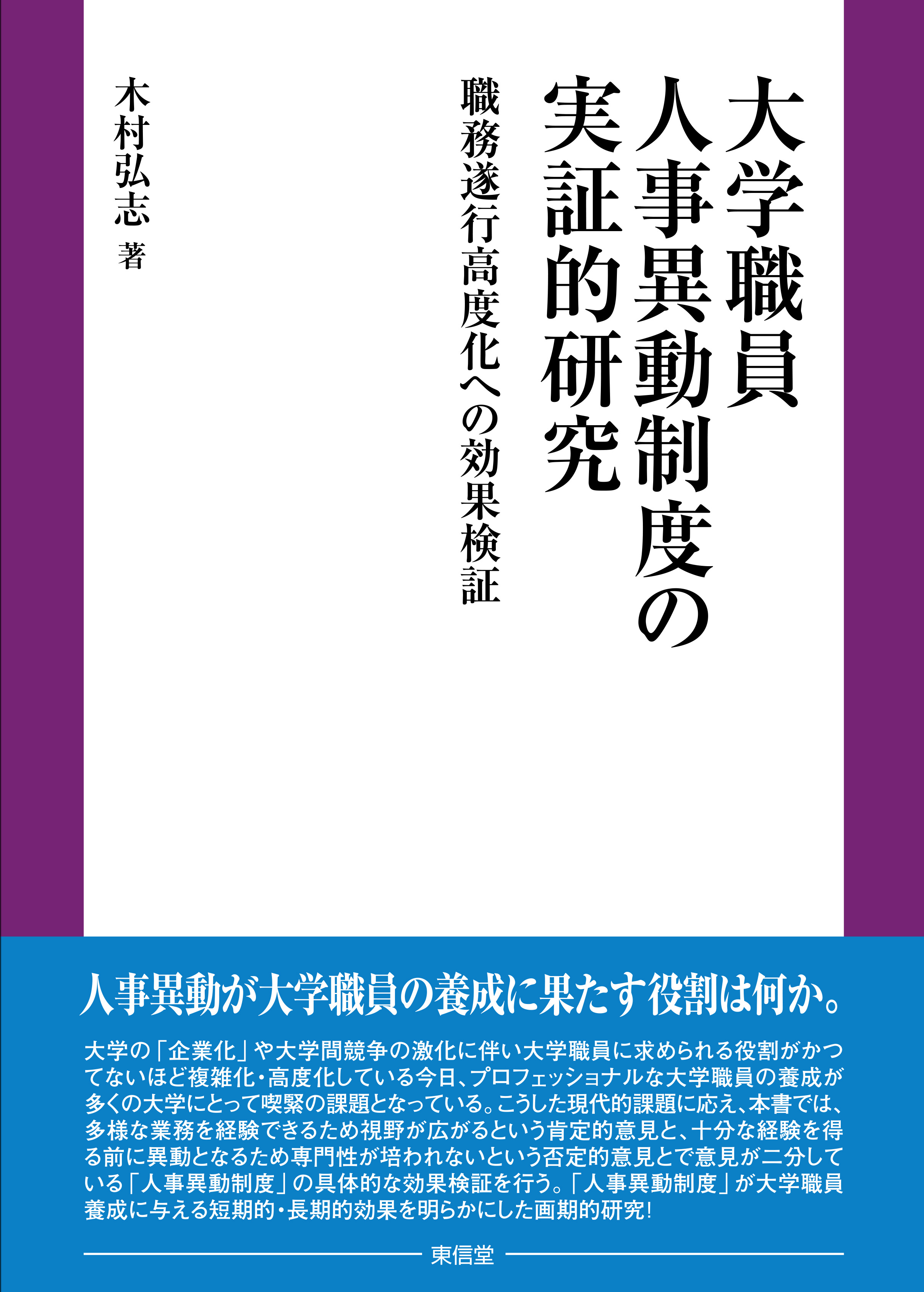 Daigaku-shokuin Jinji-idou-seido no Jisshouteki-kenkyuu
(An Empirical Study of the University Staff Job Rotation System - Verification of its Effectiveness)
296 pages, A5 format, hardcover
What is your impression when you hear the phrase "mastering one field"? I think many have a somewhat favorable impression of it. Many also find persuasive the assertion that "workers can be better at their job and derive more satisfaction therefrom by using knowledge and experience from a specific field chosen through their own free will."

However, if we pause for a moment and think about it, the following questions arise:

"Is it possible to do an actual job well with only the knowledge and experience from the 'one' field you chose (when you were younger)?"

"Is the 'one' field you chose (when you were younger) really the one you are best at or want to do the most of 'in the workplace'?"

The work of university administrative staff covered in this volume consists of various areas such as general affairs and human resources, corporate planning, finance and accounting, education and student support, public relations for entrance examinations, research support, and international exchange. The work requires the staff to engage not only with faculty members and students but also with various stakeholders such as the Ministry of Education, Culture, Sports, Science and Technology and private companies. The purpose of the research conducted for this volume is to determine the significance and effects of the "job rotation system" (≒regular personnel transfers) in carrying out such work.

"Job rotation" is a system in which employees are reassigned from one position to another within an organization. In this system, reportedly, in Japanese companies, the intentions of the personnel departments are more strongly reflected than the employees' wishes. The purpose of this system is to discover the aptitudes of each individual and develop human resources through a wide range of experiences. However, this system has also been criticized for hindering the cultivation of expertise in specific fields.

The effects of the job rotation system for university administrative staff clarified in this volume may be briefly summarized as follows. As university administrative staff move up the ranks (i.e., are promoted), they need to perform a wide variety of work while engaging with various stakeholders. However, when in lower positions, the types of work they experience and the scope of their stakeholder engagement are limited. Nonetheless, cross-disciplinary job rotations break down such limitations, allowing staff members to experience a variety of jobs and interactions even when they are in a lower position. Also important is that the system has some degree of enforceability, which ensures that almost all staff members gain such opportunities, and it contributes to building human networks.

Finally, this volume uses a research method that deepens our understanding of a single "subject"¾in this case, university administrative staff¾by approaching it from multiple perspectives. I hope this book will also convey how fun it is to conduct subject research, which differs from research that deepens a specific "method," but allows things that previously could not be seen from one perspective to become visible by overlapping multiple perspectives.

(Written by: KIMURA Hiroshi / June 02, 2023)