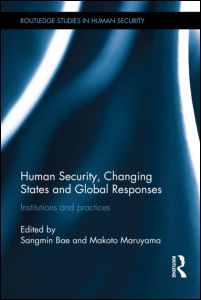 Human Security, Changing States and Global Responses
Institutions and practices
This book presents multi-faceted, empirical analyses by Japanese and American researchers on the role of nation states in human security. The concept of human security has developed over time within the process of identifying various security issues arising in the post-Cold War era, such as the need to assist refugees of civil and ethnic conflicts, that cannot be resolved within the conventional nation-state framework. That said, it is clear that weaknesses exist in current thinking on human security. For example, the discourse on global warming countermeasures largely ignore spontaneous crisis mitigation efforts by people living in regions that are expected to be most dramatically impacted by climate change. Continuation of this trend will only lead to greater skepticism regarding the discourse on ensuring human security. Taking such critical analyses as a starting point, this book describes the manner in which existing nation states will change as they encounter and attempt to deal with these new human security issues, which are no longer ignorable, and how these changes will affect international relations as follows.

Human security is emerging as a new point of emphasis in the context of efforts by Central and Latin American countries to enact structural reforms aimed at eliminating autocratic and neoliberal public policies. Japan has contributed in various venues such as the United Nations to spread new thinking regarding human security in international society. The fact that Brazil and China were first to provide support to victims of the 2010 Haiti earthquake was interpreted as the two countries having greater sensitivity to human security than Western countries. However, whereas China used this appraisal as publicity aimed at its own citizens, Brazil took in refugees from Haiti. With regard to the poorest segments of society, global economic crises pose a greater threat to women, who typically are involved in reproductive activities, than men. Despite having experienced the Fukushima Nuclear Power Plant accident, Japan has not abandoned its pursuit of nuclear power. However, the Nuclear Regulation Authority established under the Democratic Party of Japan has delayed resumption of operations by nuclear power plants whose safety is questionable. Although Japan and European countries have sought to develop global partnerships with regard to human security, the extent of cooperative relationships has been limited due to differences in priority, with Japan emphasizing value and European countries emphasizing legal order. In both Japan and the US, although the total number of homeless people has fallen due to the implementation of measures targeting the homeless, the number of individuals housed in homeless shelters has increased, making the issue invisible. With regard to Japan-US trade of agriculture products, while free trade is broadly believed to occur based on the principle of comparative advantage, grains and cattle, which consume vast amounts of water during production, are produced in the water-poor Western US and exported to water-rich Japan. From the standpoint of efficient water resource use, such trade is irrational. The risk of exhausting water resources in the US and steep rises in prices of agricultural products in Japan will only increase in the future.

As can be seen from the above, this book presents various issues to be addressed by human security while citing concrete examples. Readers are encouraged to start by reading about cases that interest them the most.

(Written by Makoto Maruyama, Professor, Graduate School of Arts and Sciences / 2018)
1 Introduction: the state and human security (Sangmin Bae)

Part I State behavior, preferences, and performance

2 Environmental change and human security (Richard Matthew)
3 Human security emergent? Post-authoritarian and post-neoliberal discourse and public policy in Latin America (David Leaman)
4 Why human security, why Japan? (Misako Kaji)

Part II The state during the human security crisis

5 Aspiring powers and human security: a case study from the Haitian earthquake (Courtney Hillebrecht and Patrice C. McMahon)
6 Gender, global crises and human security (Gale Summerfield)
7 The Fukushima disaster and human security in Japan: from "atoms for peace" to people's peace (Makoto Maruyama)

Part III The state and international dynamics

8 The European Union, Japan, and the elusive global human security partnership (Martyn de Bruyn)
9 Promises and pretenses of declining street homelessness in the United States and Japan: a human security perspective (Matthew D. Marr)
10 Water scarcity and food security: lessons from international food crop trade between Japan and United States (Jenny Kehl)

Index

Try these read-alike books: