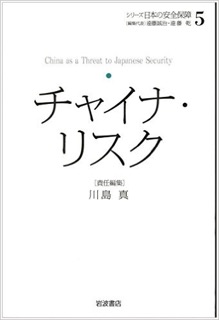 322 pages, 127x188mm, hardcover
Iwanami Shoten, Publishers.
This book explains how the Japanese government and Japanese society perceive the so-called "China Risk" from various points of view including security, economy, population, environment, and food security. Generally speaking, Japanese society sees China as posing numerous "risks" to Japan. From the Japanese perspective, there are many reasons and much background underlying such perceptions. To the Japanese, even China's growth itself is, at times, perceived as a threat, stemming from the fear that power has been increasingly transferred from Japan to China in the past couple of decades and that this transfer has led to Japan's decline. Non-traditional security issues, such as food security and the environment, are also a point of sensitivity for the Japanese, because they affect the lives of Japanese in various ways.

It is true that Chinese military expansion and military activities in the East and South China Seas pose a threat to surrounding countries, which include Japan. Such "risks" can be shared with other countries and societies. As such, some elements of China Risks are common to the East Asian region as a whole. Other elements of the China Risks, such as the threat of cyber-attacks, are unwelcomed by all users around the world. As such, some risks are felt in the world. However, some risks affect Japan alone and are not shared by others. For example, the anti-Japanese movement and boycotts of Japanese products are specific cases of risks that impact Japan alone. At times, Japanese companies must deal with sensitive historical issues that, in some cases, require compensation for activities that occurred before 1945. Such historical entanglements are not shared by others.

That said, we should pay attention to the fact that some risks are shared with Chinese society. Issues such as air pollution and food security are major issues to the people in China.

The so-called "China Risks" can be classified into different categories. If a risk is common to other counties in the East Asian region, it can be managed or resolve through cooperation with these other countries. If a risk is common to Chinese society, it may be resolved through cooperation with China. Relations between Japan and China also comprise specific problems, such as historical issues, that pose a risk to Japan specifically. In the case of such "risks," Japanese society must explore ways to manage them themselves.

(Written by KAWASHIMA Shin, Professor, Graduate School of Arts and Sciences / 2017)
Try these read-alike books: