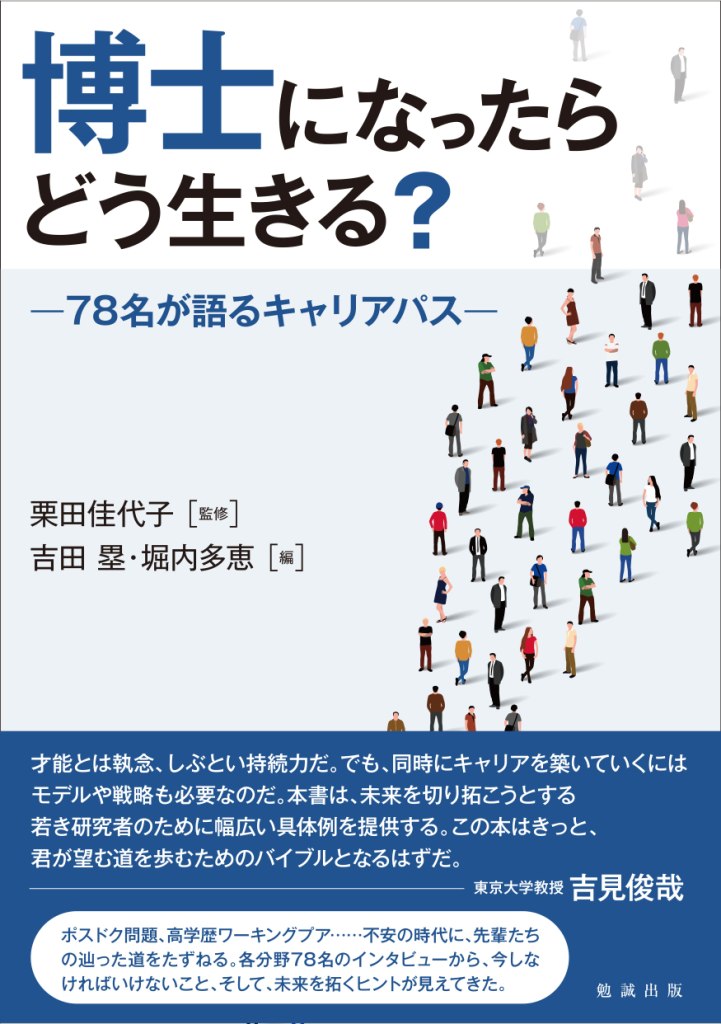 Hakase ni Nattara Dou Ikiru?
(How Ph.D Survives - 78 Interviews about career path)
280 pages, A5 format, softcover
The idea behind this book was to cast light on the unclear career paths people follow after completing their doctorates, through interviews and research data regarding doctorate career paths. Faculty members and graduate students of the University of Tokyo's Future Faculty Program (UTokyo FFP) are involved in writing this book.

The UTokyo FFP that began in 2013 is a cross-university educational program designed for graduate students hoping to become academics, and faculty members hoping to improve their teaching skills. The participants are from a variety of disciplines; many of them are currently enrolled in a doctoral course, and have a high awareness of the "Ph.D. holders' career path" discussed in this book. This book is the result of using such a diverse network.

The book consists of two parts.

The first part provides basic information about doctorates. For example, it provides a research-data-based overview of the career paths taken by doctorate holders, discusses how to prepare for different careers, and provides information on not only career paths but also personal life planning.

Chapter 1 explains the relationship between a university and a degree, outlines the career path after graduation from a university or graduate school, and clarifies the challenges in becoming a university faculty member, which is the main career path for doctoral degree holders.

Chapter 2 mentions the types of careers of doctoral degree holders and explains each one. It also suggests preparation tips for success in each career.

Chapter 3 transcends the purely professional career aspects of doctorate holders, to focus on their life plans. In particular, it considers potentially important family elements of life planning, such as pregnancies and childbirth. It also provides real-life examples of life planning from three interviewees.

The second part introduces examples of the career paths of people who have completed graduate school. It includes interviews with 75 people from various disciplines, showing the different career paths for each. Specifically, it shows how people think when they are graduate students and when they are selecting their career paths, as well as how they subsequently pursue their chosen paths.
First, academic fields are divided into seven major research areas: humanities, social sciences, physics, engineering, agricultural science, health, and education. The book contains interviews with 75 people about their career paths, with five for each of the 15 disciplines (Art history, Philosophy, Clinical Psychology, Law, Business Administration, Social Psychology, Area Studies, Botany, Biophysics, Architecture, Intelligent Machine Informatics, Agriculture, Medicine/Pharmacy, Public Health, and Education) within these areas. Of course, there are many other areas and fields of expertise in addition to these, but the book is primarily focused on the disciplines of the editors and authors.

The structure of this book makes it possible to start reading from any point. If you start from the first part, you will find basic information up until the point of receiving one's doctorate, as well as a summary regarding the career paths that can be taken afterwards. If you start from the second part, it will help you to refer directly to an interview that is close to your discipline, and you will also discover something new from interviews that are not so closely related to your discipline. We invite you to read these interviews with people from a wide range of disciplines.

(Written by Lui Yoshida, Project Assistant Professor, Graduate School of Arts and Sciences / 2018)
Try these read-alike books: