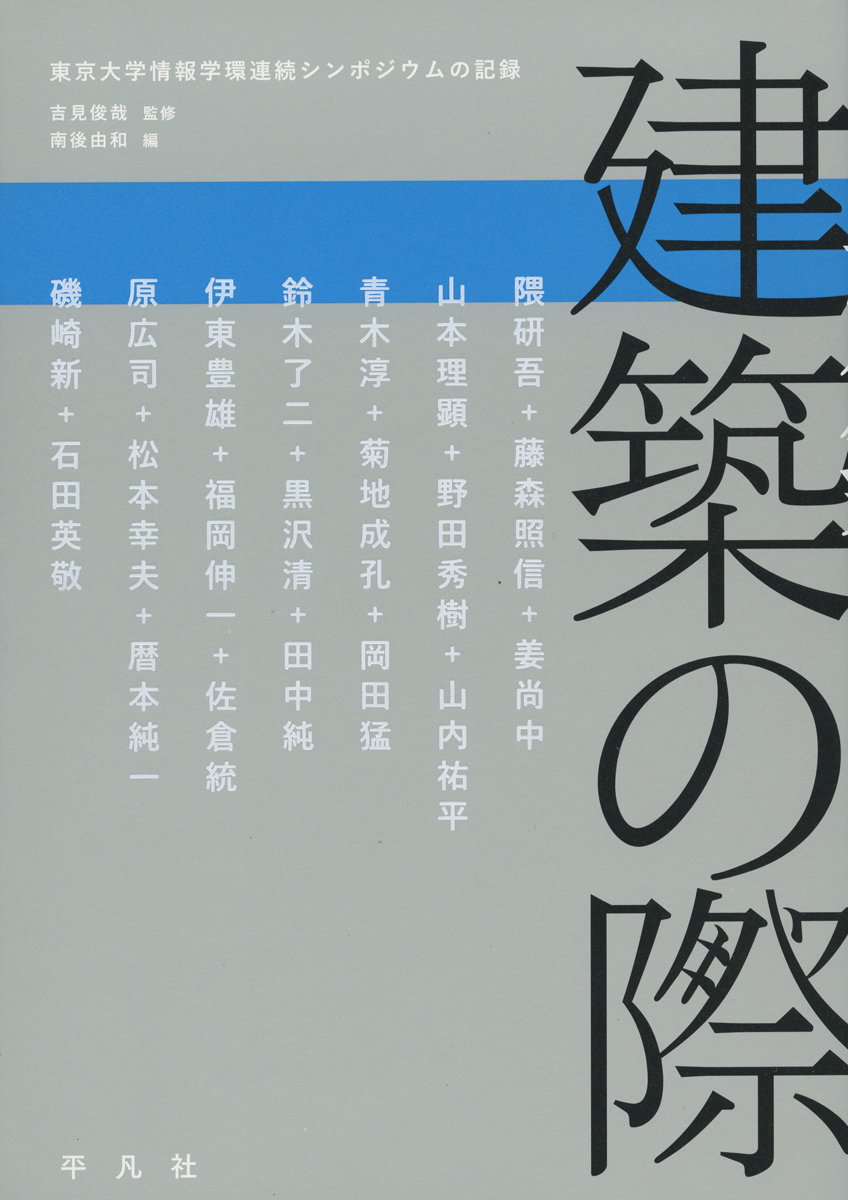 Kenchiku no Kiwa
(The Kiwa of Architecture)
Architect Tadao Ando's "III (Interfaculty Initiative in Information Studies)-Fukutake Hall", located next to Akamon on the edge of Hongo Campus, was completed in 2008. Commemorating the completion of "III-Fukutake Hall", a series of symposia called Kenchiku no Kiwa – The Kiwa of Architecture were held at this hall. This book is a record of these symposia. The symposia were planned in a bottom-up way through a horizontal network among graduate students in the Graduate School of Interdisciplinary Information Studies and Graduate School of Engineering.

The symposia involved a combination of guest speakers from three groups: architects, specialists in other fields, and III faculty. Prominent architects participated, along with leading specialists in other fields, including a playwright, a musician, a film director, a biologist and a mathematician.

In Kenchiku no Kiwa, Graduate students took charge of the entire process, including the selection of guest speakers, setting of the theme, interviewing guest speakers at their ateliers and laboratories in advance, drawing-up of the program, hosting of the event, and decisions about what questions should be asked at the symposium. Moreover, they contributed review articles about each event to the oldest Japanese architectural magazine "Shin Kenchiku – New Architecture".

The Japanese word "Kiwa" in the title of this book has various meanings and can be translated variously as 'border', 'edge', 'frontier', 'limit', or 'verge' in English. This book invokes different meanings of the word depending on the context. Through "Kiwa", new lines and cohesion are created while joining and crossbreeding heterogeneous things together. This book is a trajectory of thought or experimentation which tries to illuminate new architectural paths from various aspects of "Kiwa" discussed in each chapter.

It is no exaggeration to say that there are no academic fields irrelevant to architecture. Architecture is an inherently disparate discipline that cross-cuts multiple areas. Architectural thinking is a process of finding new ways to integrate these disparate cross-cutting fields. This process is not simply concerned with the creation of new buildings and goes beyond the narrow sense of design.

This book pursues the uniqueness and possibilities of architecture based on this architectural thinking, paying attention to similarities and differences with nearby fields. In other words, it approaches the question of what architecture is and what its potential is by rethinking the framework of architecture from such dimensions as behavior, form, film, space, and life. Instead of regarding architecture as a pre-given field of expertise, the book repeatedly relativizes architecture by bringing it into contact with multiple different fields.

Appended to each chapter is an explanation of keywords and a book guide. It is hoped that these will be useful in enabling readers to explore the rich veins of knowledge that form the background to the book's content. For students in particular, the book should also present a useful example of how an event can be organized from the bottom up taking full advantage of the benefits of a university environment.

(Written by Shunya Yoshimi, Professor, Interfaculty Initiative in Information Studies / 2018)
Try these read-alike books: