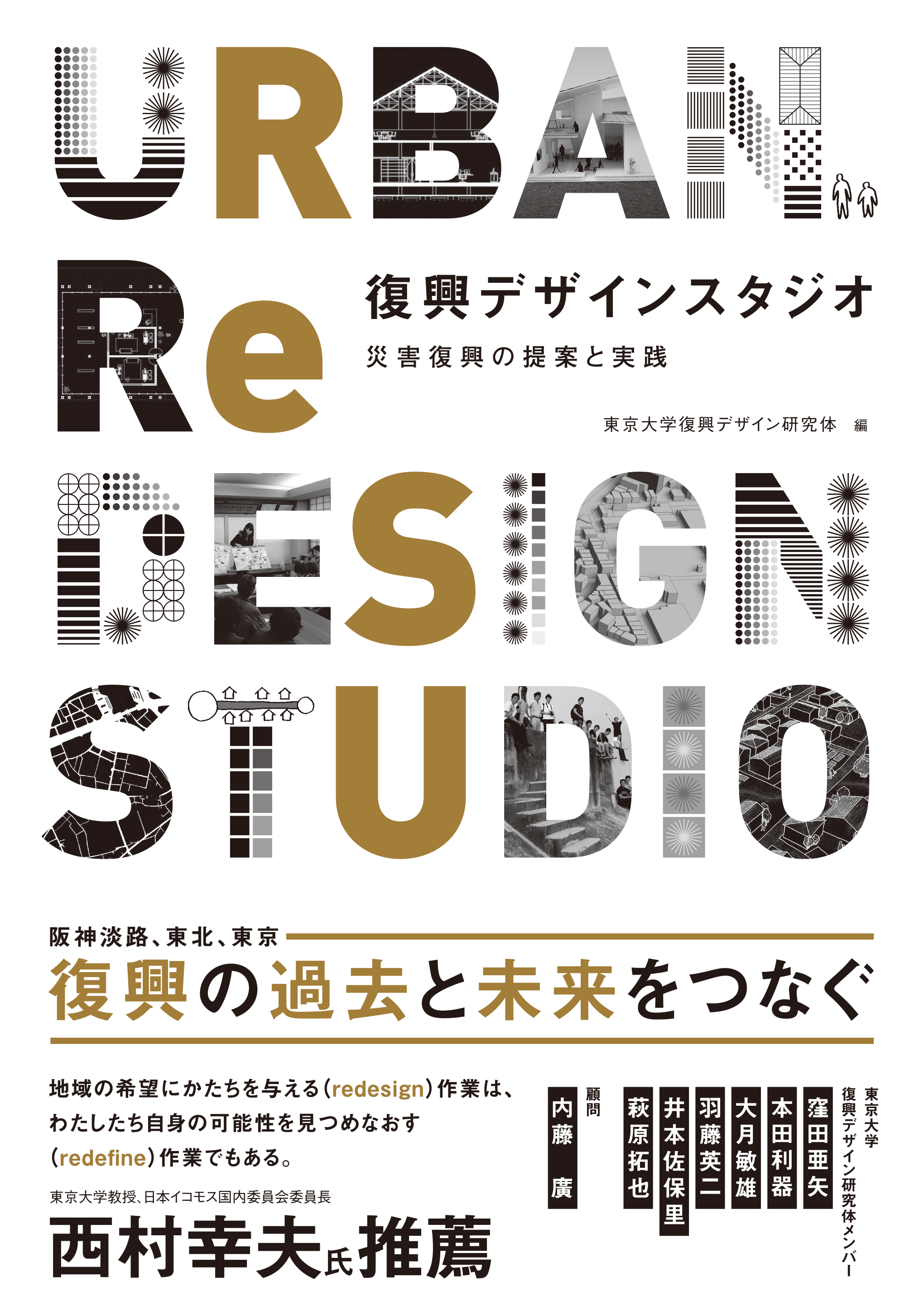 Fukkou Design Studio
(Restoration Design Studio: Disaster restoration proposals and practice)
University of Tokyo Press
"The eternal silence of these infinite spaces terrifies me"

This book starts with a preface by Emeritus Professor Hiroshi Naito, who quotes the above-mentioned words by Pascal. Is it possible to bring shape to an infinite space?

In the wake of the Great East Japan Earthquake, three engineering majors that study spatial planning (urban engineering, social infrastructure studies, and architecture) spearheaded the launch of the Urban Redesign Studies Unit in cooperation with private companies and the government. This unit offers programs that alternate between practice and theory while placing emphasis on research. At its core stands a seminar known as the Restoration Design Studio. This book compiles the results of three years of work by the Master's students who were enrolled at this studio and attended the lectures held at each studio.

Part I covers the Hanshin-Awaji Earthquake disaster of 1995, exploring the outcome of the restoration operations that took place 20 years ago. We listened to lectures by university professors and business practitioners, and undertook reconnaissance of the actual sites hit by the earthquake to trace the restoration process in a critical manner. On the basis of this evaluation, a re-design of the restoration project to reorganize new restoration methods for urban disasters was proposed.

Part II looks at the disaster sites of the Great East Japan Earthquake. It includes a design proposal for a resident welfare facility in Rikuzentakata, a tsunami-afflicted area, and a landscape restoration plan for Fukushima, which suffered a major disaster, namely the nuclear accident. These studios are being developed for continuous practice, including local facility construction.

Part III looks at Tokyo under the presumption that a Tokyo inland earthquake could occur in the future. A pre-mediated restoration plan cannot be discussed without first estimating the potential damage. It also includes points of discussion that are hard to identify, such as the future vision of Tokyo.

Although there is no one correct approach to spatial planning, this book provides a record of the findings of students who were from different fields and came together to challenge and complement each other's approaches. This book will serve as a discussion partner when reflecting on the nature of restoration. When exploring spatial planning, discussion with others is as crucial a step as knowledge of the actual site.

When considering the difficult task of restoration following a disaster, it is necessary to understand the state of the affected sites, obtain a variety of information, and have thorough discussions with team members to develop proposals. In order to understand specific issues unique to each site, we need to examine the extremely broad question "What is restoration?" Examining this question will aid us in understanding site-specific issues.

As a part of the actions needed to prepare for a disaster that could occur in the future, it is important to read this book critically, so that one day you may put that knowledge into practice.

(Written by KUBOTA Aya, Professor, School of Engineering / 2019)
Try these read-alike books: