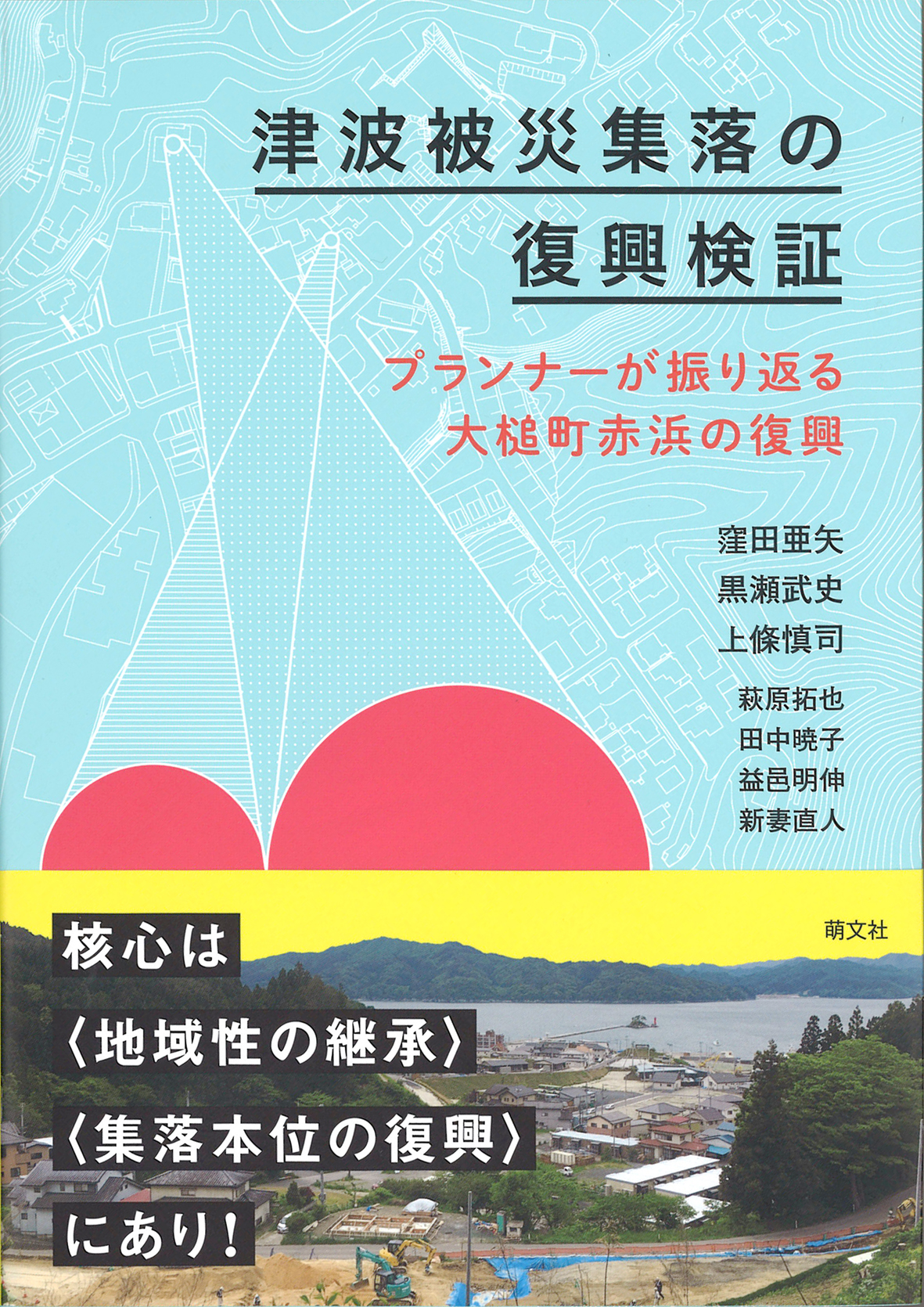 Tsunami Hisai Shuraku no Fukkou-Kensho
(A Review of the Reconstruction of Tsunami-Affected Villages - A Planner's Reflections on the Reconstruction of Akahama, Otsuchi Township)
314 pages, A5 format, softcover
Many people with expertise in regional and urban physical environments (such as architecture, civil engineering, and urban planning) were involved in the reconstruction of areas affected by the Great East Japan Earthquake. This book focuses on one such area with the aim of recording, from a planner's perspective, the details of the reconstruction planning (which have been changing from the time of the disaster up until the present day) and the actual conditions of the area. The book also examines the reconstruction process, reviewing the differences between the ideas during original planning and the actual outcome.

The authorial team worked on the reconstruction process in Akahama, located on the eastern edge of Otsuchi in Kamihei District, Iwate Prefecture. Seeing people around them living in temporary accommodation built on the slight slopes that had not flooded, the team carried out their work in this fishing village, driven by a sense of urgency and mission specific to the area of reconstruction. So did the volunteer students there at the time.

On several points the authors thought that the best possible efforts had been taken at that time, but now, upon reflection, they wondered whether there might not have been better methods. Residents' expectations regarding reconstruction changed incrementally as time passed, but did the reconstruction planning align with those changes?

In writing the book, the intention was not to provide an exhaustive, cogent explanation of the state of the town, but to provide an honest record of the days spent with the residents and town hall personnel exploring what reconstruction should look like, as well as the realizations and reflections gained from that process. When faced with the "next one," which could come at any time, a record of the reconstruction process that includes its problems, concerns, and failures could serve as a guide when considering the reconstruction site.

At the reconstruction site, people who have been working hard to organize a local administration are currently in a difficult situation. The book was written with these people in mind. Although it might not be the result of normal research, the authors have spent considerable time and effort on discussions to create something that will be useful while imagining the troubled area.

Local residents, the then mayor, and various support personnel generously gave their time for long interviews, which are included.

It would be wonderful if readers were to visit Akahama themselves with this book in hand. Such a visit could help them understand how reconstruction efforts are still ongoing, and how human activity from before the earthquake continues in the region. It will also hopefully show how, while the situation in the area is different from that in the places we live in, it appears just the same. The book will hopefully leave its readers with a sense of being there, experiencing what sort of town it was, where this process of reconstructive machizukuri, namely community development and town planning, took place, and what its reality is now.

(Written by KUBOTA Aya, Project Professor, School of Engineering / 2019)
Try these read-alike books: