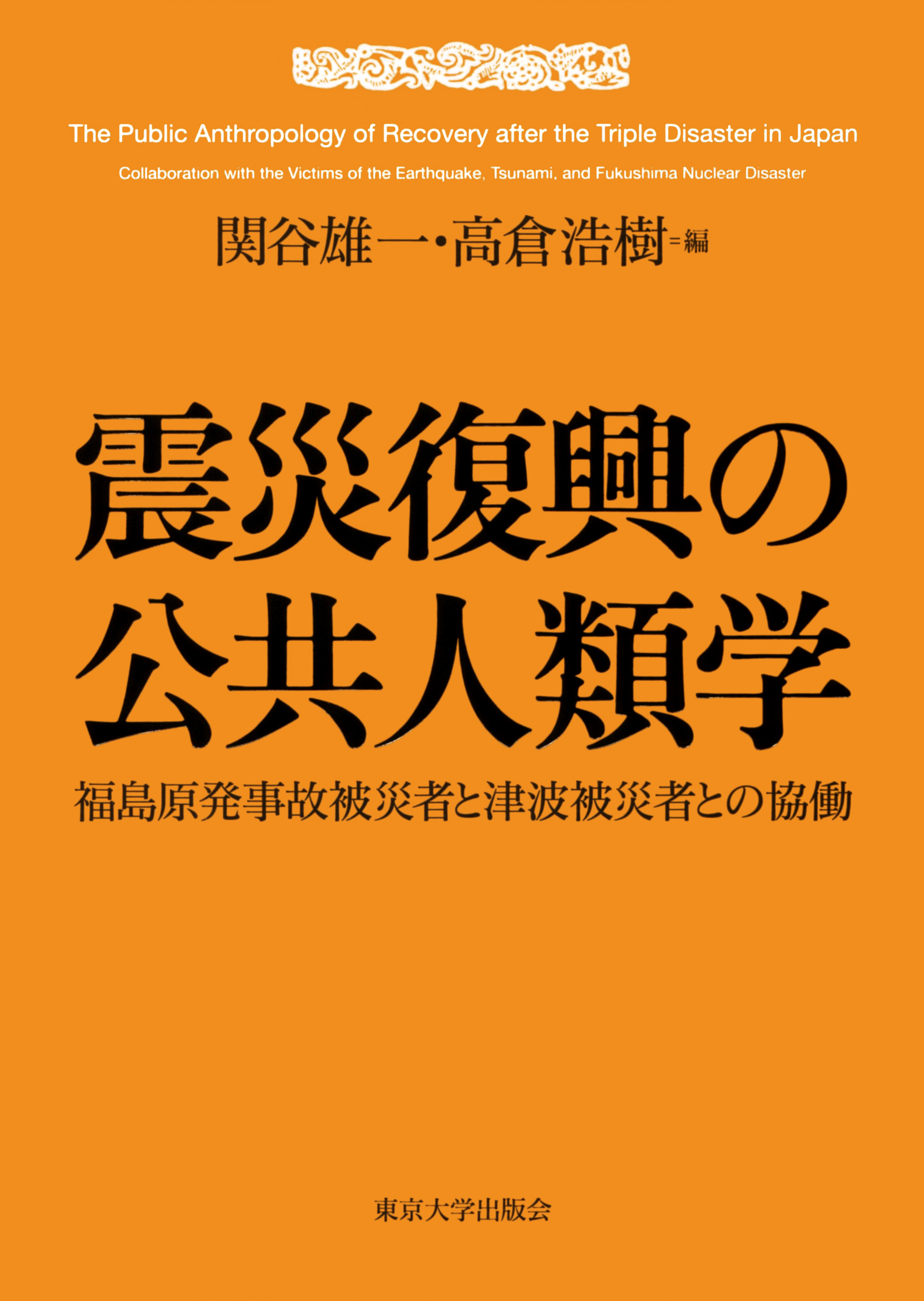 Shinsai Fukkou no Kokyo Jinruigaku
(The Public Anthropology of Recovery after the Triple Disaster in Japan - Collaboration with the Victims of the Earthquake, Tsunami, and Fukushima Nuclear Disaster)
University of Tokyo Press
People are tried when they face predicaments like poverty or disaster. This book focuses on the viewpoints of people in such predicaments, describing how they gather their wisdom and strength, help each other, and overcome their situation. In my discipline, cultural anthropology, we are expected to conduct fieldwork and describe ethnographic data. In this book, our field was Japanese society, centered in Tohoku region in the aftermath of the Great East Japan Earthquake on 3.11.2011. The result was drawn through collaborative ethnography.

Formerly, fieldwork was to be conducted by the anthropologist him/herself. An ethnography was expected to be an exhaustive description about the people in the field using anthropological terms. Various themes could be the focus and the anthropologist had the prerogative to choose them and describe the observation. Poverty and disaster were also among the themes which anthropologists chose and described using relative frameworks and theories in the discipline to determine a generalized vision of the theme.

However, it seems to be difficult for a person to just observe and describe someone facing these predicaments in the field. It is more natural for a scholar, as a person who wishes to build rapport and understand people in the field with some depth, to stand by them and fight against the predicament together for a better world. It is true that in doing so, an anthropologist will become involved in the politics and loose his/her neutral position as a scholar. However, the anthropologist can reach the core of the problems in the field and possibly contribute to the process of problem solving, working together with the participants and also recording everything in his/her fieldnotes.

In the aftermath of the Great East Japan Earthquake, along with students and colleagues, I visited the disaster area and listened to the victims of the Fukushima nuclear power plant accident. We observed how they faced this predicament and searched for places to evacuate and solutions for their problems. We did not remain mere observers but acted together with the victims to improve the situation. I personally did this because I was happy to see their smiles return and they considered us among their friends. Moreover, this report could be of help in future disasters. Our intention, shared among all contributors of this book, was to record everything from the victims' viewpoints as clearly as possible.

However, what kind of contribution was made by this collaborative ethnography? Collaborative ethnography is not new and many of its pros and cons have been identified thus far. It could possibly lack the objectivity and level of academic quality expected from the traditional viewpoint. However, instead, we can expect it to obtain dynamic descriptions from the victims'viewpoints.

(Written by SEKIYA Yuichi, Associate Professor, Graduate School of Arts and Sciences / 2019)
Try these read-alike books: