ARTICLES

Clarification of the molecular mechanisms of glioblastomagenesis
DNA modification and glioblastoma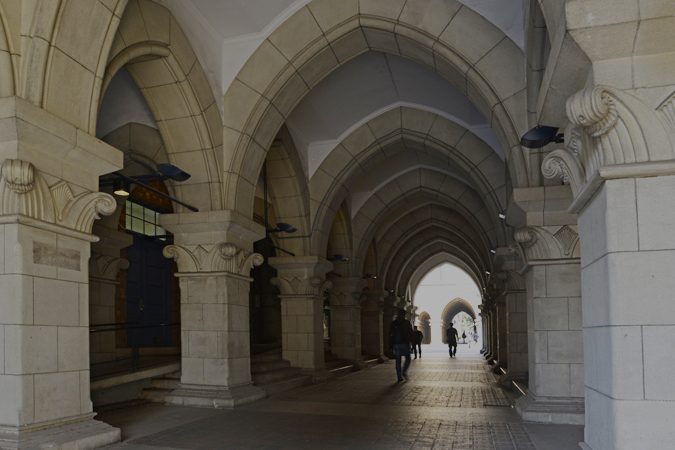 DNA is a large molecule that encodes genetic instructions for the maintenance of life, and mutations in DNA can cause cancer including glioblastoma, the most malignant type of brain tumor. Accumulating evidence suggests that a small fraction of cells that reside in a tumor, called cancer stem cells, appear to possess an enhanced ability to drive tumor growth and provide resistance to conventional therapeutics. Thus, the properties of cancer stem cells have become a major focus of current cancer research.
In the laboratory of Tetsu Akiyama (Professor, Director of the Institute of Molecular and Cellular Biosciences), Hiroki Takai (Ph.D. student, Institute of Molecular and Cellular Biosciences, Graduate School of Agricultural and Life Sciences) and their colleagues maintained glioblastoma cells in serum-free medium, which enriches for glioblastoma stem cells and analyzed the cells' DNA. They found that glioblastoma cells contain elevated levels of hydroxymethylated cytosine (5hmC) and that this modification plays critical roles in the tumorigenicity (ability to form tumors) of glioblastoma cells. Furthermore, they found that 5hmC recruits the CHTOP-methylosome protein complex, which methylates histones and activates the transcription of cancer-related genes.
These findings provide novel insights into the molecular mechanisms underlying the tumorigenicity of glioblastoma. Moreover, these findings raise the possibility that enzymes involved in hydroxymethylation of DNA could be promising molecular targets for glioblastoma therapy. Since mice deficient for these enzymes are viable, compounds targeting these enzymes are expected to have limited side effects.
This study was carried out in collaboration with the laboratories of Katsuhiko Shirahige (Professor, Institute of Molecular and Cellular Biosciences), Chikashi Toyoshima (Professor, Institute of Molecular and Cellular Biosciences), Masaaki Oyama (Associate Professor, Institute of Medical Science), Tsutomu Suzuki (Professor, Graduate School of Engineering) and Nobuhito Saito (Professor, Department of Neurosurgery at the University of Tokyo Hospital).
Press release (Japanese)
Paper
Hiroki Takai, Koji Masuda, Tomohiro Sato, Yuriko Sakaguchi, Takeo Suzuki, Tsutomu Suzuki, Ryo Koyama-Nasu, Yukiko Nasu-Nishimura, Yuki Katou, Haruo Ogawa, Yasuyuki Morishita, Hiroko Kozuka-Hata, Masaaki Oyama, Tomoki Todo, Yasushi Ino, Akitake Mukasa, Nobuhito Saito, Chikashi Toyoshima, Katsuhiko Shirahige and Tetsu Akiyama,
"5-hydroxymethylcytosine plays a critical role in glioblastomagenesis by recruiting the CHTOP-methylosome complex",
Cell ReportsOnline Edition: 2014/10/3 (Japan time), doi: 10.1016/j.celrep.2014.08.071.
Article link
Links
Institute of Molecular and Cellular Biosciences (Japanese)