ARTICLES

"Tell the World" Event: Learning How to Communicate Science to a Global Audience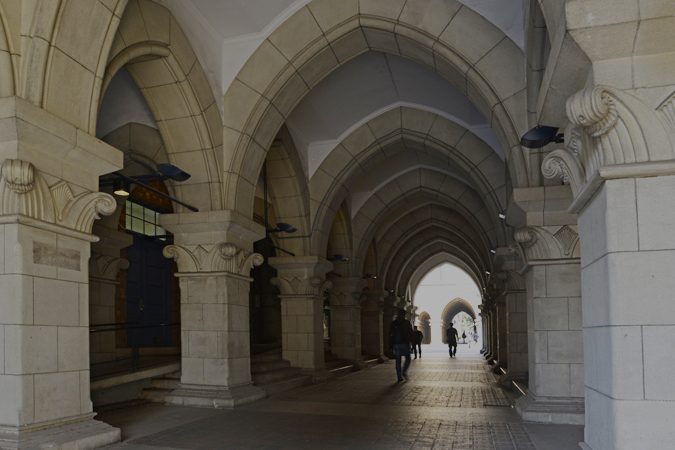 Date of activity: January 25, 2017
How, and why, should I showcase my research to a global audience? These questions were answered at "Tell the World – Global Research Outreach at the University of Tokyo," an event held at the Hongo Campus by the UTokyo Division for Strategic Public Relations on January 25th, 2017. Four speakers with diverse backgrounds in research and science communication shared their experiences and advice in this area with the over 60 participants at the event, which was live-tweeted with the hashtag #scicomm by Dr. Amanda Alvarez of the Riken Brain Science Institute, who participated as the event's web commentator.

Following opening remarks by Dr. Ayumi Koso of the Division for Strategic Public Relations and Professor Shinji Suzuki, the director of the Public Relations Office, Ms. Reema Rattan from The Conversation Global gave her presentation on the benefits of writing for a global audience.

The Conversation Global is the worldwide version of The Conversation, an Australian online media outlet that commissions its content from the academic and research community with the goal of communicating easy-to-understand research results to the public. Ms. Rattan, the global commissioning editor for East Asia and the Pacific for The Conversation Global, highlighted the benefits to researchers in publishing articles to the website and the many useful and free features the website has to offer, such as an analytics "dashboard" for monitoring traffic to one's published articles and the ability to republish articles easily to different online platforms for maximum exposure. (Ms. Rattan also spoke at UTokyo's Fifth International Public Relations Workshop held in December 2016.)

Next, Dr. Robert Blasiak, a research fellow at the University of Tokyo Graduate School of Agricultural and Life Sciences, discussed how global outreach can give value to one's research. As someone who has been both a science communicator and a researcher, Dr. Blasiak offered valuable insight into what one can gain from writing about one's research for the general public. He pointed out that work solely published in peer-reviewed journals is not widely read by the public due to being behind paywalls, and also because the jargon used can be difficult to understand. By publishing on platforms such as United Nations University's Our World, The Conversation and UTokyo Research, one can not only overcome the paywalls, but also learn how to write for a wider audience and gain better recognition for one's research in the process.

The third speaker was Mr. Daniel Powell, principal communications specialist from the United Nations University Office of Communications. Mr. Powell's presentation emphasized the importance of creating a narrative to communicate one's research to the general public, ultimately enabling one to influence global debate on policy. Non-experts receive most information on science from the media, which uses narratives (stories) to convey research. Thus, he said, researchers should focus on "repackaging" their work into a narrative, and use short, sharp and simple phrases to get their points across. For instance, words such as "and," "but" and "therefore" (ABT) prove particularly effective in grabbing the attention of the reader; he compared using these words to the spectacle of performing wheelies on a bicycle. He offered many other examples of how to produce an effective narrative, concluding that "if you weave the story of your research, you can direct the message of your research."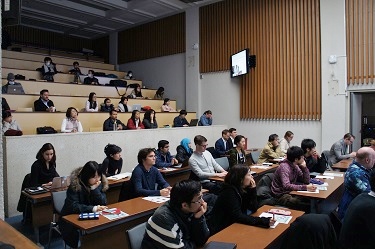 Audience members taking notes while listening to one of the presentations
Finally, Associate Professor Elizabeth Tasker of the Japan Space Exploration Agency (JAXA)'s Institute of Space and Astronautical Science gave a rousing, meme-filled talk on two themes: lessons learned from her experiences as an assistant professor/science communicator at Hokkaido University, and how to fight against bad science reporting in the media. During her time in Hokkaido, she learned through the process of interviewing researchers for the University's magazine that everyone has a story, assuring the audience that explaining their research to the public is not as hard as they may think. She gave advice on how to encourage researchers to open up to science communicators about their research and better explain exactly what kind of research they do. For the second part of her presentation, Dr. Tasker used the discovery of a "Venus-like" exoplanet and subsequent media reporting of the exoplanet as "Earth-like" to explain how to debunk inaccurate scientific reporting in the press. She wrote an article on her blog debunking the false information, and had the article republished on The Conversation and io9, a science and pop culture blog. Republishing on these platforms gave her article more views, which ultimately contributed to a discussion on revising how "Earth-like planets" are defined. She ended her presentation with the Rebel Alliance symbol from Star Wars, encouraging everyone to "join the resistance" against bad science reporting.
The four presentations were followed by a spirited exchange of questions, answers and comments, with common themes including obstacles encountered when republishing articles, when to pitch, and how to best confront writers putting out incorrect science. The coffee break intermission during the event also provided a valuable opportunity for participants and speakers to exchange contact information and ideas on science communication with each other, helping them to forge new ties and strengthen old ones in their quest to communicate research effectively to a lay audience.
* This event was recorded by UTokyo TV and will be free to watch on their website at a later date.
Mr. Powell using a Venn diagram to show how to find common ground between your research and people's lives

Dr. Blasiak and Ms. Rattan taking questions from the audience

Ms. Rattan enjoying a conversation with Dr. Tasker during the coffee break