ARTICLES

Report on the 28th East Asia Joint Symposium on Biomedical Research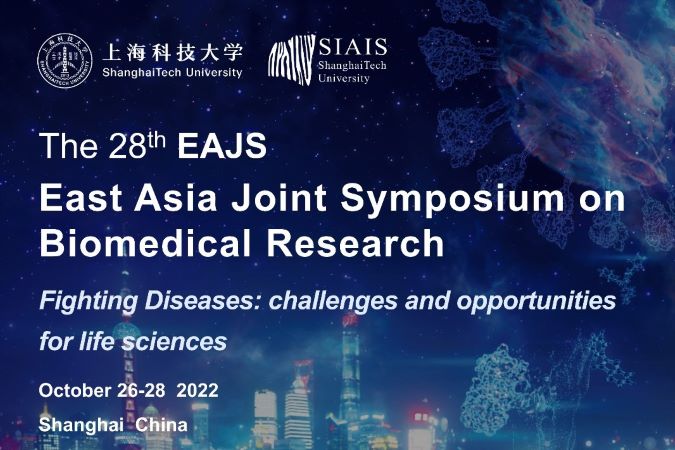 The 28th East Asia Joint Symposium on Biomedical Research (EAJS) was held in an online format from October 26-28, 2022, hosted by Shanghai Institute for Advanced Immunochemical Studies, ShanghaiTech University (SIAIS, China), under the theme of "Fighting Diseases: Challenges and Opportunities for Life Sciences."
The EAJS was launched in 1994, and has been hosted in rotation by the participating institutions in Japan, South Korea, China and Taiwan. This symposium aims to facilitate the exchange of information and foster good relationships among top life science researchers in East Asia.
This time, 8 institutions in total participated:
The Institute of Medical Science, The University of Tokyo (IMSUT) (Japan)
The Institute of Molecular Biology and Genetics, Seoul National University (South Korea)
Soonchunhyang Institute of Medi-bio Science, Soonchunhyang University (South Korea)
Shanghai Institute of Biochemistry and Cell Biology, Chinese Academy of Sciences (China)
Institute of Biochemistry and Molecular Biology, National Taiwan University (Taiwan)
Institute for Life and Medical Sciences, Kyoto University (Japan)
Okinawa Institute of Science and Technology Graduate University (Japan)
ShanghaiTech University (China)
A total of 8 researchers participated from IMSUT. PI presenters each gave a 15-minute oral presentation after which questions and answers were actively exchanged. Regarding the Young Scientist/Student Session, each presenter gave a 10-minute short talk, and poster discussions were conducted.
Furthermore, at the end of the symposium, a commemorative lecture was given by Dr. Katsuhiko Mikoshiba from SIAIS, who was the winner of this year's Ken-ichi Arai Award, which was newly established at the 26th EAJS. Professor Mikoshiba is a former professor at IMSUT and currently an emeritus professor at the University of Tokyo, who is a researcher with deep ties to IMSUT.
Dr. Tomoya Hayashi, a participant from IMSUT in the Young Scientist Session, received the Best Poster Award (Young Scientist) for his presentation titled "Comprehensive mapping of extracellular nanoparticles by high-resolution flow cytometry."
Next year, the 29th EAJS will be hosted by Soonchunhyang Institute of Medi-bio Science, Soonchunhyang University (SIMS, South Korea).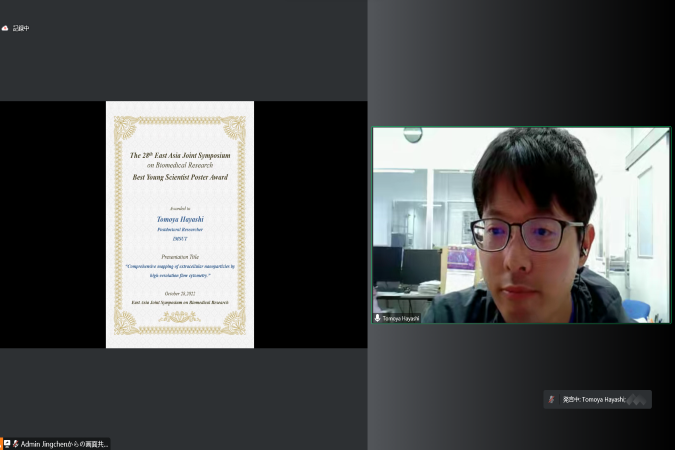 <Best Poster Award (Young Scientist): Dr. Tomoya Hayashi>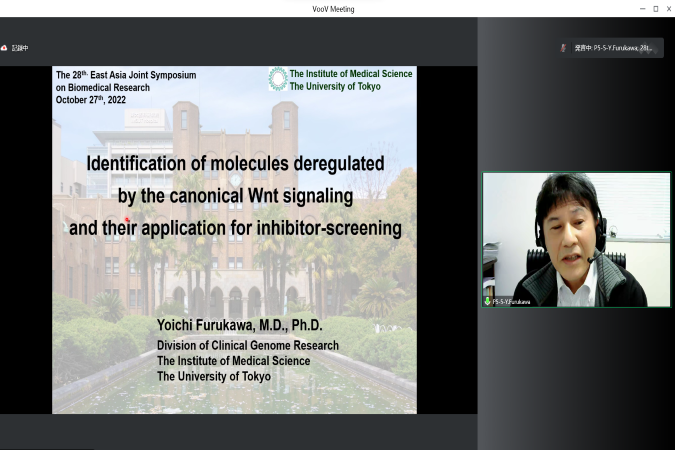 <Presentation by Prof. Furukawa>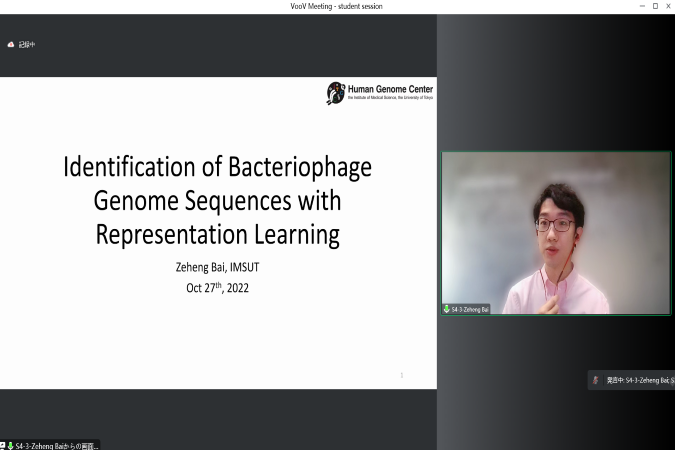 <Presentation by Mr. Zeheng Bai (Student Session)>