ARTICLES

UTokyo exhibits at Science Agora, communicates research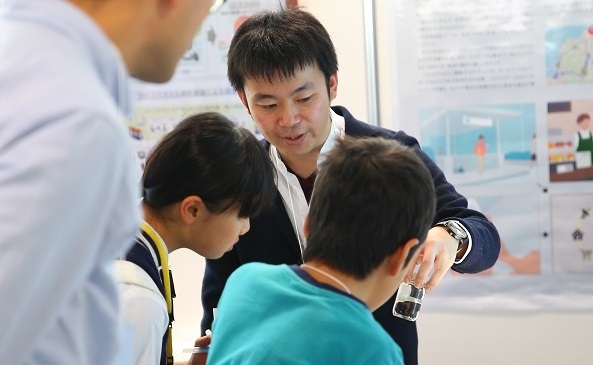 The University of Tokyo showcased its top-notch research to the public on Nov. 10-11 as it participated as an exhibitor at Science Agora, a science communication event held in Tokyo's Odaiba district.
This year, the event, organized by the Japan Science and Technology Agency, was themed on "beyond the boundaries," aimed at connecting scientists and citizens across different fields, backgrounds and cultures.
This was the first time the research communication team at UTokyo's central office put together an exhibit at Science Agora, which attracted a total of over 4,000 visitors. Around 400 people visited the UTokyo booth.
UTokyo introduced two of its research projects – lifestyle authentication and retrieval of rare-earth elements from the deep ocean – as examples of its wider efforts to contribute to Society 5.0, the latest stage of human development where rapid advances in science and technology benefit everyone.
Visitors got a taste of lifestyle authentication, a technology being developed by Rie Shigetomi Yamaguchi, project associate professor at the Graduate School of Information Science and Technology, which would allow users to prove who they are through their day-to-day lifestyle choices. Participants of a smartphone-based game who successfully picked up electronic signals at four different locations around the venue were authenticated by a "magic mirror" set up at the booth at the end of their run.
Many visitors also took interest in samples of rare-earth elements and products using such resources brought by the lab of Professor Yasuhiro Kato at the Graduate School of Engineering. Visitors listened enthusiastically to researchers as they explained the novel methods being considered for extracting the resources from more than 5 kilometers below the sea surface near Minamitorishima Island, a Japanese coral atoll in the Pacific Ocean.
The university's Institute of Industrial Science also had a booth, hosting short talks by its researchers and setting up a "hope tree" – where visitors wrote down on paper "ginkgo leaves" wishes that they want to see fulfilled through science and technology. The handwritten wishes will be shared with the institute's researchers as potential material to seed new research ideas.
UTokyo student circle CAST (CommunicActors of Science and Technology) had a booth as well, interacting with visitors with fun and educational handmade tools, such as kaleidoscopes made from paper cups and an electric circuit puzzle that allowed users to play music or turn LED bulbs on by arranging circuit pieces in various ways.