ARTICLES

The first Three Minute Thesis Competition held at UTokyo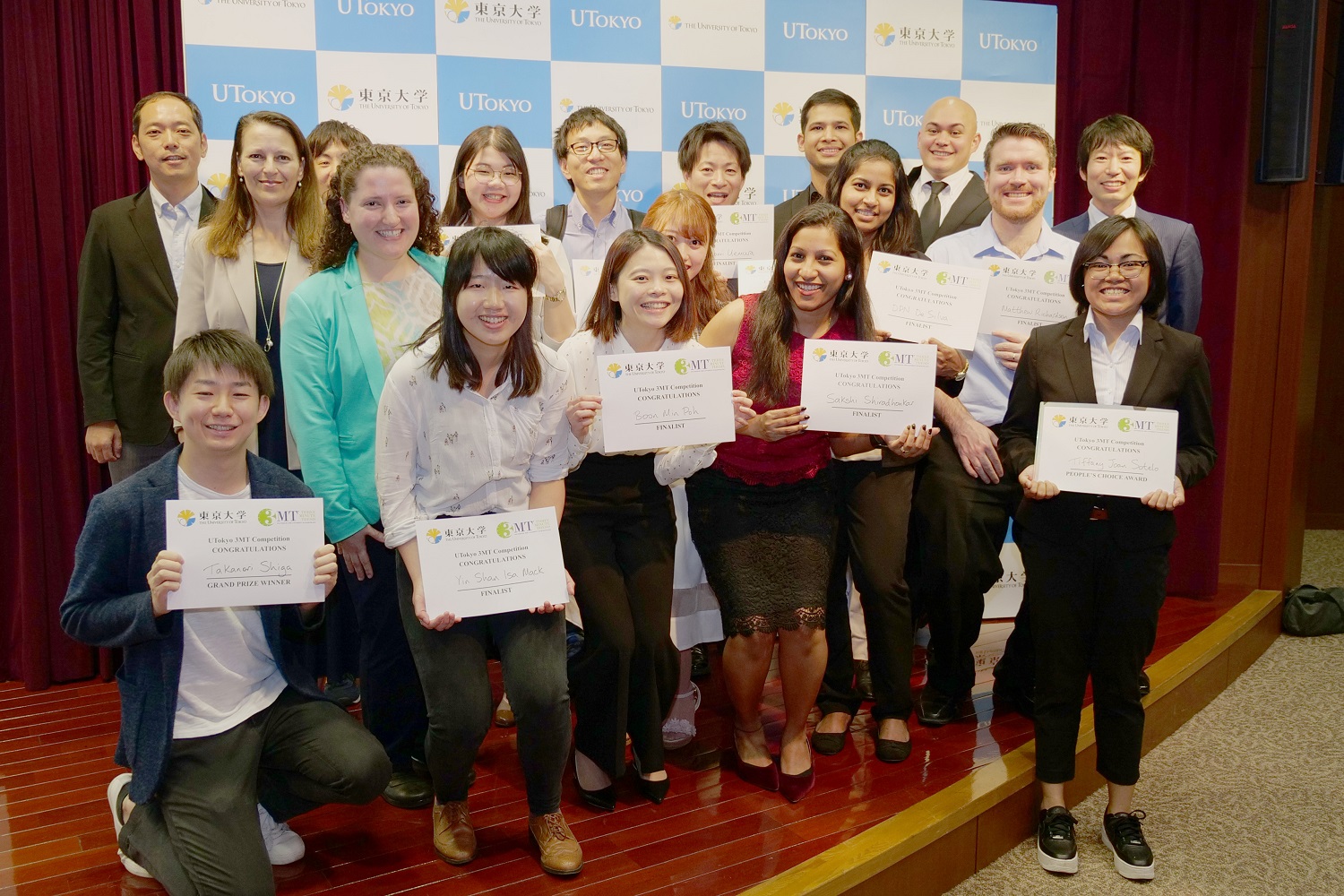 Date of activity: May 11, 2019
Can you effectively explain years of your research in less than three minutes, using only one slide, in front of a nonexpert audience?
Fifteen current Ph.D. students at the University of Tokyo did just that as the university hosted its first-ever Three Minute Thesis Competition, a research communication contest, on May 11, 2019. Over 100 people attended the event held at Koshiba Hall on the Hongo Campus.
Each of the 15 finalists, previously screened from over 40 applicants, made an impassioned speech in English on their research and the impact it could have on society. The topics reflected the breadth and global nature of research undertaken at UTokyo, ranging from development of iron- and zinc-rich rice to eradicate hunger in the developing world to social integration of Chinese migrants in the Russian Far East, to engineering of recyclable engines for rockets.
The grand prize of the competition went to Takanori Shiga, a fourth-year doctoral student from the Department of Veterinary Medical Science at the Graduate School of Agricultural and Life Sciences. He spoke about his research on diseases that afflict guide dogs due to selective breeding and how to identify genetic factors behind the ailments.
The prize includes a trip to Brisbane, Australia, where Shiga will join winners from other universities at the 2019 Asia-Pacific 3MT Competition, to be held at the University of Queensland in October. He also won 300,000 yen in the form of a research grant to his lab.
Jennifer Chia Wee Fern from the Department of Environment Systems at the Graduate School of Frontier Sciences won the runner-up award, with the prize money of 200,000 yen, for her speech on turning currently nonrecyclable plastic bottles into active carbon, a process that could eventually curb global warming.
The People's Choice Award, selected from 105 audience ballots, went to Tiffany Joan Sotelo from the Department of Socio-Cultural Environmental Studies at the Graduate School of Frontier Sciences, for her presentation on installing sponges inside sewer pipes to enhance the water purification process. She won 100,000 yen.
The judging panel consisted of Professor Yusuke Yokoyama at UTokyo's Atmosphere and Ocean Research Institute, Peta Arbuckle, counselor of education and science at the Australian Embassy in Tokyo, and Yuta Tanimura, manager of learning and collaboration at the science museum Miraikan in Tokyo.
Participants said after the event that they enjoyed a rare opportunity to hone presentation and communication skills. Shiga, the first-prize winner, said he felt rewarded, having rehearsed his talk many times at home in the wee hours of the night after a long day of research at his lab.
"I wanted to practice in front of my parents, but since they were already asleep, I would hole myself up in a toilet to recite my speech," he said.
Runner-up Chia said the event made her realize how her research ties into bigger questions in society.
"Participating in this event gives us an opportunity to deepen our knowledge on what we are researching on, because the (individual) research (concerns) a very tiny problem in the field. We can see the whole picture of what is wrong with our society or the environment."
Judges congratulated the participants for their hard work and expressed hope to see more events like this in the future.
"As everybody knows, the University of Tokyo has a lot of talented researchers," Yokoyama said. "We can use this type of event to understand what researchers next door are doing."
Tanimura, who has been involved in science communication events at Miraikan, said the participants tried hard to make people interested in their topic. "They were focusing on how to interact with and involve the audience," he said.
"I learned so much from each of the applicants about their research projects," said Arbuckle from the Australian Embassy, noting that she was happy to see the Australian event reach as far as Tokyo. "And I feel like I'm going away far more knowledgeable than when I arrived."
3MT gives participants an opportunity to polish presentation and communication skills on their research and network with other researchers. The University of Queensland in Brisbane, Australia, held the first 3MT in 2008. It is now an internationally recognized event.