ARTICLES

Study reveals novel epilepsy mechanism
Expanded repeats in noncoding regions cause neurological disorder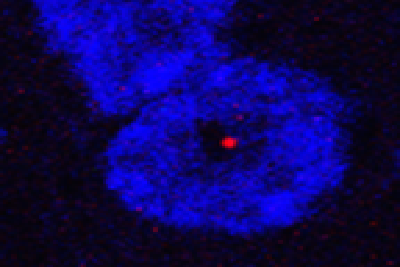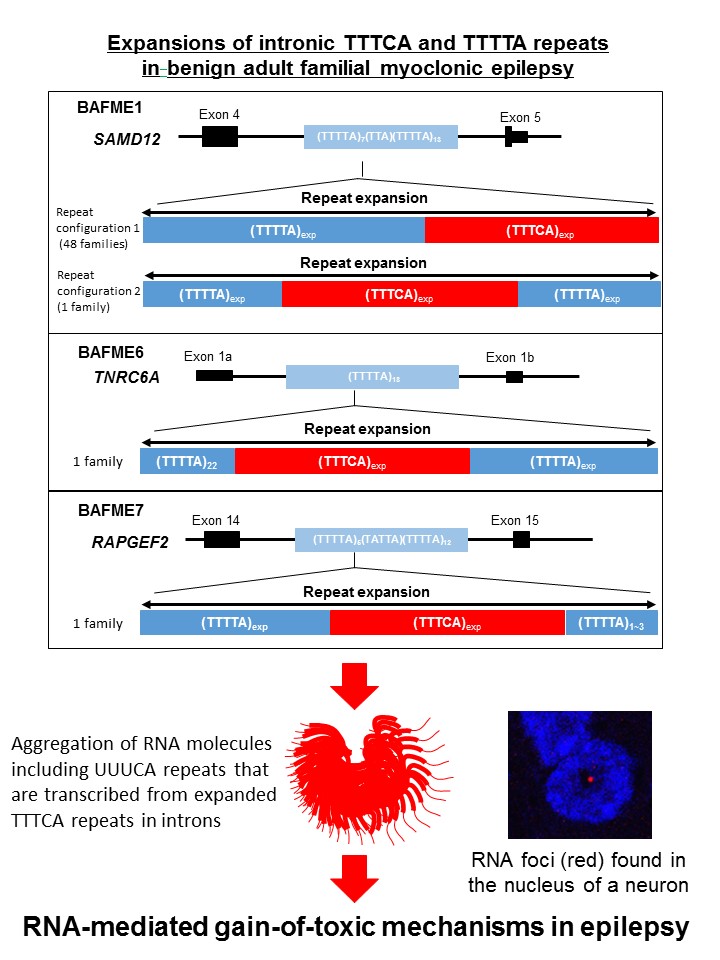 Researchers at the University of Tokyo have discovered that a certain type of DNA mutation, called repeat expansion mutation, causes a form of genetically inherited epilepsy. The study shows that the mutations, the increase in the repetition of short DNA sequences, play a key role in the development of the disease.
Epilepsy is any of a number of frequent neurological disorders in which acquired or genetic causes are involved. Benign adult familial myoclonic epilepsy (BAFME) is a disorder that is transmitted from one affected parent. The disease, which was first identified in Japan, is characterized by relatively rhythmic tremorous movements in hands superimposed with jerky twitches, especially during posture and/or fine movements, which are called myoclonic tremor, and infrequent generalized seizures.
In the current study, the research group led by Project Professor Shoji Tsuji (Department of Molecular Neurology) and Assistant Professor Hiroyuki Ishiura (Department of Neurology) at the University of Tokyo Hospital conducted extensive genetic analysis utilizing next-generation sequencers, carrying out detailed DNA sequence analysis in a short period, on 51 families. In 49 families, the researchers identified repeat expansion mutations of the TTTCA and TTTTA sequences of DNA bases in intron 4, a noncoding region, in the SAMD12 gene. They found that the number of expanded repeat units ranges from 440-3,680 and is inversely correlated with the age at onset of epilepsy. In the remaining two families, the scientists found that the same repeat motifs located in noncoding regions in other genes, TNRC6A and RAPGEF2, are expanded. They designated the two diseases as BAFME6 and BAFME7.
That the same repeat motifs in the noncoding regions of the three genes cause the same neurological traits strongly indicates that expansions of the repeats, regardless of the genes in which they are located, play essential roles in the origin of the disease. Based on their discovery of an abnormal aggregation of RNA molecules (RNA foci) in the neurons of the patients, the researchers propose mechanisms leading to RNA-mediated gain-of-toxic function as giving rise to the disease.
"Our findings that repeat expansions in noncoding regions cause epilepsy and that the same repeat motifs in the three genes cause the same phenotype, irrespective of the genes in which the expanded repeats are located, and play essential roles in the pathogenesis of the disease are the important discoveries in this research," says Tsuji. He continues, "It is expected that effective treatment will be developed on the basis of the newly identified pathogenic mechanisms. The research paradigm employed in the current study should facilitate the discovery of many more diseases caused by repeat expansions."
Papers
Ishiura H, Tsuji S, et al. , "Expansions of intronic TTTCA and TTTTA repeats in benign adult familial myoclonic epilepsy," Nature Genetics: March 5, 2018, doi:10.1038/s41588-018-0067-2.
Link (Publication

)
Related links
Related Faculty Members