ARTICLES

The virtual Three Minute Thesis competition held at UTokyo
Grand prize goes to Ph.D. student in Graduate School of Science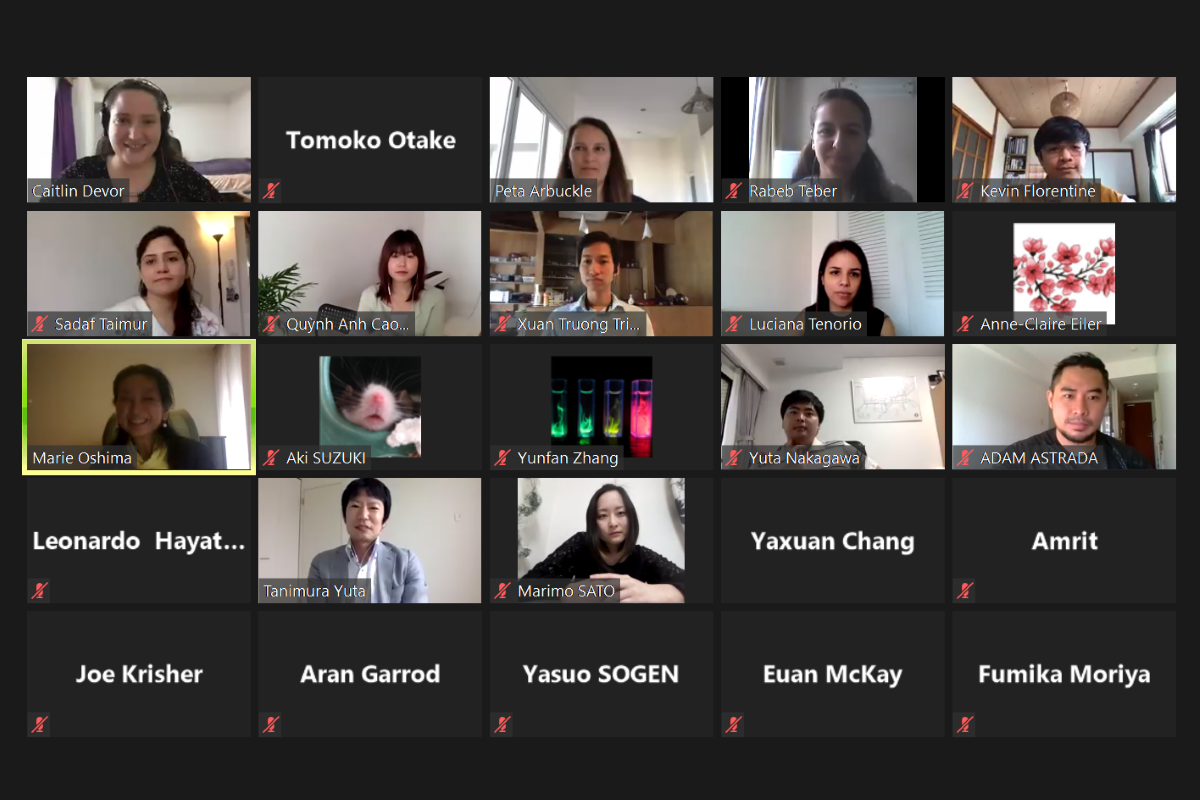 Date of activity: May 23, 2020
Some students spoke from their apartment rooms, posing in front of their beds. Others talked with plants and flowers behind them. Whatever their settings, they all shared a big challenge: to communicate their research with just one slide, within three minutes, to a nonexpert audience.
Nineteen current Ph.D. students at the University of Tokyo took on that challenge as the university hosted its second Three Minute Thesis (3MT) competition, a research communication contest, on May 23, 2020.
This year, due to the coronavirus pandemic, the competition was held virtually. The 19 contestants — screened from a total of 40 applicants — submitted videos of their three-minute presentations beforehand. On May 23, three judges individually watched all the videos, met via Zoom videoconference to discuss them, then announced the three winners in an award ceremony attended by the contestants, also via Zoom.
That was markedly different from how things went at the inaugural UTokyo 3MT last year, when presenters spoke before a 100-strong audience at Koshiba Hall on the Hongo Campus.
Despite the changes in format, the contestants were full of energy and enthusiasm as they introduced their research and the impact it could have on society. The topics reflected the breadth and global nature of research undertaken at UTokyo, ranging from self-assembly of molecules to design of origami-inspired housing on Mars to the effect of social media on teens' mental health.
The grand prize of the competition went to Yuta Nakagawa, a first-year doctoral student from the Department of Chemistry at the Graduate School of Science. He spoke about droplet microfluidics, which makes the rapid sorting of slow-growing cancer cells — a potential cause of cancer relapse — possible. He won the right to participate in the 2020 Asia-Pacific 3MT Competition, to be held also virtually by the University of Queensland in Brisbane, Australia, on Oct 1. He also won 300,000 yen in the form of a research grant to his lab.
"I'm surprised to win the competition, though of course I wanted to win," Nakagawa said after the event. "Three minutes are so short, so crafting a story within the time limit was the most challenging part. I've presented at academic conferences and seminars in my lab, but I usually have 15 or 20 minutes to talk."
The submission-based contest allowed Xuan Truong Trinh, the runner-up award winner, to get pre-event feedback from friends and family, not only in Japan but in his home country of Vietnam. He won 200,000 yen for his presentation on using satellite imagery to analyze long-term changes in distribution of seagrass, a marine plant that offsets carbon emissions in the atmosphere.
Trinh, a second-year student at the Graduate School of Arts and Sciences' Graduate Program on Environmental Sciences, said that the event's virtual format widened the scope of research communication.
"This kind of (effort) to communicate to everyone, not only in a lecture hall, is a good movement, because it's much more accessible for people to look at what [UTokyo] is doing and what students are doing," he said. "And it reinforces the idea that whatever we say, it should always make sense even later."
Rabeb Teber, a second-year Ph.D. student at the Department of Aquatic Bioscience at the Graduate School of Agricultural and Life Sciences, won the third-place award. She spoke about her research on antibiotic resistance, explaining how antibiotics are losing the battle with bacteria. She won 100,000 yen.
Teber, who is from Tunisia, said she acquired many skills through the process of creating her presentation for the event.
"I learned a lot of things, like presentation skills, the body language and especially story-telling skills, because for this kind of competition we need to be a storyteller," she said. She added that, before submitting her video, she shared it with her friends and even her 10-year-old niece, who taught her the importance of thinking simply and precisely.
The judging panel consisted of Professor Marie Oshima at UTokyo's Institute of Industrial Science, Peta Arbuckle, counselor of education and science at the Australian Embassy in Tokyo, and Yuta Tanimura, manager of learning and collaboration at the science museum Miraikan in Tokyo.
They assessed the competitors according to the virtual 3MT competition guidelines made public by the University of Queensland. The judging criteria included such points as whether the presentation covered the background and significance of the research while explaining terminology and avoiding jargon, and whether it clearly described the impact and/or results of the research.
Arbuckle said the judges were impressed with all the presenters and had a hard time selecting the winners.
"It was very hard to distinguish who were the top three," she said. "A lot of presentations were very, very good. There wasn't one that you thought didn't deserve to be in the competition. And of course each entrant is a Ph.D. candidate so they are all highly intelligent individuals, who are making a contribution to society through what they are researching. So each of them was a pleasure to listen to."
Tanimura also congratulated the presenters and said their passion and enthusiasm for research came through, even through the virtual event.
"I could learn the diversity of their research, and particularly their passion for linking local issues globally," he said. "Participants might have struggled to convey their feelings and gestures via videos, but I hope this event will spark new ways to communicate science."
Oshima agreed. She said the event could set an example for how to train budding researchers in the post-pandemic era, noting that in general, Japanese people are not so practiced at concisely conveying the essence of their message using effective language appropriate to the situation.
"The current situation that we are facing now due to the new coronavirus pandemic made us reconsider the ways we have been doing (things)," she said.
"I believe that it is quite significant that the University of Tokyo takes the initiative to organize an event like 3MT, to seek new forms of research presentation for the post COVID-19 era as well as provide an opportunity for young capable students to think and present their ideas from a global perspective."
3MT gives participants an opportunity to polish presentation and communication skills on their research and network with other researchers. The University of Queensland held the first 3MT in 2008. It is now held in over 900 universities across more than 85 countries worldwide.