ARTICLES

Executive Vice President Teruo Fujii elected next UTokyo president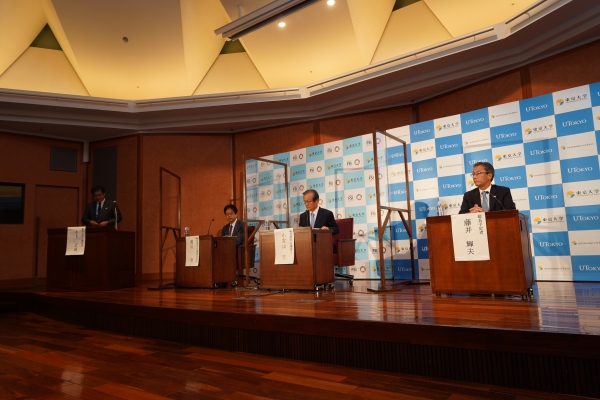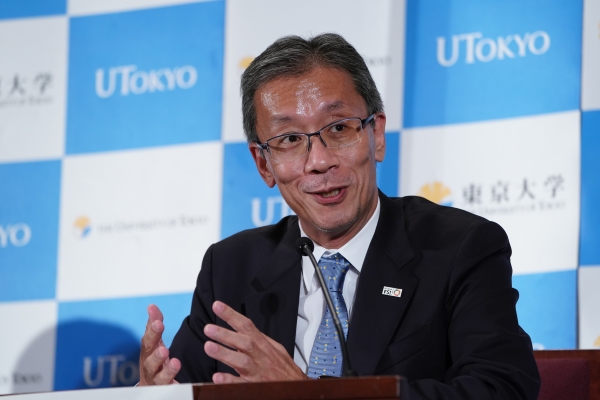 The University of Tokyo President Selection Committee elected Executive Vice President Teruo Fujii as UTokyo's next president on Oct. 2, 2020.
Fujii will succeed President Makoto Gonokami, whose six-year term will end on March 31, 2021. Fujii will assume his six-year tenure as UTokyo's 31st president on April 1, 2021, following his appointment by the Minister of Education, Culture, Sports, Science and Technology.
Fujii told a press conference held on Oct. 2 at Ito Hall on UTokyo's Hongo Campus that he is humbled and honored by the great responsibility with which he has been entrusted.
"While dealing with the difficult issues in front of us, including the coronavirus pandemic, I believe it is important to draw a long-term image of the University when society's norms are undergoing major changes," Fujii said.
"I've been saying that I want to create a 'venue for learning' where everyone in the world would want to come. I would like to create such a new learning venue from now on, while listening to a wide range of opinions from inside and outside the University."
During a question and answer session with reporters, when asked on what he would like to place importance based on his experience overseeing finance, social relations and corporate relations at UTokyo, Fujii said: "There are many large-scale collaborations with companies set up under the current president. I would like to contribute to society by showing solid results in these corporate-academia collaboration projects."
Asked about what strong abilities he looks for in UTokyo students and the strengths he wants them to develop, Fujii stressed the importance of "relearning" in line with changes in society.
"The speed in which society has been changing is accelerating rapidly," Fujii said. "Even if you have expertise in specific fields, the situation where you can apply that knowledge effectively may change. I want them to relearn necessary knowledge, and then to gain the ability to apply that wisdom to solving questions or issues they are facing."
Regarding the way he envisions running the University organization, Fujii said he wants to further digitalize its operation in order to raise its potential. "I want to increase the amount of time that not only our faculty members but also our administrative staff can use effectively," he said.
Born in Zurich, Switzerland, and raised in Tokyo, Fujii, 56, was long engaged in the research of autonomous underwater vehicles and microfluidics, where extremely small-scale structures that can regulate the flow of fluids are used for chemical and biochemical analyses and cell cultures. After obtaining a Ph.D. in engineering from UTokyo in 1993, he conducted research at UTokyo's Institute of Industrial Science (IIS) and RIKEN institute and became a professor at IIS in 2007. Having served as IIS director general from 2015-2018, he assumed the position of UTokyo vice president in 2018, and has been executive vice president since April 2019.
In the process of selecting the president, opinion voting by professors, associate professors, and lecturers who are members of the Faculty Council was held on Sept. 30, in which they cast their ballot for one of the three secondary candidates who had been screened and narrowed down from a shortlist of primary candidates.
Of the 1,818 valid votes, Fujii obtained a majority 951 votes, followed by 635 votes collected by Professor Takao Someya, dean of the Graduate School of Engineering, and 232 votes by Ryozo Nagai, UTokyo emeritus professor who is currently president of Jichi Medical University.
Photos taken by Yuji Ozeki