ARTICLES

Tree-planting ceremony commemorates EU, UTokyo solidarity with Ukraine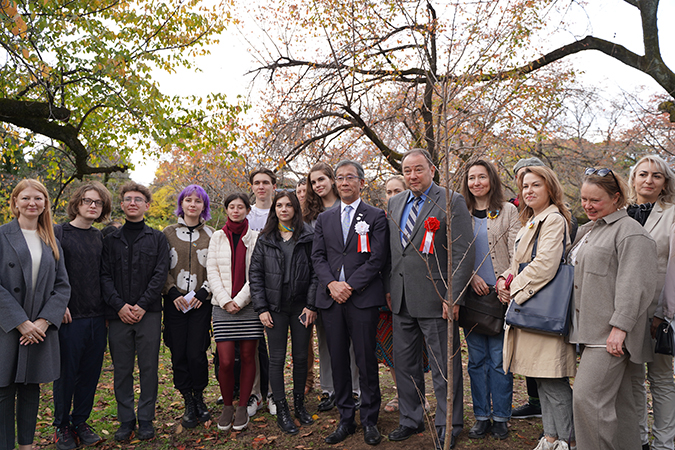 A sakura tree-planting ceremony commemorating solidarity with Ukraine was held at the University of Tokyo's Koishikawa Botanical Garden on Nov. 24, 2022. The event, organized as an initiative of the Czech Republic presidency of the European Union, with the cooperation of the nonprofit Cherry Blossom Association (Ikuokai) and UTokyo, was attended by distinguished guests and UTokyo members from Ukraine who are at the university on a special relief program.
"We have the opportunity of gathering here today ... for this planting of a cherry tree, or sakura tree, to commemorate our unceasing solidarity and support for Ukraine," said UTokyo President Teruo Fujii in his greetings.
Among the guests were EU member state representatives, including Czech Ambassador Martin Tomčo; Ukrainian Ambassador Sergiy Korsunsky; Japanese parliament members Banri Kaieda, vice speaker of the House of Representatives, and House of Councillors Vice President Hiroyuki Nagahama; Ikuoukai Chairman Hirobumi Matsuzawa; representatives of Japan's Foreign Ministry; and Bunkyo ward Mayor Hironobu Narisawa. House of Councillors President Hidehisa Otsuji, who was unable to attend, also sent a message, which was read at the ceremony.
UTokyo members from Ukraine also joined the ceremony. In March 2022, the university launched an emergency relief program for students and researchers in Ukraine who are unable to secure a safe place to study or conduct research due to the Russian invasion of the country, by temporarily offering a place to carry out their academic pursuits. To date, 26 people have come to UTokyo under this program, and the university has provided financial and other support.
Fujii also released a statement immediately following the invasion in February, denouncing the use of military force, expressing his fervent hope for a peaceful solution through dialogue and negotiations, and pledging to support those affected.
"Cherry blossoms, called sakura in Japanese, are Japan's most familiar and beloved flower. While I hope that the cherry trees we are planting today will grow safely and bloom beautifully, I would like to ... (express) my strong hope that (the Russia-Ukraine) war will end as soon as possible," Fujii said, concluding his remarks at the symbolic planting of the trees.
Following greetings from other participants, a ribbon cutting ceremony and the planting of the trees, attendees posed for a group photo to wrap up the event's program.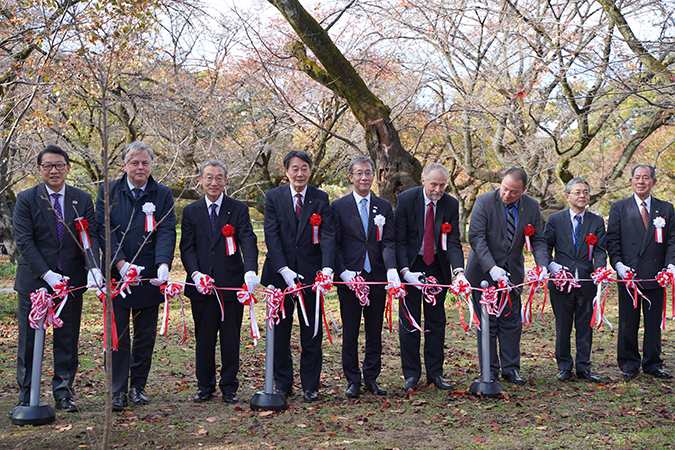 The president and distinguished guests take part in the ribbon cutting ceremony. From left, Bunkyo ward Mayor Hironobu Narisawa; Czech Republic Ambassador Martin Tomčo; House of Councillors Vice President Hiroyuki Nagahama; House of Representatives Vice Speaker Banri Kaieda; UTokyo President Teruo Fujii; Haitze Siemers, deputy head of the delegation of the European Union to Japan; Ukraine Ambassador Sergiy Korsunsky; Masashi Nakagome, director-general of the Foreign Ministry's European Affairs Bureau; and Ikuoukai Chairman Hirobumi Matsuzawa.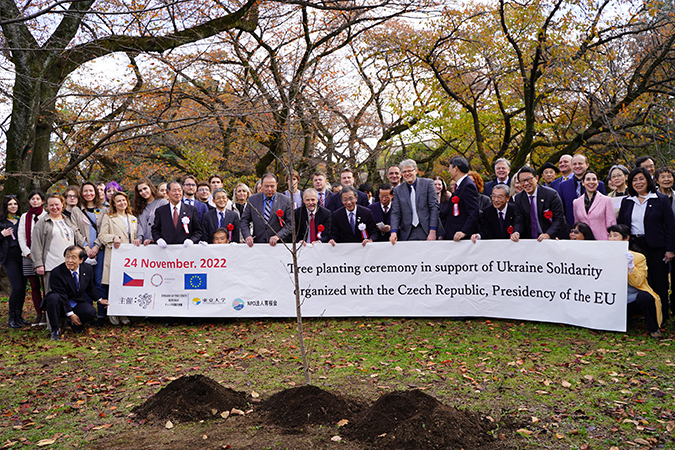 Attendees pose for a group photo by the newly planted sakura cherry tree.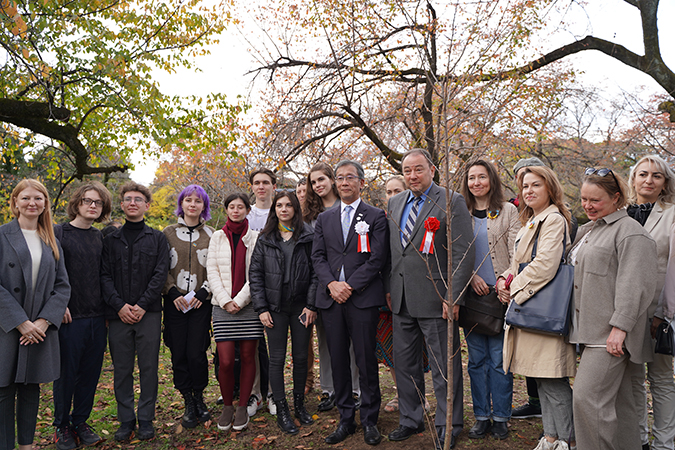 Students and researchers from Ukraine pose with UTokyo President Fujii (center, with white flower ribbon) and Ukraine Ambassador Korsunsky (on the right).