2019 SNP (Science Networking Program) Lecture held on January 8th : "Cell Cycle Control" by Sir Paul Nurse (The Nobel Prize in Physiology or Medicine 2001)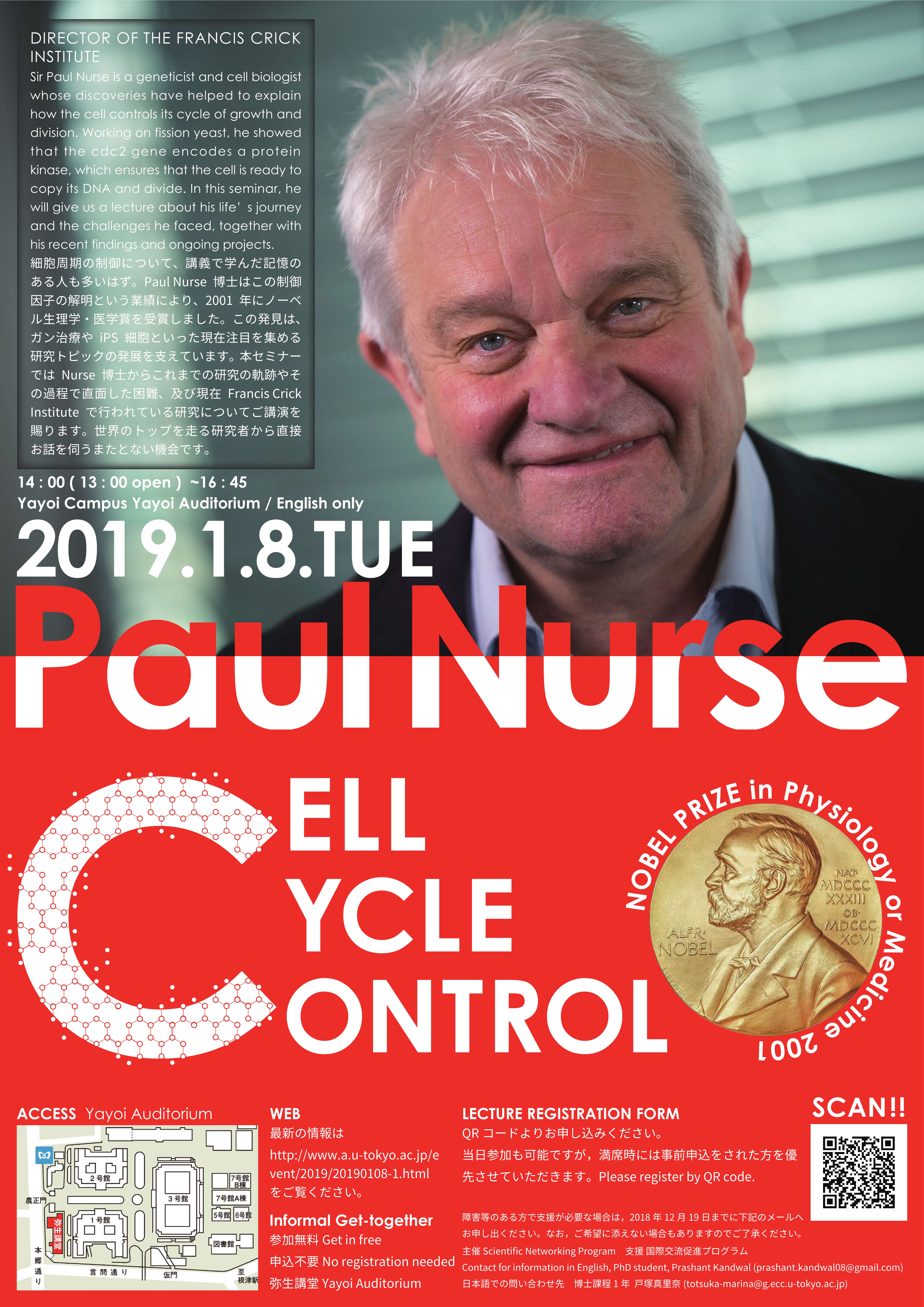 Event Details
Event Type
Lecture
Intended for
General public / Enrolled students / International students / Alumni / Companies / University students / Academic and Administrative Staff
Date(s)
January 8, 2019 14:00 — 16:45
Location
Hongo Area Campus
Venue
The University of Tokyo Yayoi Auditorium, Ichijo Hall
Capacity
300 people
Entrance Fee
No charge

Registration Method
Advance registration required
Contact

Japanese:

PhD student, TOTSUKA, Marina (totsuka-marina@g.ecc.u-tokyo.ac.jp)
English: PhD student, Prashant Kandwal (prashant.kandwal08@gmail.com)
Registration Form: We will prioritize those who have prior registration.
https://www.a.u-tokyo.ac.jp/wp-content/uploads/event/2019/20190108-1.pdf
In 2015, the Graduate School of Agricultural and Life Sciences initiated the Scientific Network program with the aim to organize the seminars hosted by students to benefit everyone in the University of Tokyo community. Since then, the popularity of the program is increasing with the quality of the lectures. This time again on January 8, 2019, we, the students involved in the program, are going to host the seminar "Cell Cycle Control."
We all know cell division takes place in plants, humans, bacteria etc., but back in the past, people didn't know about how and when it happens. Scientists were working day and night to figure it out until Sir Paul Nurse discovered the cdc2 gene in fission yeast. The gene controls the progression of the cell cycle from G1 to S phase and the transition from G1 phase to S phase. Sir Paul Nurse was awarded the 2001 Nobel Prize in Physiology or Medicine along with Leland Hartwell and Tim Hunt for uncovering protein molecules involved in cell cycle control.
In a path to great findings, one has to face countless challenges and if you get the opportunity to meet someone who overcame and achieved great success, we believe you should take the opportunity to grasp the knowledge. We are honored to host Sir Paul Nurse, who is coming to our university and will give two lectures: the first will be about his life's journey in his scientific career. Second, he will focus on his current ongoing research in his laboratory.
The schedule of the day is as follows:
13:00~ Doors will open
14:00~14:05 Introduction
14:05~14:15 Opening Remarks
14:15~15:15 Cell Cycle Control by Sir Paul Nurse
15:15~15:30 Q/A session
15:30~15:50 BREAK
15:50~16:20 Current Research in Cell Cycle Control by Sir Paul Nurse
16:20~16:35 Q/A session
16:35~16:45 End of the evening
16:45~ Informal get-together
https://www.a.u-tokyo.ac.jp/wp-content/uploads/event/2019/20190108-1.pdf